Meet your 2021 Nominees for At-Large Representatives of the USFWC.
It's election time again! USFWC voting members, now is the time to exercise your member right and responsibility to elect the next round of general representatives to the USFWC board.
Voting member classes include: Worker Cooperative, Democratic Workplace, Cooperative Developer, and Federation Partners. More about all member classes available here: usworker.coop/join/membership-application
Learn more about the election at: usworker.coop/board-staff/board-elections-at-large/
Election Timeline
Voting will open Tuesday, September 14th and will close Friday, October 8th, 2021. Your workplace should have received a voting code by email. If you haven't received the code, please let us know as soon as possible, email ana@usworker.coop.
Meet your 2021 Board Candidates
Candidate Statements
Mavery Davis
Workplace: Cooperation Works
New board candidate
Member type: Cooperative Developer
Personal Statement:

I'm honored to be considered for the USFWC Board. This opportunity would allow me to contribute to dialogue and action fulfilling the mission of building ground up communities nation wide and in my hometown, Charleston WV.

Cooperation represents a sustainable model based on ground up empowerment which operates without reliance on the mainstream Domination Culture paradigm whilst being fully plugged in to society.

The USFWC's work in the cooperative movement contributes to a global understanding of how people can respond to oppression by co-creating their own eco-system based on principles of Collaboration, Sharing Resources and Restorative Justice.

I'm asking for your vote to add me to your team.
Jason Geils
Workplace: Flora Cooperative
New board candidate
Member type: Worker Cooperative
Personal Statement: I love and support the mission and the ethos of USWFC. think that I could add value to the board as a cooperative organizer, union organizer and community organizer. Over the past few years I have been particularly active in developing counter institutions like worker-owned cooperatives, Cooperation Milwaukee- a solidarity economy & mutual aid working group, environmental and racial justice coalition to remove environmental toxins, an autonomous tenants union which has been combatting predatory landlords and the commodification of housing, as well as work around housing cooperatives. I am committed to an equitable, just, and cooperative economy that works for all.
Denise Hernandez
Workplace: Cooperative Home Care Associates (CHCA)
New board candidate
Member type: Worker Cooperative
Personal Statement: I would be honored to join the leadership of the US Federation of Worker Cooperatives. At CHCA, I encourage our workers to become worker owners and communicate the benefits of doing so. I motivate our CHCA Human Resources team to educate our members on the seven principles of being a worker cooperative and how those principles play out at CHCA.  I have created and facilitated trainings on CHCA's governance structure and engagement activities. I have hosted many calls and meetings from those eager to learn more about cooperatives.   I am a strong advocate of improving the Home Care Workers wages and highlight the essential work they provide in our community.   I believe my commitment for worker owned cooperatives can support the vision of the Federation.
Hillary Johnson
Workplace: Equal Exchange
Incumbent Board candidate
Member type: Worker Cooperative
Personal Statement:I've served on the USFWC board since 2018. As Secretary, I've tried to keep documents wrangled and details tracked. And I've been observing and trying to support the transition of this board as the USFWC grows, and the work of the board evolves. The organization is kind of between states - not exactly a working board, but definitely not just an oversight board.

What are some ways we can keep that grass-roots, democratic spirit as the organization grows into a mature, professional trade association doing amazing work both locally and nationally to advance the worker co-op movement? Partly by prioritizing accessibility for BIPOC-led cooperatives in membership and leadership; electing and empowering worker-owners to serve on the board; following good meeting process and making participation accessible to all kinds of workers; supporting and growing the member councils; supporting local co-op organizing; supporting staff to do their best work; practicing transparency and being consistently available to our members to take feedback and engage.

Democracy is more than voting, as cooperators all know. I've appreciated this board for the directors' commitment to the process of democracy - learning, discussion, advocacy, listening, relationship-building. And there is more to do.
Marina Maldonado
Workplace: Boston Cleaning Collective
New board candidate
Member type: Worker Cooperative
Personal Statement: Hello my name is Marina Maldonado and I'm from El Salvador. I've been living here for 16 years now and I'm a part of the cooperative Boston Cleaning Collective in Boston MA and I'm running for the USFWC Board. One of the reasons is I believe there are many people like myself didn't know or don't know about cooperatives or the opportunity cooperatives give to us immigrants. Sometimes the fear takes away our courage and doesn't let us break free and sometimes it limits us from many things so I believe I could be a good example for women or people who have that fear of breaking free or have a fear of learning and empowering themselves to discover what cooperatives are and get ahead because I believe the best thing we can come to understand in our lives is cooperation.
Ngozi Okaro
Workplace: Custom Collaborative
New board candidate
Member type: Cooperative Developer
Personal Statement:I would be a good USFWC board member because I believe in and know how to advance: cooperative participation; thriving-wage work; local manufacturing; dignity for reentering citizens, immigrants, and other marginalized people; environmental sustainability; and entrepreneurship as a coherent plan to a more just economy. I also have board and executive leadership experience and expertise.

My experience as a community organizer gives me the tools and understanding to explore and lift up others; much of my work is centered on women with barriers that I have direct experience with. Finally, I firmly believe in equity and inclusion for all.
Emmanuel Pardilla
Workplace: New York City Network of Worker Cooperatives (NYC NoWC)
New board candidate
Member type: Federation Partner
Personal Statement: The reason why I think I should be admitted to becoming a board member of US Federation of Worker Cooperatives is because of my connection to worker cooperatives in NYC. As Membership Director of NYC NOWC I have the opportunity to meet and bring worker cooperatives into both of our networks. In addition to bridging worker coops to the USFWC, my general outlook is to popularize black and brown, poor and working class protagonism. To explain, I believe worker coops, and more specific, worker-owners can become the fighters to challenge capitalism, presently, by advancing the interest of oppressed peoples while offering an alternative for the future. As the current Membership Director of NYC NoWC, my vision is to bring that perspective to life. And I know that by joining the board of the USFWC, I will be in an opportune position to think and act on this perspective on the national level. But most importantly, and as someone who is relatively new to solidarity economy work, what I value the most about becoming a board member of the USFWC is the opportunity to learn from others who have been leading our movement!

And for these reason is why I think my candidacy to the board should be considered.
Rosa Peña
Workplace: NannyBee
New board candidate
Member type: Worker Cooperative
Personal Statement: I feel capable of doing a good job, since I have many years of experience in cooperatives and I know how people benefit from coming together. My biggest goal is that as domestic workers we all feel empowered -- I like to teach and offer better opportunities and I think through cooperation us as immigrants have more opportunities at both professional and economic levels. I'd like to be part of this Board of Directors to help look for solutions for cooperatives, form strong connections, understand the services better and help one another among cooperatives. I have experience as an educator and leader / organizer of this marvelous Cornell University training program for domestic workers, We Rice Extension, and I could bring this project to the Board of Directors and bring this program to the national and international levels and develop it with other cooperatives, since it offers so many benefits, education and empowerment to immigrants. I think as immigrants we need to know our rights and know where to go and what to do in case those rights are violated -- cooperatives are very important as the name says "cooperate" so we should see this as the ideal place for us. I think cooperatives are the ideal place for immigrant workers, since they are democratic and inclusive, without discrimination and offer equal opportunity for all.
D Rooney
Workplace: Rock Steady Farm
New board candidate
Member type: Worker Cooperative
Personal Statement:I only have been involved with cooperatives for the last six years, but they have been a very rich six years of learning about cooperatives while creating my own farm coop, Rock Steady Farm. I don't claim to be an expert, but I will say I am passionate about cooperative work and how it can be opportunity for folks to be self-determining within systems of society that don't allow self-determination for so many. I truly want to see others do well and be well within their work environments, in a way that supports the broader [social, economic] wellness of our communities.

I am a farm owner and manager and my time is demanding, but despite that I still feel drawn to be a part of this board. External support of Rock Steady's transition towards becoming a cooperation has been invaluable, and I want to offer my support to the federation and all of its members. I am truly ignited for the opportunity to cross pollinate ideas, experiences and wisdom with other members of the board, staff and national members about how we all can be stronger participants in this community striving for liberated work places. I come to this open to learn and grow, while feeling confident that I can provide a unique perspective as a farm worker/owner and the journey I have been on.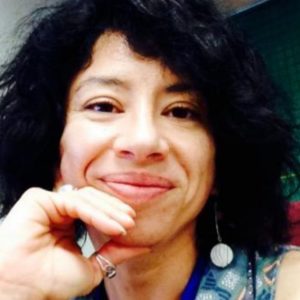 Lucha Luisa Silva
Workplace: E-Quality Homecare Cooperative
New board candidate
Member type: Worker Cooperative
Personal Statement: Hello, my name is Lucha. Born to activist parents, I have always felt passionately that worker-coops are the way to a more just economy. Being both bilingual and bicultural means I innately bring my Chicana perspective to everything that I do.

In 2015, I joined a worker-cooperative of caregivers in South central Texas, eQuality Home Care Co-op. We had a lot of work to do to successfully launch this startup undergoing a conversion at the same time. I was elected President in 2016, and I remained so for the next four years.

I have immensely enjoyed learning in depth about worker coops at three national USFWC conferences, even presenting at one in Austin, 2016. Additionally, I've had the benefit of attending two industry-specific home care coop conferences hosted by the Cooperative Development Center.

At home, eQuality has been lucky to have worked very closely with developer Annelies Lottmann, of the Texas Rural Cooperative Center, who was an essential part of our growth. I am always eager to attend the monthly meetings of the new Worker Co-op Leadership Network she organized to collaborate, share skills and knowledge, and help build the cooperative movement.

On the national level, I am an elected member of the National Domestic Worker Alliance's Home Care Worker Council and have participated in many events and campaigns to advance the rights and protections for domestic workers.

These experiences and more have further fueled my love and passion for worker cooperatives. If I were elected to the board, I would bring my 6 years of experience and training in home care cooperatives to the table as well as my unique Chicana/Tejana perspective. I believe this would benefit the Federation as we proceed to facilitate the growing coop movement!
Meghan Sobocienski
Workplace: Grace in Action Collectives
New board candidate
Member type: Cooperative Developer
Personal Statement:Grace in Action Collectives is a relatively new member of the US Federation for Worker Cooperatives's, but we have felt so supported and have learned so much from the interactions we have had with staff, board members and other cooperative developers. We have come to value the relationships of this community and the expertise of the federation.

I nominated myself for federation board leadership for the following reasons: first, I was encouraged to do so by several members of the community. I truly believe that a person becomes a leader because a community of other leaders and mentors lifts them into leadership. I don't believe in lifting myself into leadership in isolation. Simply put, people I respect asked me to consider a nomination so I considered it and said yes. Secondly, our work in Detroit is at a point where we have had some successes to share but also some failures and intense learning. We are growing in ways that I think are interesting and I think at a place where what we have learned on the ground could benefit the federation but also where we could really benefit from a consistent relationship with the federation, something being a board member would provide. Finally and personally, I love thinking about structure and systems but also am a critical thinker and always searching for ways to make the center of spaces bigger in order for more people to see themselves within them. I enjoy being with other people who share these values and would love the opportunity to share and grow while supporting and helping to shape the growth of the USFWC over the coming years.