The November elections are less than 100 days away. Like most things in 2020, the election will look very different this year, but the need to practice our cooperative principles and values—including democratic participation and exercising voting rights—remains the same.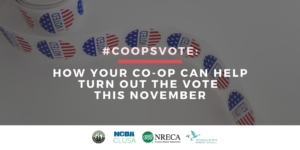 To help our co-op members practice these values, the USFWC, NCBA CLUSA, and the National Rural Electric Cooperative Association have partnered on the Co-ops Vote program to help cooperators and those we serve get registered to vote on this year's National Voter Registration Day, September 22, 2020.
#CoopsVote: How your co-op can help turn out the vote this November
Date / Fecha: September 15
Time / Hora: 1:00pm ET / 12:00pm CT / 10:00am PT
Cost / Costo: Free / Gratis
Language / Lengua: This webinar will be offered in English and Spanish / Este webinar está disponibles en inglés y español.
In the meantime, here's ways to get involved as you prepare for the November Elections
Click here to participate as a National Voter Registration Day host on September 22. NCBA has set a goal to get 50 cooperatives to participate in National Voter Registration Day. Will your co-op help us meet that goal?
Listen to the Along These Lines podcast episode featuring NRECA's Laura Vogel and Non-Profit Vote's Brian Miller on initiatives and resources for cooperatives.
Check out this toolkit or visit vote.coop for more opportunities, for example:

Invite candidates to virtually speak with your co-op,
Add the vote.coop link on your co-op's website,
Watch this webinar from Non-profit Vote on Digital Voter Engagement Tools During the COVID Pandemic,
Send an email to your co-op's member owners with voter registration information, or
Create a Co-ops Vote insert for your member-owners or customers to be included in an invoice, receipt or delivery.
We want to hear from you! Share your activity using the hashtag #CoopsVote. You can also fill out this survey with more information.