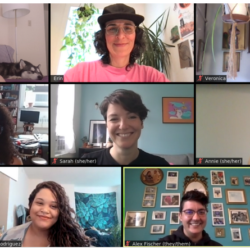 Website bookkeepingcoop A Bookkeeping Cooperative
Candidate Bookkeeper/Consultant/Trainer
Candidacy is a one year ownership track position that emphasizes direct bookkeeping to clients and the chance to co-facilitate workshops, support ABC's organizational development, and receive training in accounting and cooperative governance.  Candidates receive a mid-point evaluation at 6 months and then again at one year to determine if they meet the requirements of a membership position.
Responsibilities
Client Work 65%
Bookkeeping/Accounting
Initial assessment
Set up
Clean up
Ongoing
Workshops/Trainings
Internal Work 35%
Meetings/Training
Monthly general meeting
Internal operations and committee meetings
Peer supervision meetings 2x/month
Bookkeeping training/skills development as needed
Organizational development (depending on interests)
Outreach/Client development
Policy Development
Materials/Curriculum development
Required
Alignment with the Cooperative Principles and ABC's Points of Unity
Able to independently manage and prioritize multiple projects
Commitment to self-reflection and ongoing learning
Clear, timely, and thoughtful communication
Able to build trusting relationships with coworkers and clients
Preferred
At least 2 years of bookkeeping experience as a primary responsibility
Proficient in inputting transactions, reconciling accounts, processing and entering A/R and A/P, record keeping, payroll, and financial reporting
Spanish Fluency
Experience in training, facilitation, and popular education
Experience in organizational or business development
Proficiency with QuickBooks Online (QBO)
Proficiency with additional accounting software such as Xero, QB desktop for Mac and PC, FundE-Z, and GnuCash
Compensation
35 hour per week full time position with an annual salary of $54,810.  Potential to become a member after 1 year with a starting salary roughly equivalent to $65,000.  Payroll is via direct deposit every other Friday.
The coop has decided to prioritize shifting to a 30 hour work week and hope to implement this some time in 2022 if feasible. The salary amount would remain the same.
Benefits
PTO + flexible schedule
Paid time off includes 30 annual Holidays, 11 annual Vacation days, and .035 hours of Health & Wellness time accrued per hour worked. (Combined total of 50 PTO days/year)
1 month sabbatical after 2 years of employment; 3 month sabbatical after 6 years (with the option to extend up to 9 months unpaid)
Flexible schedule and remote work
Health benefits
Up to $400/month towards insurance premiums or other medical expenses from 3-6 months of employment.
Eligibility for health insurance (Blue Cross Blue Shield Alabama) after 6 months (85% employer contribution for Single coverage with a $144.84 monthly employee contribution) +1 coverage available at employee expense for an additional $1,013/month)
Dental and vision insurance after 3 months (100% employer contribution to premiums)
Other benefits
Professional development funds ($1,450/year)
Home office equipment fund ($1,900 every 5 years) + home office stipend ($150/month)
Eligibility for up to 3% employer-matched 401K Retirement Plan after 1 year
Potential to become a member after candidacy period (pay increase, patronage dividend/profit sharing, equal ownership share in the cooperative).
Candidates are expected to fulfill the hours requirements and internal/client work ratios as outlined in their job description, to attend general and operations meetings, and to join and participate in at least one committee.
Reporting Structure
Candidates have an ABC member assigned as their Peer Supervisor to support them in work planning.
ABC workers are unionized with Local #1102 RWDSU/UFCW (Retail, Wholesale, and Department Store Union/United Food and Commercial Workers).  Candidates become union members within their first 6 months of hire.
To Apply
Send a cover letter and resume together as a single PDF with the subject of either "Candidate Bookkeeper/Consultant/Trainer" or "Candidate Facilitator and Education Coordinator" depending on the role you're applying for to <work@bookkeeping.coop>.  In your cover letter, please share your experience and skills, your interest in the position, and what about ABC's model or points of unity resonates with you most and why.
*Applications received before November 9th, 2021 will receive priority consideration*
ABC is an Equal Opportunity Employer.  As a cooperative committed to centering those most directly affected by capitalism and colonialism, we strongly encourage Black, Indigenous, and people of color, women, trans, gender nonconforming, non-binary, intersex, two-spirit, lesbian, gay, queer, and bisexual people, people with disabilities, people who are neurodiverse, immigrants, formerly incarcerated or system-involved people, and people from poor and working class backgrounds to apply.
These positions will remain open until filled.
Location: Virtual – anywhere in the U.S.
Ideal Start Date: January-February 2022
How our Hiring Process Works
-To minimize unconscious bias in our screening, we anonymize all applications by blocking out names, contact information, names of educational institutions and past workplaces, and any other identifying information before we review them.
-If your application does not indicate a good match for this position, we'll let you know.
-If your application indicates a good match for this position, we'll schedule a video call.  We use structured interviewing, meaning we ask everyone the same basic set of questions and use a rating scale based on standardized, pre-established evaluation criteria related to the position requirements.  You'll also have the chance to ask us questions.
-If your application moves forward, we'll ask you for two references
-We'll schedule a second interview with structured questions.
-We'll let you know our final decision.