Full Time
Applications have closed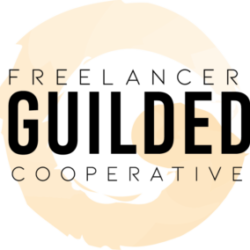 Philadelphia Recruitment & Member Services Coordinator
ORGANIZATIONAL CONTEXT
Guilded is a start-up cooperative committed to building freelancer worker power, community, collective advocacy, and financial stability. Through Guilded, independent workers are able to receive administrative support, guaranteed on-time contract payments, and a suite of worker benefits traditionally reserved for employees. Unlike other platforms that offer purely transactional services, Guilded offers freelancer workers a pathway to cooperative ownership.
While open to independent contractors in any field, Guilded has a special focus on artists and creatives. We are anchored in commitments to racial justice, artists as essential workers, and cooperative ownership. We use financial solidarity to deliver better conditions for low-income workers, Black and Indigenous workers, and other workers of color.
Guilded is a lean and small start-up currently with a staff of four. Guilded was incorporated in 2020 as a Limited Cooperative Association as a project of the USFWC (U.S. Federation of Worker Cooperatives). The USFWC (a 501c6 nonprofit) is a national grassroots membership organization for worker cooperatives and other democratic workplaces, whose mission is to build a thriving cooperative movement of stable, empowering jobs through worker-ownership. USFWC represents over 375 member workplaces, comprising over 12,000 workers across the country. USFWC supports its members by advancing worker-owned, -managed, and -governed workplaces through cooperative education, organizing, advocacy, and development.
COORDINATOR ROLE & RESPONSIBILITIES
As the Project Coordinator at Guilded, you will have a pivotal role in supporting the growth of our user base and enhancing their experience using both "sales" and "organizing" recruitment tactics. Building upon our pre-existing groundwork, your primary responsibility will be to execute and iterate on our existing recruitment strategy in the Philadelphia region by identifying and engaging with potential partners and new users. This position will work closely with the Outreach Manager to develop and implement effective outreach strategies aimed at attracting and retaining users. You will also collaborate with the Member Services Manager, taking a regional approach towards developing and expanding upon our suite of user benefits and services, with a focus on the needs of freelancers in the Philadelphia area. This position plays a critical part in helping us achieve our mission of building the best platform for our freelancer community.
SCOPE OF WORK
Recruitment 40%
Focus on artists and cultural workers: Collaborate with the Outreach Manager to develop and implement outreach strategies that target artists and cultural workers in the Philadelphia metro region.
Execute Philadelphia recruitment strategy: Identify and engage with potential partners, new users, and members to build a strong user base in the area. Work closely with the Outreach Manager and Member Services Manager to ensure a personal and seamless user experience.
Build and maintain strong relationships with users and members: Regularly engage with Guilded's Philadelphia-region users to foster positive relationships and gather feedback on their experiences with the platform. Proactively address user concerns and resolve issues to ensure a positive user experience.
Onboard new users onto Guilded's platform: Coordinate the onboarding process for new users, including providing orientation and training on platform features and benefits. Collaborate with the Member Services Manager to ensure that new users have access to the full suite of benefits offered by Guilded.
Participate in external events: Represent Guilded at external events, such as conferences, trade shows, and community events, to build awareness and promote the platform. Collaborate with the Outreach Coordinator to plan and execute events and develop promotional materials that effectively communicate Guilded's value proposition.
Meet recruitment goals for pipeline partners, users, and members: Set and track recruitment goals to ensure that the team is on track to achieve our growth targets. Gather and use data and metrics to evaluate the effectiveness of recruitment strategies and make data-driven decisions to optimize performance.
Build and maintain strong relationships with partners: Cultivate relationships with partners to foster collaboration and mutual growth. Represent Guilded in a professional, personal, and positive manner, building a strong reputation within the arts and freelancer community.
Collaborate with the Outreach Coordinator to develop written-language content: Work closely with the Outreach Coordinator to develop high-quality written content for various materials to support user recruitment. These materials may include digital presentations, workshops, info-sheets, member and user information packets, and process documentation.
Create and maintain documentation of the full process: Document the entire process of user recruitment, from initial outreach to onboarding, to ensure consistency and transparency. This documentation will serve as a reference for the team and provide valuable information for grant applications and future user recruitment efforts.
Ensure quality and consistency of content: Review and edit all written content to ensure accuracy, clarity, and consistency with Guilded's brand and messaging. Collaborate with the Outreach Coordinator to incorporate user feedback and make necessary updates to improve the effectiveness of the content.
Manage content distribution and communication: Coordinate the distribution of content through appropriate channels, such as the Guilded website, social media, and email campaigns. Communicate effectively with users and members, providing timely and accurate information about Guilded's services, benefits, and recruitment efforts.
User Benefits 40% 
Partner with and support Member Services Manager: Develop and promote a comprehensive suite of benefits for Guilded's Philadelphia-region members. Provide administrative support to ensure the smooth and efficient operation of the member benefits program.
Conduct research on member needs and preferences: Conduct market research and surveys to identify user needs and preferences. Collaborate with the Member Services Manager to use this information to develop and enhance Guilded's suite of benefits to better meet the needs of users in the Philadelphia region.
Promote user benefits: Develop and execute marketing campaigns to promote Guilded's suite of benefits to users in the Philadelphia region. Collaborate with the Outreach Coordinator to leverage appropriate channels, such as email campaigns, social media, and events, to reach users and promote the benefits program.
Evaluate user benefits program: Analyze data on benefits usage and member feedback to evaluate the effectiveness of the program in the Philadelphia metro region. Collaborate with the Member Services Manager to make data-driven decisions to improve the program and ensure that it remains relevant and valuable to members.
Track benefits usage: Develop and maintain systems to track benefits usage in the Philadelphia region. Analyze usage data to identify trends and patterns, and use this information to inform decision-making related to the benefits program.
Work areas 20%
Participate in regular meetings: Attend regular meetings with Guilded's staff and provide administrative support as needed.
Provide input on purpose, vision, and strategy: Contribute to the development of Guilded's purpose, vision, and strategy by providing ongoing input and feedback. Collaborate with other staff members to ensure that the organization's goals are aligned with its mission and values.
Support strategy implementation: Assist with the implementation of Guilded's purpose, vision, and strategy as appropriate. This may include coordinating with other staff members to ensure that projects are on track and deadlines are met.
Design and facilitate meetings and events: Provide design and facilitation support for meetings, events, and workshops as appropriate. This may include creating agendas, coordinating logistics, and ensuring that meetings and events run smoothly.
Communicate with the Operations Manager: Maintain ongoing communication with Guilded's Operations Manager, including weekly check-ins. Provide updates on progress toward goals, budget, and use of project funds, as needed.
QUALIFICATIONS
Pre-existing Connections with Arts and Freelancer Communities
General Competency and Comfort in Software Platforms – Google Suite, AirTable or other database software, PandaDoc
People Focused: Comfortable communicating and empathizing with individuals from diverse backgrounds and experiences
Aligned Values: Commitment to building a principled cooperative component of movements for racial justice, workplace democracy, and a solidarity economy
Adept organizer and problem solver- We want a proactive and strategic organizer who enjoys operationalizing goals, providing clear directions, and elegant solutions
Strong verbal and written communication skills: Capable of drafting, editing, and communicating effectively with a wide range of people through many communication channels (group, customer service, emails, report and memo drafting, etc)
Creative Problem Solving: Demonstrated ability to foresee obstacles, generate and implement solutions, and manage long-term changes as needed
Flexibility: As a start-up, we are constantly evolving and adapting to new challenges and opportunities. The ideal candidate will be comfortable working in a dynamic environment where priorities may shift quickly. We value flexibility, creativity, and a willingness to take on new challenges.
Ability to comprehend and explain complex systems
Knowledge of health insurance and its terminologies
Experience supporting individuals in navigating benefits
Professional training in health insurance is a plus, but not required
COMPENSATION & BENEFITS
This is a temp-to-hire position for a 12-month period designated for 30-40 hours per week. Compensation for full-time work (40 hours per week) is $60,000-$65,000 per year based on experience and qualifications. Part-time work (30 hours per week) is also available with a salary that is prorated based on full-time equivalent (FTE) and commensurate with experience and qualifications. This position will be eligible for fully subsidized individual and family vision and dental insurance, and subsidized medical coverage or a healthcare stipend for the employee. Other employee benefits include flexible paid holidays, annual vacation, and the opportunity to set up a pre-tax health or child care Flexible Spending Account.
About Being on Staff: Because Guilded is being incubated by the U.S. Federation of Worker Cooperatives, Guilded staff are currently W-2 employees of USFWC, privy to USFWC benefits, payroll and personnel policies. USFWC is a fully remote workplace with 25 employees (including Guilded employees) spread across the country. Guilded will directly employ its staff as of 2024.
LOCATION
Guilded is a remote work environment. This job requires occasional out of town travel for work as health guidelines allow. Preference for applications from the following locations where the USFWC is established as an employer: New York, California, Washington State, New Mexico, Texas, Massachusetts, Maryland, Georgia, North Carolina, Tennessee, Pennsylvania, and the District of Columbia.
TO APPLY
To apply please send a resume, cover letter, and 3 references from current or former workplaces (or significant leadership initiatives). The position will be open until filled.
The USFWC is an Equal Opportunity employer. We highly encourage applicants of color, applicants who grew up poor or working class, LGBTQIA+ applicants, and applicants from other historically marginalized communities to apply.