The USFWC is excited to be co-hosting two international tours in 2020 with our member organization Human Agenda. USFWC members receive discounts for these trips, make sure to take advantage of these great rates!
The cost for either tour is $1999 plus airfare for non-members, $1699 plus airfare for USFWC members.
If you are interested in either trip contact Richard Hobbs at richhobbs@msn.com.
Human Agenda is a 501(c)3 tax-exempt organization.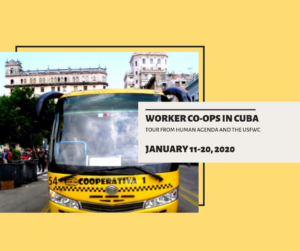 Worker Cooperatives & 10 Best Practices in Cuba
January 11-20, 2020
The 10-day Emulation Tour will include visits to industrial, service, and agricultural co-ops as well as visits to ELAM (the medical school), medical facilities, a school, and an ecological reserve.  Talks and dialogue will take place on the changing Cuban economy as it places a much higher value on worker-owned co-ops, as well as education, health care, and mass participation in decision making. 
Space is limited to 20 persons.

Full information: English / Español
Application: English / Español
Registration is closed for this trip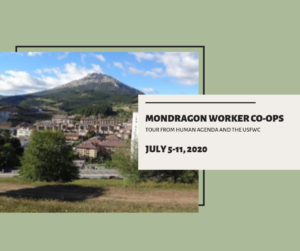 Tour the Mondragon Cooperatives & Explore Basque Autonomy
July 5-11, 2020
CANCELLED DUE TO COVID-19
With about 75,000 workers in 257 cooperative enterprises, almost no layoffs since 1956, much higher income than Spanish workers, 1 worker 1 vote democratic decision making, and a 5 to 1 ratio of highest to lowest paid, how can we learn from the largest worker-owned cooperatives in the Western world, located in the Basque region of Spain?
This is a very intensive seminar on every aspect of the Mondragon experience with respect to worker participation, internal organization, management, new business development, innovation initiatives, services available to coop members, membership requirements, and Mondragon's humanitarian projects abroad.
You will learn about the history of regional autonomy in Spain and of the Mondragon cooperatives, visit service and industrial cooperatives, engage the Mondragon Innovation and Knowledge Research Center, receive presentations on careers at Mondragon University including on the new career of Leadership and Entrepreneurial Innovation (LEINN) and TEAM ACADEMY, and attend a reception at the Headquarters of the Mondragon Cooperative Group.
You will learn about the history and current situation of the Mondragon cooperative experience at Otalara (the Cooperative and Management Training Center), review how Mondragon cooperatives operate internally and how they are organized, understand Mondragon's health and social welfare system at LAGUN ARO, and visit the Research Center for the Automotive Sector (EDERTEK).
You will also dialogue with blue collar workers from an industrial coop, receive a presentation from the MUNDUKIDE Foundation (the international NGO of the Mondragon Corporation), visit the port and beach of San Sebastian and the City of Bilbao with its famous Guggenheim Museum, and receive presentations on cooperative training and management development.
There will be ample opportunity to ask and answer all your questions.
Make travel arrangements to be at the Bilbao airport the afternoon of July 5 to take a bus to Hotel Mondragon. Translations, transportation, hotel, and meals included.
Space is limited.