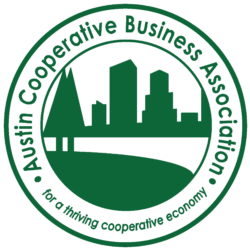 Website Austin Cooperative Business Association
Association and foundation for Austin-area co-ops
Overview
Are you looking to be at the forefront of creating a more just regional economy? Do you want to see cooperatives grow and thrive across Austin and Central Texas? You could be the Program Director the ACBA is looking for!
The Austin Cooperative Business Association (ACBA) seeks to hire part-time staff support to strengthen its capacity for expanding cooperative services and development in central Texas. ACBA is a membership-based association for Austin-area cooperatives, including worker co-ops, housing co-ops, consumer co-ops, and agricultural co-ops. The ACBA provides member services including advocacy and technical assistance for organizational development, funding opportunities, co-op startups, and co-op conversions. In partnership with its affiliated nonprofit, the Austin Cooperative Business Foundation (ACBF) it undertakes grant-funded research and education to benefit the cooperative economy. You can read more about our previous work in the ACBA 2019 Annual Report.
ACBA is expanding its local work in 2021 to include more high-touch incubation for cooperatives in collaboration with regional partners in the co-op sector. We are currently an all-volunteer organization supported by contractors who assist with bookkeeping, social media, and newsletter coordination. We are excited to welcome our staff person to help us realize our goal of building and expanding the local cooperative economy.
Location
The Program Director will be expected to work remotely using their own equipment (computer, webcam, etc.) for the foreseeable future due to the pandemic, but will ultimately be expected to live in or relocate to the Austin area.
How to Apply
Applicants should send a cover letter and resume to hiring@acba.coop. Deadline is **January 19, 2021 ** Only those being considered for an interview will be contacted.
The ACBA is an equal opportunity employer that is committed to diversity and inclusion. We prohibit discrimination and harassment of any kind based on race, color, sex, religion, sexual orientation, national origin, disability, genetic information, pregnancy, or any other protected characteristic as outlined by federal, state, or local laws. ACBA prioritizes the unique contributions that individuals from marginalized, oppressed, and/or under resourced communities bring to our organization, and invites these individuals to apply. We encourage ALL applicants to describe the unique contributions they, as individuals with diverse experiences, would bring to ACBA in their cover letter or resume. The ACBA particularly encourages People of Color, Black people, Indigenous people, and trans and queer people to apply.
Mission and Purpose
The Austin Cooperative Business Association is organized to build and expand the cooperative economy in Central Texas.
Position and Job Duties
The Program Director oversees core administration and programming for ACBA, including the following primary tasks:
Manage daily operations of ACBA including regular communication with Board members and committees
Build relationships among cooperatives in Austin and central Texas
Manage consistent communication with ACBA roster of Members and collect annual dues
Coordinate and implement direct coaching and incubation services to new co-ops under development
Take a leadership role in fundraising, including applications for and administration of grants in partnership with affiliated nonprofit ACBF
Communicate and coordinate with partner organizations on meeting deliverables associated with grants and contracts
Provide administrative support and promote public workshops on cooperative development and related topics
Manage fulfillment and reporting for deliverables associated with any existing or new ACBA contracts or ACBF grants
The ideal candidate will have a strong background in the cooperative sector and movement, as well as experience managing small nonprofit organizations and/or business groups.
This position will require successful fundraising efforts to ensure its long-term viability and potential conversion to a full-time position.
Required Qualifications 
Working knowledge of cooperatives and a background in cooperatives and cooperative development
Demonstrated experience starting and managing programs and organizations
Experience working independently with little supervision
Strong knowledge of Austin area co-ops
Strong administrative capacity and experience
Successful experience with grant-writing, grant administration, and fundraising
Strong communication skills Financial and budget management experience
Experience with building relationships and networking with diverse audiences
Compensation
The Program Director will be paid $20-$30 per hour for approximately 15-20 hours per week. The position also includes Paid Time Off (PTO).