Para ver esta página en español, haga clic aquí 
The USFWC Co-op Clinic has a network of peer advisors, all with strong social and professional ties, who provide technical assistance services to worker cooperatives and democratic workplaces. 
Though we can support you in all-around small business areas, we specialize in technical assistance that cooperatives need specifically: decision-making, co-op finances, boards, bylaws and more.
Our staff and peer advisors can help you…
Create a roadmap for starting or converting to a cooperative.

Find the right structure and governance for your democratic workplace.

Get training in cooperative finances.

Become loan ready.

Finish your business plan.

Create policies that work for your team.

AND MORE!
We offer high-quality technical assistance and development advice, and increase worker cooperative peer support capacity from inside the movement.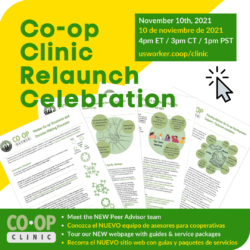 We celebrated the relaunch of our Co-op Clinic and Speaker's Bureau on November 10th!  Watch the recording on our YouTube channel. 
Learn More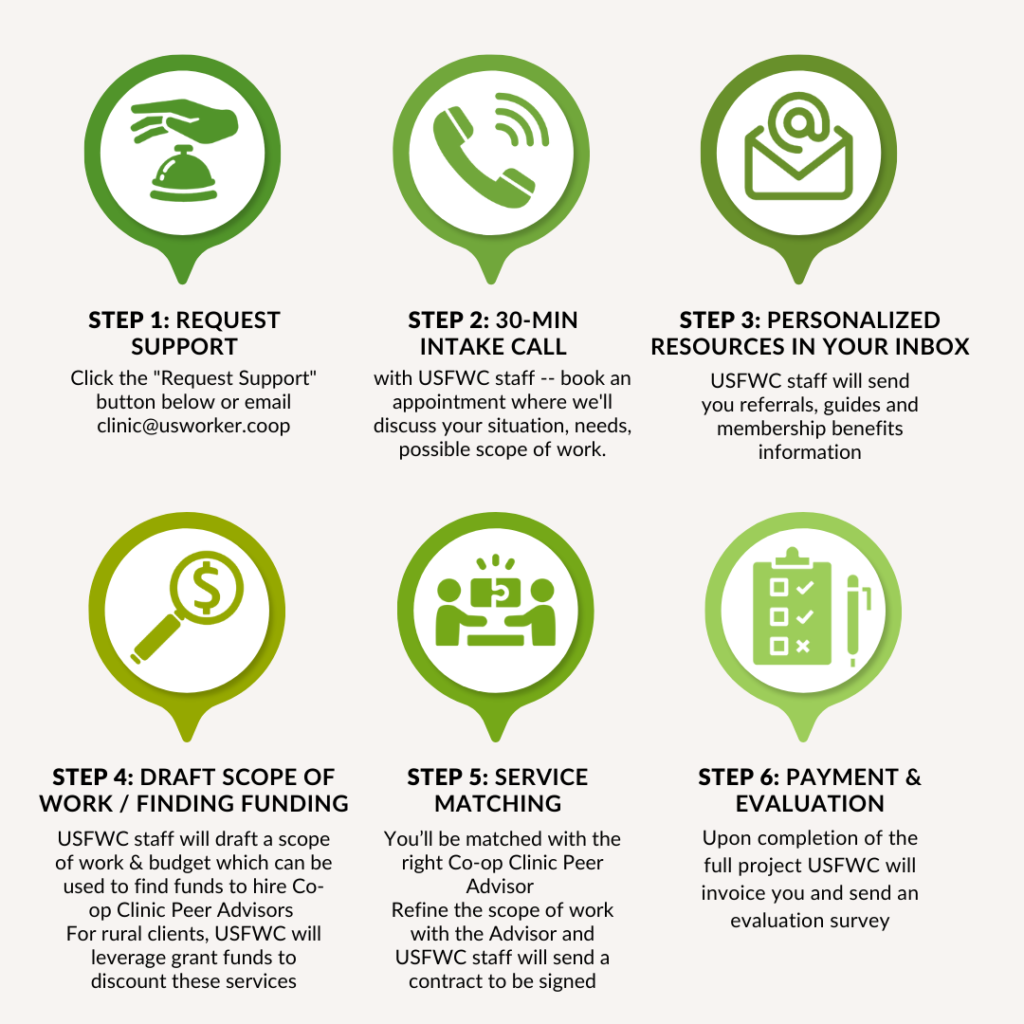 Complete this short Request Support form, which allows you to instantly book a 30 minute intake meeting with staff.  
Lots more info in the Frequently Asked Questions (FAQ), and don't forget to check out the Peer Advisor and Staff Bios, and the Packages and Pricing in the sections below, which can serve as a starting place to find what you need.
Governance
Drafting Bylaws

Drafting Articles

Roles and Responsibility for Boards

Board basics

Rights & Responsibilities, Decision Clarity

Strategic planning and member engagement

Good Meetings and Facilitation
Human Resources
Development of Accountability Systems

Communication/Coaching

Onboarding & Orientation

Conflict Resolution Training
Financial
Setting up chart of accounts and accounting filing system

Providing a draft Bookkeeping Manual

Setting up Payroll and HR Policies

Consulting with end of year tax accountant

Accounting facilitation and training

Open Book Management

Help in applying for Loan Financing 
Technology
Using Project Management Tools

CRM tools

Social Media Tools

Video editing tools
Marketing
Digital Marketing and Social Media Strategy

Brand Strategy and identity

Business development (market making)
Start-up Support
Business Model Development

Business Plans

Feasibility Studies

Governance

Worker Co-op 101
Next level support
Project Management Training

Anti Oppression Training

Preventing Board Burn Out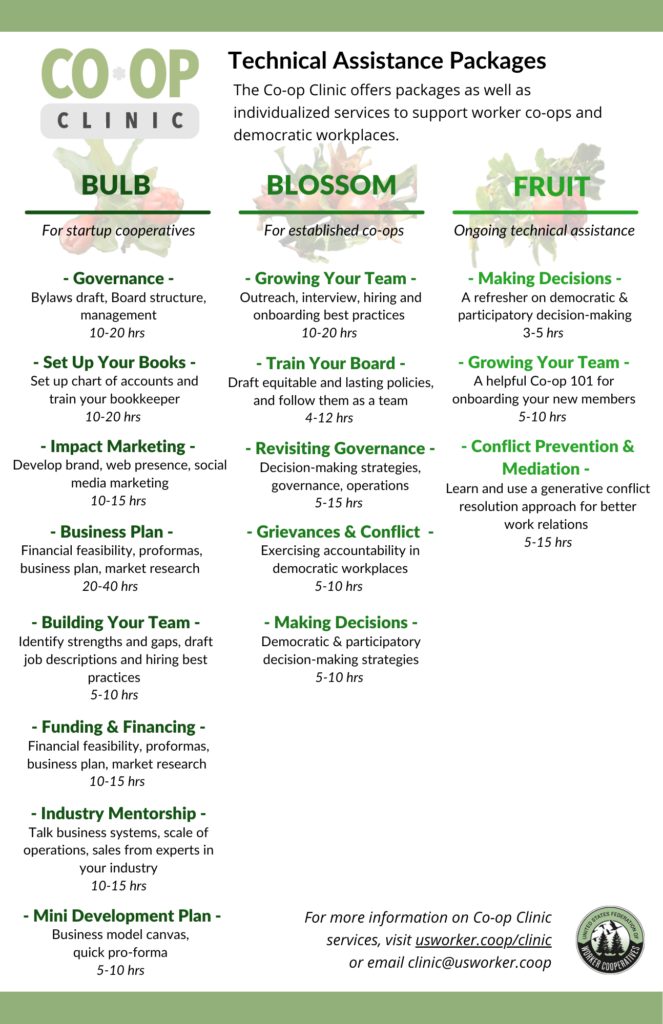 Our services are fee-for-service at $85/hr for USFWC members and $125/hr for non-members. Pro-bono services are offered when funds are available, particularly for eligible rural areas. Please contact clinic@usworker.coop for more information.
Our professional and culturally competent Peer Advisors are here to provide you with high-quality technical assistance based on their lived experience working in and developing cooperative businesses.
Meet the Peer Advisors: 
[EN] = English speaking
[SP] = Spanish speaking
Devra Gartenstein [EN]

Kateri Gutierrez [EN/SP]

McKenzie Jones [EN]

brandon king [EN]

Daniella Preisler [EN/SP]

James Razsa [EN]

Iliana Reinhardt [EN/SP]

Andrew Stachiw [EN]

Stephen Rye Switzer [EN]

Damon Terrell [EN]

Annie Winkler [EN]

Emma Yorra [EN/SP]
The Co-op Clinic hosts a free Worker Co-op Startup Webinar on the First Friday of every month to help guide the initial process of launching a new Worker Co-op business.  Register for our monthly Startup Webinar and other Co-op Clinic webinars at usworker.coop/calendar 
For Startup webinar recordings, mini guides and more information, visit our Startup Resources Page.
If you're a USFWC Developer Member or Federation Partner, we're already looking out for clients to refer your way.  If you're not, consider joining USFWC. Either way, we're happy to discuss how we can collaborate.  Some ideas for collaboration:
Joint application for workforce development or industry focused funds to support affordable / pro-bono TA to low resource communities.

Cross-promote our educational events (Reach our Comms team direct messaging USWFC on social media or emailing

comms@usworker.coop

) 

Shared clients bringing in our unique specialties to the project.

Co-op Developer networking events with new co-op development tool sharing and troubleshooting sessions.
Please reach out here (clinic@usworker.coop) or set up a meeting with staff to discuss potential collaboration.
Here are some specific benefits of working with Co-op Clinic:
There are many strengths of the peer to peer model, such as finding advisors with the necessary industry experience.

In larger co-op development efforts such as municipal projects, Peer Advisors could have an early role showing successful co-ops and later role in specialized TA offerings.

USFWC's Co-op Clinic has a national reach.

USFWC staff and Peer Advisors have a high level of cultural competency and experience in anti-oppression work.
Check out the Staff and Peer Advisor bios and the Packages section to see what we offer. We appreciate any referrals you send our way.  Please refer people to this page, usworker.coop/clinic or our email clinic@usworker.coop.  
Latest Webinar Recordings from the Co-op Clinic