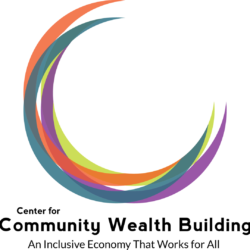 Website ccwbdenver Center for Community Wealth Building
An inclusive economy that works for all!
POSITION DESCRIPTION
CO-OP DEVELOPMENT SPECIALIST
Reports To: Co-op Development Director
Pay Rate: $50,000-55,000 Annually
Status: Full-Time Position Location: Denver Metro Area
Work Environment: Hybrid of work from home and office, must be based in the Denver Metro Area.
Priority Deadline: February 7, 2022
At Center for Community Wealth Building (CCWB), we are creating an inclusive economy that works for all. We're a startup, worker-self directed nonprofit that promotes inclusive economic development opportunities that center the talents and capacities of impacted and vulnerable Metro Denver residents, entrepreneurs and workers, while leveraging the economic power of anchor institutions to create an economy that works for everyone.
As the Co-op Development Specialist, you will be a critical member of a visionary team working to develop more inclusive models of ownership with diverse workers, entrepreneurs and residents.
More about CCWB
CCWB's vision is a people-owned, inclusive, and sustainable metro Denver economy that catalyzes prosperous and resilient communities free from racism and injustice. Our work is driven by our commitment to the values of Economic justice, Inclusivity, Inspiration and Transformation. We work to inspire a fundamental shift within individuals, communities, institutions, and systems to support a thriving local economy and a healthy and sustainable way of life.
Internally, we operate as a worker self-directed nonprofit, which means that all employees help to establish the policies, strategic direction and financial priorities of our organization. In the day to day, we celebrate small wins, we create collectively, we practice empathy, and we embody love and respect. Our  team's internal values include Innovation, Building for the Future, Human-Centered Growth, Results and Accountability.
EQUAL OPPORTUNITY EMPLOYER ~ COMMITTED TO A DIVERSE WORKPLACE
The Center for Community Wealth Building is an aggressive advocate of affirmative action and welcomes applications from everyone, particularly from people of color; women; LGBTQ people; immigrants or refugees; people with disabilities; and people from low- or moderate-income backgrounds.
The Objectives You're Here to Meet
Expand the capacity of Denver Metro workers, entrepreneurs, community members and residents to participate in and develop worker and shared service cooperatives.
Offer holistic support to Black-, Latino/a- , Indigenous- and Immigrant cooperative entrepreneurs throughout every stage of the co-op development process.
How You'll Meet Those Objectives
Outreach & Technical Assistance (30%)
Welcome and onboard new community groups and referrals to CCWB's cooperative development process
Provide technical assistance to emerging cooperatives and design training programs that will help community members move forward as they develop their businesses
Recruit worker owner candidates, conducting outreach (one-on-one meetings, emails, phone calls, social media, and zoom meetings) to entrepreneurs, business owners, gig workers and other worker-owner candidates in identified locations to expand cooperative economic thinking and practice.
Develop strong working relationships with and facilitate collaboration between stakeholders in government, nonprofits, place-based organizations, business, public policy, economic development, community organizing, and labor unions to expand the venues and audiences ready for cooperative education.
Cooperative Training (30%)
Build cooperative awareness through popular education and community trainings
Create and implement a follow-up plan for participants and community partners, after each educational event
Co-facilitate Co-op 101, 201 and 301 training(s), especially those requested by emerging cooperatives and place-based organizations. Modify existing curricula, creating new materials as needed, and deliver it to community members, startup groups and entrepreneurs
Plan and implement an ongoing educational series for the Train the Trainers cohort, preparing to welcome a new cohort of Spanish speaking co-op trainers in 2022.
Develop educational training programs for existing cooperatives that allow them to navigate unfolding market conditions and compete effectively
Program Support (20%)
Optimize and continually improve CCWB's co-op development process and strategic approach so that it achieves CCWB's mission and embodies CCWB's values
Help to maintain the Colorado Worker Cooperative database, contacting new and existing worker-owned businesses to verify identity and connect to resources.
Contribute to the planning and execution of worker cooperative networking events
Organizational Support (10%)
Maintain appropriate organizational data and record-keeping systems
Identify operational issues that need attention and facilitate solutions
Support with movement building campaigns, including presentations on Community Wealth Building principles
Other Duties as Assigned (10%)
What We're Looking For
You love diving into details. Whether you come with a background in small business consulting, small business start-up, cooperatives, cooperative development, or some combination, you are eager to learn, to meet entrepreneurs where they are at, and to seek creative solutions to entrepreneurial problems, including business modeling, ownership structures, accounting systems, marketing campaigns and more.
You see the system, too. In addition to business skills, you have a deep and demonstrated commitment to racial and economic justice. You understand how we might respond to systems of oppression through community wealth building and asset-based methodologies. You may have experience with grassroots community organizing or labor organizing for social change.
You're adept at communicating and translating information. You delight in working with people from diverse class, racial, ethnic and linguistic backgrounds, practicing empathy and respect. You code-switch and use your multilingual skills (ideally Spanish, Amharic, Vietnamese, Arabic or Somali) to ensure that entrepreneurs have full access to information and resources that can help them succeed. You're confident in communication, whether presenting one-on-one, drafting social media posts, or planning and facilitating group workshops or community meetings.
You're committed not just to ideas but to outcomes. You're a self-starter, driven to achieve and exceed goals and objectives. You have the capacity to complete multiple, sometimes competing deadlines. Your commitment to quality adds value to everyone you work with. You learn and adapt as you go and recognize when an approach or tool is not working.
You're excited to practice horizontal management with our team. You don't stop with pointing out how things can be better; you roll up your sleeves and take steps to improve and influence the world around you. You value contributing to the process and co-creation. You're committed to growing and helping others grow through collaborative thinking and doing, kind feedback, occasional vulnerability and gratitude. You are open to learning and developing new ways of running a nonprofit.
This Job Requires
Willingness to work occasional irregular hours, including nights/weekends
Basic computer skills, including Microsoft Word, Excel, Gmail, and Google Suite, and willingness to learn new platforms
Car and valid driver's license (mileage reimbursed)
How We Invest in You
Compensation: We offer competitive compensation ranging from $50,000-55,000 for this role. We practice open accounting at CCWB, which means that all team members have access to salary information and program expenses.
Benefits: We offer Kaiser Permanente health insurance and cover 90% of the premium. For employees who elect a High Deductible Health Plan, CCWB contributes at least $1,600 per year toward your Health Savings Account. After a one-year vesting period, you are eligible for CCWB's 401k. CCWB matches your first 3% of 401k contributions, and matches half of your next 2% of contributions, for up to a 4% match.
Cell Phone: CCWB reimburses your cell phone expenses, up to $60 per month.
Flexible Officing: This position is based in Denver. CCWB has designated office space for you to use, but we also support our staff in working from home.
Holidays & Vacation Time: All employees are paid for 10 holidays as well as the week between Christmas and New Year's Day.  In addition to these holidays, you earn 1 vacation day per month as a new employee (12 days/year). After 1 full year, you earn 1.25 days per month (15 days/year). After four years, you earn 1.67 days per month (20 days/year). Employees have the option of rolling over up to 5 vacation days per year.
Sick Time: You earn 6.67 hours per month (80 hours per year) for absences due to personal sickness, medical appointments, sickness or medical appointments of immediate family members, bereavement and grief related to the loss of a loved one, or personal emergencies that cannot be handled outside of work hours.
Family Leave: CCWB grants you up to twelve (12) weeks of leave for the care of a partner, child, spouse or qualified family member. Part-time employment shall be permitted, if possible.
How to Apply
To apply, send a resume and, instead of a cover letter, please answer the following questions in no more than one page:
What have you learned from your community engagement experience that you would bring to this position? What has gone well and you would repeat, and, in retrospect, what would you have done differently?
Which industries do you see as most well suited for worker cooperative development?
What other lived experiences should CCWB know about to understand how you approach this work?
Submit all application materials via email to coops@communitywealthbuilding.org with the subject "Cooperative Development Specialist."
Priority deadline is February 7, 2022, with applications reviewed and interviews offered to qualified applicants until the position is filled. Finalist candidates will be asked to submit three professional references and to participate in a second interview.