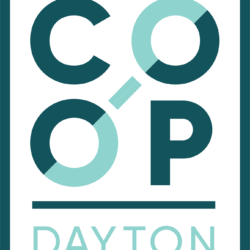 Website Co-op Dayton
Visit coopdayton.org/jobs for the full job description!
Co-op Dayton is a non-profit organization that seeks to create a more equitable and sustainable local economy and a more just city, where power is rooted with those most impacted by structures of economic oppression. We do this by organizing our community to identify these structures and market "gaps", and to then co-create cooperative businesses and policies that address them.
Our cooperative businesses meet our collective needs, remain accountable to our community, and offer dignified jobs through shared ownership. We currently provide business technical assistance and community outreach and organizing for more than ten cooperatives in Dayton, including the Gem City Market, a worker and community owned cooperative grocery store anchored in West Dayton.
The Network Director supports startup and operational cooperatives with capitalization, governance, and co-op and financial education, through 1-on-1 technical assistance and workshops. The Director also develops our regional cooperative network model and facilitates the network, building relationships and collaborations between cooperative enterprises.
The responsibilities of the Network Director are as follows:
Evaluate the business plans and capitalization needs of startup and operational cooperatives in the Dayton region and recommend finance options
Serve as the Seed Commons Project Officer for cooperatives that are seeking non-extractive loans, providing 1-on-1 technical assistance during the application process and loan period
Develop and facilitate cooperative education and culture building workshops, including open book management and worker-owner training, for operational cooperatives
Plan and facilitate cooperative network meetings and events
Develop the leadership and relationships of network members and create systems for shared skills, resources, and services
Support the network members to develop public policy priorities that advance our solidarity economy locally
Develop systems to track engagements, monitor progress, and fulfill grant and partner reporting requirements
Visit coopdayton.org/jobs for the full job description!