Part Time
Applications have closed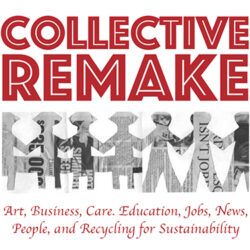 Website Collective REMAKE
Co-operative Education and Development
Collective REMAKE is a non-profit organization implementing cooperative education and development programming in South Los Angeles County, where communities are impacted by high rates of incarceration. Our organization is democratically run and worker-led, with new hires becoming part of the democratic-decision making environment. Workers take responsibility for specific tasks based on collectively defined job descriptions and participate in building the broader vision of the organization. We seek to promote sustainability and adhere to the cooperative principles and values, along with participatory practices in our daily work and inside our Cooperative Education and Development Programs. New hires will take part in a six-month orientation and training period before receiving a vote as a worker member.
Position Overview:
As the Program Coordinator, you will have the exciting opportunity to contribute to the growth of Collective REMAKE. We are seeking a passionate cooperator who believes in our mission and wants to help turn our vision of a  more equitable and sustainable future into a reality. As a member of our team, you will be integral to the success of our programs and initiatives.
Responsibilities:
You will be responsible for program coordination and support, fundraising, and administrative support in this role. You will work closely with our team to ensure the successful implementation of our cooperative education and development programming. Your specific responsibilities will include:
Program Coordination & Support (40%)
Provide communication support for workshops and events, including tracking attendance, keeping contact lists updated, and communicating with workshop participants pre- and post-event.
Coordinate and communicate with a roster of facilitators and participants pre- and post-workshops.
Manage workshop content, track attendance, and provide technical support.
Help organize workshop content, archival files, and the documentation of reflections/evaluations content.
Take part in regular preparation and training sessions for scheduled workshops.
Organize and prepare workshop materials, in-person and remote.
Provide technical support and occasional participatory facilitation during workshops.
Fundraising (10%)
Assist with grant research, writing, and grant reporting.
Attend and support meetings with funders.
Attend webinars on grant opportunities.
Learn and implement grant searches on Grant Station.
Support GoFundMe implementation.
Administrative Support (50%)
Attend weekly administrative meetings.
Conduct community outreach, including tabling at community events, meeting with potential community partners and funders, and attending community meetings as a representative of Collective REMAKE.
Manage Collective REMAKE calendar, events and programming invitations, and Zoom events.
Manage hospitality needs for meetings and workshops (preparing the space, setting up space with food, beverages, and materials).
Draft donor communications for mail appeals, thank-you letters, email correspondence, etc.
Assist with managing online presence on social media and website, writing a regular e-newsletter, and managing overall communication with community members.
Perform other tasks as assigned.
Qualifications:
We are seeking candidates with the following qualifications:
Experience with or comfort in learning Google Drive, Zoom, Word Press, Constant Contact (or like email marketing platforms), Microsoft Word, Microsoft Excel, social media platforms, and Quickbooks.
Adobe Design Suite is a plus.
Working Spanish proficiency is a plus.
A familiarity with cooperative values and principles is a plus.
Equal Opportunity Commitment:
Collective REMAKE is an equal opportunity employer and will not discriminate against applicants because of race, color, sexual orientation, gender, religion, national origin, disability, or lived experience. In line with Collective REMAKE's work, people who have been incarcerated or live in communities in Los Angeles that have been marginalized socially and economically are strongly encouraged to apply.
Details:
Schedule: This is a part-time position, with hours fluctuating based on programming and events. We hope for a late July/early August start date.
Apply at Idealist
https://www.idealist.org/en/nonprofit-job/7bb9767cf8a04fcf82da5ef3f9b4b11f-program-coordinator-collective-remake-los-angeles