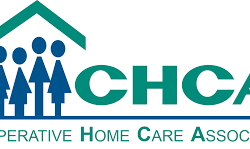 Website Cooperative Home Care Associates
Case Manager
Cooperative Home Care Associates (CHCA) was founded in 1985 as a home health care services agency licensed by the New York State Department of Health, to provide quality home care for elders and individuals living with physical disabilities in New York City. CHCA started with 12 Home Health Aides and now employs more than 1,700 home care workers, 98 percent of whom are Latina or African American women. As the largest worker-owned cooperative in the US, CHCA offers all employees the opportunity to purchase an equal ownership stake in the business. Today CHCA is one of the largest private-sector employers in the South Bronx and one of the largest women-and-minority-owned businesses in New York City.
As of 2012, CHCA has been certified as a B Corp.  B Corps are certified by the nonprofit B Lab to meet rigorous standards of social and environmental performance, accountability, and transparency.
Together with Paraprofessional Health Institute (PHI), a national nonprofit founded by CHCA in 1991 and widely seen as the authority on the direct care workforce, CHCA maintains a nationally recognized on-site training and workforce development program that provides free training and employment opportunities to six hundred low-income and unemployed predominantly women from the Bronx and Manhattan, annually.
PRINCIPLE DUTIES AND RESPONSIBILITIES
Under general supervision of the Director of Workforce Development, the Case Manager is responsible to provide supportive services to trainees and paraprofessionals. In addition, this position is responsible for performing all recruitment related duties on a professional level and provides support for the day-to-day operations of the Workforce Department.
ESSENTIAL FUNCTIONS
Facilitates the Open House sessions and participates in job fairs.
Determines participants eligibility and needs by completing one to one interview.
Builds relationship with participants through consistent counseling sessions.
Provides coaching on participants performance during training.
Maintains complete and accurate case files.
Ensures timely data entry in appropriate database.
Ensures applicants meet New York State Home Care Registry (HCR) Training Program requirements.
Maintains electronic attendance records to maintain compliance with DOH regulations and audits.
Coordinates all the tasks associated with ensuring the applicant is ready for employment.
Develops and maintains connections with external organizations to facilitate referrals, i.e., housing, public assistance, food access.
Advocates and trouble shoot problems related to public entitlements and social services for trainees and paraprofessionals.
Participates in meeting with the staff from other departments and trainees when issues are identified that might hinder the trainee from job retention.
Facilitates "Job Readiness" workshops to the trainees.
MINIMUM QUALIFICATIONS
College degree preferred; equivalent combination of applicable training and experience may be substituted for education requirements
Two years' experience of case management experience in a social service
Excellent writing and communications skills
Proficient Computer Skills: Microsoft Office Suite
Bilingual (Spanish) required