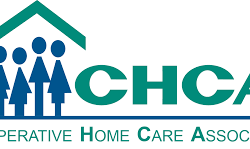 Website Cooperative Home Care Associates Cooperative Home Care Associates
Workforce Development Director
Cooperative Home Care Associates (CHCA) was founded in 1985 as a home health care services agency licensed by the New York State Department of Health, to provide quality home care for elders and individuals living with physical disabilities in New York City. CHCA started with 12 Home Health Aides and now employs more than 1,700 home care workers, 98 percent of whom are Latina or African American women. As the largest worker-owned cooperative in the US, CHCA offers all employees the opportunity to purchase an equal ownership stake in the business. Today CHCA is one of the largest private-sector employers in the South Bronx and one of the largest women-and-minority-owned businesses in New York City.
As of 2012, CHCA has been certified as a B Corp.  B Corps are certified by the nonprofit B Lab to meet rigorous standards of social and environmental performance, accountability, and transparency.
Together with Paraprofessional Health Institute (PHI), a national nonprofit founded by CHCA in 1991 and widely seen as the authority on the direct care workforce, CHCA maintains a nationally recognized on-site training and workforce development program that provides free training and employment opportunities to six hundred low-income and unemployed predominantly women from the Bronx and Manhattan, annually.
PRINCIPLE DUTIES AND RESPONSIBILITIES
Under the support and guidance of the Vice President of Clinical, the Workforce Development Director (WDD) is responsible for overseeing Cooperative Home Care Associates (CHCA) Multilingual (English/Spanish) Home Health Aide Training and Recruitment Programs. This position will supervise 10 – 12 internal staff members carrying out day-to-day functions. Ensures that CHCA recruits, trains, and employs an average of six hundred Home Health Aide on an annual basis. Adheres to Department of Health (DOH) and other state or federal guidelines.
ESSENTIAL FUNCTIONS
Deliver on an interdisciplinary program model that combine Workforce Development, Support Services, and Technical Skills Training.
Compiles recruitment data; analyzes, recommends, and implements any necessary changes.
Monitors and analyzes workforce and trends to identify ways to expand or adapt workforce strategies to fit the needs of our industry.
Ensures that the department provides adequate support to the trainees and/or recently hired paraprofessionals to overcome employment barriers.
Maintains and exceeds programmatic goals for a variety of performance-based contracts.
Creates an extensive outreach and recruitment plan that includes other community-based organizations, social media, and street outreach.
Conducts workshop and trainings for the development of staff and participants when applicable.
Ensures that CHCA's complies with all Department of health and other federal regulations related to the training and employment programs.
Builds and deepens external partnerships.
Manages private and public funding programs.
MINIMUM QUALIFICATIONS
 Five years management experience, preferably working in a health care organization, including supervising staff.
College degree and/or relevant experience in home care or health care services, workforce development field, and/or working with low-income population.
A creative and entrepreneurial problem-solver, with experience launching new programs and projects with a diverse group of stakeholders including government, philanthropy, business, and community groups.
Excellent written and oral communication, interpersonal relations, and coaching/mentoring approach to supervision.
Strong command of Microsoft Office Suite.