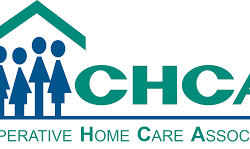 Website Cooperative Home Care Associates
Workforce Program Manager
Cooperative Home Care Associates (CHCA) was founded in 1985 as a home health care services agency licensed by the New York State Department of Health, to provide quality home care for elders and individuals living with physical disabilities in New York City. CHCA started with 12 Home Health Aides and now employs more than 1,700 home care workers, 98 percent of whom are Latina or African American women. As the largest worker-owned cooperative in the US, CHCA offers all employees the opportunity to purchase an equal ownership stake in the business. Today CHCA is one of the largest private-sector employers in the South Bronx and one of the largest women-and-minority-owned businesses in New York City.
As of 2012, CHCA has been certified as a B Corp.  B Corps are certified by the nonprofit B Lab to meet rigorous standards of social and environmental performance, accountability, and transparency.
Together with Paraprofessional Health Institute (PHI), a national nonprofit founded by CHCA in 1991 and widely seen as the authority on the direct care workforce, CHCA maintains a nationally recognized on-site training and workforce development program that provides free training and employment opportunities to six hundred low-income and unemployed predominantly women from the Bronx and Manhattan, annually.
PRINCIPLE DUTIES AND RESPONSIBILITIES
Under general supervision of the Director of Workforce Development, the Workforce Program Manager manages the company's private and public funding contracts related to training activities including monitoring and submission of contractual milestone goals and the maintenance of records.  This position is responsible for conducting full lifecycle data analysis for integrity and complete requirements for contractual and state regulations.
ESSENTIAL FUNCTIONS
Responds and collaborates to/with CHCA's Partners with regards to existing or new funding sources.
Creates extensive reports and graphics on trainees' demographics, recruitment efforts, and public benefits information for appropriate meetings.
Participates in funding related meetings, both on and off site.
Leads the Data, Reporting and Audit Analysis for the Workforce and Training programs.
Compiles and analyzes statistical data for the purpose of monitoring and reporting on performance of training and workforce programs.
Conducts regular internal audits for qualitative and technical compliance.
Assists in managing the workflow process for new and potential referral partnerships.
Oversees CHCA's Home Care Registry (HCR), to ensure that the agency follows DOH regulations and audits.
Ensures we complete and submit all necessary paperwork related to the Work Opportunity Tax Credit (WOTC).
Records TABE/ placement testing outcomes in the appropriate database.
Creates and presents reports based on recruitment and training outcomes in the quarterly Quality Improvement Committee (QIC) meetings.
Collaborates with the finance department regularly to ensure required documentation are submitted to the appropriate agency.
MINIMUM QUALIFICATIONS
Bachelor's Degree
2-3 years of relevant database management & analytics experience, preferably in the workforce development field
Experience in data management and qualitative/quantitative research methods
Advanced knowledge of Microsoft Excel (ability to create pivot tables, formulas, charts, etc.)
Experience designing, analyzing, and summarizing surveys/questionnaires preferred
Ability to multi-task and strong communication skills
Bilingual in Spanish is a plus