Full Time
Applications have closed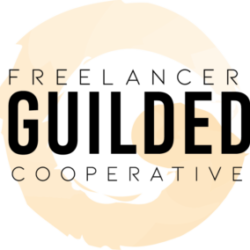 Executive Director
ORGANIZATIONAL CONTEXT
Guilded is a start-up cooperative committed to building freelancer worker power, community,  collective advocacy, and financial stability. Through Guilded, independent workers are able to receive administrative support,  guaranteed on-time contract payments, and a suite of worker benefits traditionally reserved for employees. Unlike other platforms that offer purely transactional services, Guilded offers freelancer workers a pathway to cooperative ownership. 
While open to independent contractors in any field, Guilded has a special focus on artists and creatives. We are anchored in commitments to racial justice, artists as essential workers, and cooperative ownership. We use financial solidarity to deliver better conditions for low-income workers, Black and Indigenous workers, and other workers of color.
Guilded is a lean and small start-up currently with a staff of five. Guilded was incorporated in 2020 as a Limited Cooperative Association as a project of the USFWC (U.S. Federation of Worker Cooperatives). The USFWC (a 501c6 nonprofit) is a national grassroots membership organization for worker cooperatives and other democratic workplaces, whose mission is to build a thriving cooperative movement of stable, empowering jobs through worker-ownership. USFWC represents over 375 member workplaces, comprising over 12,000 workers across the country. USFWC supports its members by advancing worker-owned, -managed, and -governed workplaces through cooperative education, organizing, advocacy, and development.
DESCRIPTION OF POSITION
Guilded's Executive Director is responsible for holding and collaboratively developing Guilded as a mission driven cooperative business, while steering its capacity towards sustainability and scale. As the primary partner to funders, Guilded's Executive Director is tasked with raising money, raising Guilded's profile, and building partnerships that will influence the field while moving the business forward. 
The Executive Director is responsible for holding and adapting the co-op's strategy as it navigates its start-up phase, including Guilded's long-term business model and relationship to philanthropy. The Executive Director is responsible for fundraising and resource development; mentoring staff and aligning staff with goals and objectives; and executing on the vision of the Board President and the Board of Directors. The Executive Director is also responsible for navigating the cooperative's dual needs to stay both value-aligned and financially successful.
The Executive Director's responsibilities include:
LEADERSHIP (50%)
Responsible for Mission and Vision

: 

Work with Guilded's Board and President to fulfill the organization's mission and develop a vision and business plan to guide the cooperative. 

Support and guide the co-op's mission as defined by the co-op Membership and Board of Directors. 

Responsible for strategic planning to ensure that Guilded is a sustainable, thriving cooperative business that can successfully fulfill its Mission into the future.

Work with the staff, Board, and President to ensure that the business and mission are fulfilled through programs, strategic planning, business planning, and community outreach.

Responsible for Team Management & Work Culture

: 

Support and mentor staff 

Utilize project management tools to coordinate team workflows and ensure maximum team collaboration, communication, and impact

Establish inclusive and informative internal communication systems to manage timelines. 

Cultivate a supportive, value-aligned work culture of collective learning, dialogue, and personal growth.

Help to shape and implement Guilded's workplace democracy initiatives.

Support Guilded's Operations Manager in co-op operations, team-building, financial management, as well as through oversight, strategy, planning, and evaluation of the organization's programs and services.

Collaborate with staff to support outreach, recruitment, communications, and technology platform goals. 

Responsible for Board of Directors

:

Acts as an advisor to the Board of Directors on all aspects of the organization's activities. Responsible for communicating effectively with the Board and providing timely and accurate information necessary for the Board to function properly and to make informed decisions. Identifies, assesses, and informs the Board of Directors of internal and external issues that materially affect the organization.
Responsible for Visibility

: 

Responsible for promoting and enhancing Guilded's image by being active and visible in the community and by working closely with other professional, civic, and private organizations in our field. 

Communicate with stakeholders to keep them informed of the work of the organization.

Serve as a spokesperson for Guilded who can spark and maintain strong partnerships. 

Responsible for Partnerships:

Establishes good working relationships and collaborative arrangements with community groups, funders, politicians, and other organizations to help achieve the goals of the co-op.
Responsible for Stewarding Guilded's Transition:

Leads Guilded's transition to organizational autonomy away from the USFWC and tracking communication around, and alignment with, the MOU governing that transition.
FUNDRAISING & FINANCIAL VIABILITY (50%)
Responsible for raising money

to ensure the health of the cooperative from philanthropy, individual donors, government, and investors.

Responsible for developing and nurturing strong funder and investor relationships 
Responsible for the fiscal integrity of Guilded

, including partnership with the Operations Manager to submit to the Board quarterly financial statements and proposed annual budget.

Responsible for making, refining, updating a solid business plan to achieve financial viability as a cooperative. 
DESIRED QUALIFICATIONS
Experienced, passionate, strategic leader:

Proven track record in leading communities through change and/or a start-up venture. We seek a strong, pragmatic, visionary who enjoys building on the edge of creativity to create lasting impact. The ideal candidate has a facility with developing partnerships with collaborators and funders, and brings their own networks of support to resource the cooperative. They will work collaboratively with Guilded staff on budget development and financial management and to ensure the cooperative achieves necessary goals and objectives.
Entrepreneurial Experience:

Significant leadership experience starting businesses, projects, campaigns, or organizations, with a desire for collaborative team work.
Demonstrated Commitment to Racial Justice

: Experience working effectively with multi-racial teams. Understand how legacies of systemic and historical oppression of communities of color shape our world and inform our mission for liberation.

Local/ National/ International Organizing Experience

: At least four years of experience organizing for racial justice, workers' rights, or other elements of a solidarity economy

Program Management:

Proven experience leading successful program work. Able to perform necessary research and development, implement a program, manage a program budget, conduct evaluation, and ensure ongoing program improvement 

Exceptional written and verbal communication skills:

Capable of communicating effectively with a wide range of people and through many communication channels (small group, public speaking, mass emails, facilitating conference calls, print, etc) 

Stakeholder Engagement

: Highly effective at engaging diverse stakeholders, listening to many perspectives and able to provide necessary leadership 

Creative Problem Solving:

Demonstrated ability to foresee obstacles, generate and implement solutions, and manage long-term changes as needed

Financial Management: Knowledge of financial management, and competency in financial reporting, and/or bookkeeping.
ADDITIONAL DESIRED QUALIFICATIONS
Experience stewarding a democratic workplace

Experience in the arts and/or arts management

Experience with issues facing 1099 workers/independent contractors

Experience with cooperatives and/or collectives

Experience with databases, tech & IT, or online platforms
Compensation & Benefits:
This position is scoped for a full-time, three-year employment contract beginning in 2023, following a 60 day trial period and with potential for contract extension upon mutual agreement in 2026. The role requires a commitment of 40 hours per week, and offers a base FTE salary compensation of $100,000– $125,000, commensurate with experience. In addition to generous paid time off policies, Guilded and the USFWC are committed to supporting the health and well-being of our employees, and this position will be eligible for fully subsidized individual and family vision and dental insurance. Additionally, employees can choose between fully subsidized (zero-deductible) medical coverage for themselves or a post-tax healthcare stipend.
About Being on Staff:
Because Guilded is being incubated by the U.S. Federation of Worker Cooperatives, Guilded staff are currently W-2 employees of USFWC, privy to USFWC benefits, payroll and personnel policies. USFWC is a fully remote workplace with 25 employees (including Guilded employees) spread across the country. Guilded will directly employ its staff as of 2024.
LOCATION
Guilded is a remote work environment. This job requires occasional out of town travel for work as health guidelines allow. Preference for applications from the following locations where the USFWC is established as an employer: New York, California, Washington State, New Mexico, Texas, Massachusetts, Maryland, Georgia, North Carolina, Tennessee, Pennsylvania, and the District of Columbia.
TO APPLY
Please submit a resume, cover letter, and 3 references from current or former workplaces. The position will be open until filled.
The USFWC is an Equal Opportunity employer. We highly encourage applicants of color, applicants who grew up poor or working class, LGBTQIA+ applicants, and applicants from other historically marginalized communities to apply.