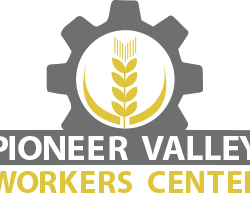 Website Pioneer Valley Workers Center
Organizational Description:
The Pioneer Valley Workers Center (PVWC) builds power with workers and immigrants.  Through grassroots organizing led by those most impacted by injustice, we transform systems and institutions that exploit workers and threaten immigrants, locally and nationally. We incubate worker-led cooperatives and support our members through mutual aid. Our 500 worker members, primarily Spanish-speaking immigrants, guide our organizing campaigns and priorities.
Job Description:
We seek a 40hr/week Co-Director to co-lead the Staff Collective in achieving organizational goals. This position will work with a second Co-Director (already on staff) to manage the organization, guide overarching strategy, and build team capacity. We seek someone with significant experience in grassroots, coalitional, and legislative organizing as well as project management.
Responsibilities:
-Organizational Leadership and Oversight
-Lead the Staff Collective in base-building and successfully implementing the  organizational priorities voted on by our membership.
-Facilitate campaign and strategic planning with membership, staff, and Board.
-With fellow Co-Director, provide ongoing support and updates to the Board.
-With the Board President, implement ongoing leadership development and political education.
Staff Mentorship
-Support and supervise members of the Staff Collective.
-Support and mentor second Co-Director, who is stepping into this position for the first time.
-Build new staff capacity to work with and provide leadership in coalition partnerships.
Coalitional Building and Organizing 
-Sustain and expand coalitional work at the national and state-wide level.
-Represent the organization in public settings, and mentor new staff in doing so.
-Work directly with members on campaign development and organizing.
-Participate in the Organizing Work Team, plan and implement its goals.
Financial Oversight
-Work with the Finance Coordinator and Development Director to draft the annual budget, pursue grant opportunities, and ensure we meet our financial goals.
Requirements:  
-Commitment to worker-led organizing and anti-racism.
-Minimum of 3-5 years of experience in grassroots organizing, legislative advocacy and coalition building.
-Fully bi-lingual Spanish/English.
-Experience in organizational leadership, directorship, a plus.
-Experience working with people from different class and cultural backgrounds.
-Commitment to cultivating a democratic and supportive organizational culture, centering language justice, anti-racism, and working class solidarity.
-Experience supervising and providing mentorship to new organizers.
-Excellent meeting facilitation skills.
-Excellent attention to detail and communication skills, both written and verbal.
-Familiarity with budgeting and financial review.
Strongly preferred: 
-Experience with democratic or collective decision-making.
-Ability to work well in a team, living a spirit of solidarity and camaraderie.
-Willingness to receive constructive feedback, ability to navigate conflict.
-Experience with, and/or interest in public speaking.
Structure & Supervision: 
Overview of Organizational Structure: PVWC's structure begins with our membership base, which determines organizational priorities and elects members to the Board of Directors, which provides oversight. Day to day, the organization is democratically run by the Staff Collective, which plays a significant role in decision-making, including electing the Co-Directors and Department Heads, and voting on new staff hires. The organization is in an exciting time of change and growth as some team members transition out and new staff has recently joined.
Co-Directorship: This 2-year, elected position will work closely with a second Co-Director, receive mentorship from the Board of Directors, and initial training by an outgoing Co-Director. While this is a permanent job, the title and responsibilities will change after two to four years, since the Co-Director position is an elected post.  After this time, the job will focus more fully on base building and organizing.
Work location:  As we slowly return to our Northampton office following the end of the pandemic, this position will necessarily spend at least 3 days/week in the office, but some work may also be performed remotely for part of the week.
Compensation: $24-26/hour depending on experience, as determined by PVWC's Staff Collective Pay Scale. We are currently implementing health insurance for staff members and offer a competitive benefits package of vision and dental insurance, 3+ weeks of paid time off/year, and a childcare stipend to parents of young children. We offer great flexibility and a dynamic, supportive work environment.
How to apply: Please send a cover letter and resume to jobs@pvworkerscenter.org. Please include a subject line that reads: Co-Director Position Application. Applications will be received on a rolling basis until September 10th, with priority given to those that come in before August 27th.
The PVWC is an equal opportunity employer. We highly encourage people of color, immigrants, women, LGBTQ+ people, and other people from marginalized groups to apply.