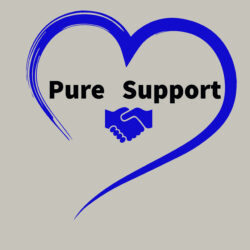 Website Pure Support LLC
More than a name, a Mission.
Get in at the ground level of a newly forming cooperative and have your voice shape the development process.
Pure Support is a labor organization dedicated to assisting in the development of cooperative businesses. We are in the early stages of establishing a Comprehensive Community Services (CCS) program for individuals facing mental health and substance abuse challenges in Rock, Walworth, and Jefferson Counties, Wisconsin.
By creating a worker-owned cooperative, our employe/owners will have a direct say in how their work is performed, their duties, and the pay scale. We strive to create a collaborative and empowering work environment that values the contributions of each team member. wage range expected: $18.00 – $45.00 per hour, or full time $40,000 – $100,000+ benefits and profit shares
Job Openings:We are currently hiring for various CCS positions to join our worker-owned healthcare cooperative.
The following positions and other roles in the CCS model are available:
Service Facilitator (Case Manager)
Mental Health Professional
Substance Abuse Professional
Peer Specialist
Rehabilitation Worker
Psychotherapist
Employment Specialist
Skills Trainer
Recovery Support Specialist
Psychosocial Rehabilitation Specialist
Service Director
Administrator
Responsibilities:The specific responsibilities for each position may vary, but in general, the CCS positions involve:
Conducting screenings and assessments
Collaborating with individuals to develop service plans
Facilitating and coordinating services
Providing medication management (if qualified)
Offering psychotherapy and counseling services
Assisting in skill development and enhancement
Providing employment-related skills training and support
Conducting psychoeducation sessions
Offering recovery support services
Conducting substance abuse counseling (if qualified)
Providing peer support and advocacy
Qualifications:
The qualifications for each position may vary, but the minimum requirements for CCS positions include:
Relevant professional certifications, licenses, or degrees as per Wisconsin state regulations
Experience and expertise in working with individuals with mental illness, substance abuse, or co-occurring diagnoses
Strong interpersonal and communication skills
Knowledge of psychosocial rehabilitation principles and practices
Familiarity with recovery-oriented and person-centered approaches
Ability to work effectively within a team and collaborate with other professionals
Passion for empowering individuals and supporting their recovery journey
Additional Requirements:Some positions may require passing a healthcare giver background check or the like, as per Wisconsin state regulations.
How to Apply:
If you are interested in joining our worker-owned cooperative and making a positive impact in the lives of individuals through CCS, please submit your resume, cover letter, and any relevant certifications/licenses to purepeer.org@gmail.com. Please indicate the position(s) you are applying for, seeking, or qualified for in your application.
We encourage applicants from diverse backgrounds, including those with lived experience of mental health or substance abuse challenges, to apply. We are an equal opportunity employer committed to creating an inclusive and supportive work environment.
Note: Only shortlisted candidates will be contacted for interviews.
For additional information about CCS or to request an application, please contact mitchellsherman777@yahoo.com.
Thank you for considering a career with Pure Support, collaborating on this worker-owned health care cooperative. We look forward to reviewing your application and welcoming you to our cooperative team!
Employment Type
hybrid