Part Time
Applications have closed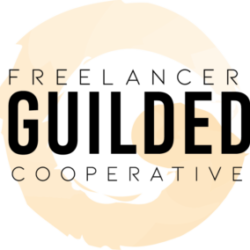 Systems Manager
ORGANIZATIONAL CONTEXT
Guilded is a start-up platform cooperative committed to building freelancer worker power, community,  collective advocacy, and financial stability. Through Guilded, independent workers are able to receive administrative support,  guaranteed on-time contract payments, and a suite of worker benefits traditionally reserved for employees. Unlike other platforms that offer purely transactional services, Guilded offers freelancer workers a pathway to cooperative ownership. 
While open to independent contractors in any field, Guilded has a special focus on artists and creatives. We are anchored in commitments to racial justice, artists as essential workers, and cooperative ownership. We use financial solidarity to deliver better conditions for low-income workers, Black and Indigenous workers, and other workers of color.
Guilded is a lean and small start-up currently with a staff of five. Guilded was incorporated in 2020 as a Limited Cooperative Association as a project of the USFWC (U.S. Federation of Worker Cooperatives). The USFWC (a 501c6 nonprofit) is a national grassroots membership organization for worker cooperatives and other democratic workplaces, whose mission is to build a thriving cooperative movement of stable, empowering jobs through worker-ownership. USFWC represents over 375 member workplaces, comprising over 12,000 workers across the country. USFWC supports its members by advancing worker-owned, -managed, and -governed workplaces through cooperative education, organizing, advocacy, and development.
DESCRIPTION OF POSITION
We are seeking a highly skilled and motivated individual to join our team as a Guilded's Systems Manager. The successful candidate will be responsible for creating, maintaining, and optimizing Guilded's tech platform and services, ensuring they are integrated seamlessly. They will need to have a solid understanding of various platforms, programs, and services and be able to quickly learn and evaluate new ones. A crucial part of this role is managing our primary database, built using Airtable, and integrating it with various APIs to retrieve financial, contract, and other pertinent information. The Systems Manager will partner with Guilded team members to identify and troubleshoot issues, optimize workflows, and enhance the usability of our platform. This manager will create and implement training programs that cater to diverse learning styles and enable staff members to acquire new skills efficiently. The ideal candidate will demonstrate a deep understanding of technology, possess excellent problem-solving skills, and be able to work collaboratively in a dynamic environment.
As we continue to build out our data systems, which include Airtable as a core database and various integrated services, we are looking for an experienced professional to oversee and implement these projects, as well as manage Guilded's general tech needs. This role will also be responsible for overseeing contractors when necessary and launching our user portal.
While our preference is for a part-time salaried staff position, we are willing to consider alternative arrangements, such as contracting, if it better suits the candidate's needs.
SYSTEMS MANAGER RESPONSIBILITIES
Tech System Administration:
Oversee and support the organization's IT systems

This includes: email and web servers; databases and data processing; communication software; team project management software; automations linked to financial accounts and other services; and other digital tools used in the organization's day-to-day operations

Supervise and implement data security operations

Act as top-level administrator on website, database, server, and other accounts

Keep websites and databases running, up-to-date, and secure

Maintain responsibility for Guilded database structure and field sets

Supervise and liaise with IT contractors and vendors

Annually audit existing IT systems and needs, surveying current tools, security issues, cost, efficiency, duplication, and scalability

Troubleshoot staff/organizational IT issues as needed
Tech Systems Development:
Play a crucial role in developing and improving technical tools and systems to support our operations and meet the needs of our members. Some examples of the types of tools and systems you will be responsible for developing include:

User management systems 

Systems for gathering information from and communicating with our users

Financial integrations and automations – Using Guilded's existing financial tools (Quickbooks Online; Invoice Ninja; etc), develop and maintain integrations and automations in order to support Guilded's user/contract/invoicing administration as well as its budgeting, forecasting, and accounting.

Customer relationship management systems – Design and implement systems to manage our relationships with users, including tracking metrics, user interactions, and feedback.

Work closely with our staff to identify needs, develop solutions, provide staff training, and ensure that our technical systems are aligned with our overall business goals. 
Thought Leadership and Partnership:
Training and coaching

Lead staff trainings on specific tools and practices

Lead general skills trainings for staff on topics such as web security

Create and implement an annual calendar for staff IT systems trainings

Holistic viewpoint of tech use and needs

Monitor, evaluate, and plan staff IT systems, identifying areas of duplication, building/implementing new tools/systems with an eye toward what already exists and what we'll need, and building well integrated, future-proof systems that will support our work beyond the present

As new tech needs arise, assess those needs, research new systems, solicit input, and set up or develop new systems as needed

Support Operations Manager in improving organizational workflows, identifying systemic tech issues

Actively participate in the Guilded team, regularly attending meetings and supporting individual team members
Programs Support:
Advise various staff on event and programmatic logistics, as requested

Build systems for improving the organization's metrics and tracking deliverables 
QUALIFICATIONS
Significant experience and in-depth knowledge working with Airtable, Zapier, and WordPress

Familiarity with Google Suite, Checkbook IO, Invoice Ninja, PandaDoc, Stripe and Slack
Candidates are expected to have a comprehensive understanding of IT infrastructure, networking, and security, as well as proficiency in the tools and platforms mentioned earlier. Additionally, the ideal candidate will have experience with data analysis and the ability to use tools such as Excel or Google Sheets to analyze and report on system performance.
Compensation & Benefits: This is a part time position at 20 hours/week with base FTE salary compensation of $60K. 
About Being on Staff: Because Guilded is being incubated by the U.S. Federation of Worker Cooperatives through 2023, Guilded staff are currently W-2 employees of USFWC, privy to USFWC benefits, payroll and personnel policies. USFWC is a fully remote workplace with 25 employees (including Guilded employees) spread across the country. Guilded will directly employ its staff as of 2024.
LOCATION
Guilded is a remote work environment. This job requires occasional out of town travel for work as health guidelines allow. Preference for applications from the following locations where the USFWC is established as an employer: New York, California, Washington State, New Mexico, Texas, Massachusetts, Maryland, Georgia, North Carolina, Tennessee, Pennsylvania, and the District of Columbia. 
TO APPLY
Please submit a resume, cover letter, and 3 references from current or former workplaces. The position will be open until filled, but applications submitted by May 12th will receive priority.
The USFWC is an Equal Opportunity employer. We highly encourage applicants of color, applicants who grew up poor or working class, LGBTQIA+ applicants, and applicants from other historically marginalized communities to apply.