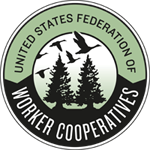 Website U.S. Federation of Worker Cooperatives
The U. S. Federation of Worker Co-ops (USFWC) is the national grassroots membership organization for worker cooperatives and other democratic workplaces. Our mission is to build a thriving cooperative movement of stable, empowering jobs through worker-ownership. Representing more than 350 member workplaces and an estimated 10,000 workers across the country, we advance worker-owned, -managed, and -governed workplaces through cooperative education, advocacy and development.
The Training & Consulting Manager helps implement our fee-for-service consulting program, providing training and facilitation to clients outside of our membership, who range from cooperative businesses to mission-aligned nonprofits. This program brings critical income to the USFWC while supporting racial justice and advancing our visions for an expanded solidarity economy. USFWC's work in training, technical assistance and consulting is guided by participatory approaches rooted in a robust analysis of justice, restoration, democracy, and collective liberation. Our education and training work has been building for several years, and demand for our services from members and clients continues to grow. The person in this position will have the opportunity to further build out these programs and drive impact for the solidarity economy ecosystem.
This is a 30-40 hours/week position at an FTE salary of $49,000-$52,000/year, pro-rated based on % of FTE. A modest salary increase is available for staff located in high cost-of-living cities and staff who have dependents.
Reports to: Director of Education and Training
Job Description 
Training and Consulting Delivery (60% of time)
Provide facilitative leadership for clients and teammates as Project Lead.
Build and maintain positive and communicative relationships with clients as primary liaison.
Design strategic, effective, and creative processes and agendas that are in alignment with the USFWC's pedagogy.
Provide high-quality, anti-oppressive facilitation and training.
Build and integrate tools to support facilitation,training, and other group processes as needed.
Communicate effectively across consulting team about status and needs of clients.
Training and Consulting Project Support (20% of time)
Participate in the creation and execution of consulting contracts.
Help secure a diverse portfolio of consulting clients in support of USFWC budgetary goals
Participate in meetings with potential fee for service clients and the development of proposals to potential clients
Assist in tracking contract deliverables, deadlines, and team priority projects.
Contribute to proposals and contracts and help field consulting inquiries; support outreach to potential clients.
Track consulting tasks and work scope updates in shared project management platforms (esp Box.com and Asana).
Coordinate with Operations Manager and Training Administrative Assistant to ensure client invoices are sent on time
Help onboard and coordinate with contracted trainers.
Support the Training Administrative Assistant in various administrative needs (ex. Creating timesheets and asana boards, timesheet reminders, scheduling, etc.)
Manage, coordinate, and assist in the creation of various systems, tools, and policies in support of the USFWC's Consulting Team.
Develop and maintain positive working relationships with ongoing clients, potential clients, field colleagues, and contracted trainers.
Admin, Cross-Team Strategy and Support  (20% of time)
Participate in bi-weekly staff meetings and other recurring staff meetings
Support the Director of Education and Training on ongoing reporting to USFWC board and staff regarding the consulting program
Provide thought leadership and limited logistical support on USFWC conferences and events as needed
Provide cross-team support on curriculum and training design for USFWC conferences, events and activities as appropriate
Contribute to general organizational strategy in areas such as work planning, staffing, staff support, budget and programming, via regular meetings with the staff leadership team
Qualifications
Required Skills and Experience
Experience developing and designing innovative and engaging curriculum, trainings, group processes, and educational resources around topics including but not limited to: Racial Justice, Economic and Labor Justice, Democratic Practices, Conflict Mediation etc.
Experience with project management on collaborative small teams
Experience with popular education and participatory pedagogy
Strong communication skills, including:

written communication skills (can convey complex points concisely, create thorough and engaging reports and resources, etc)
verbal communication skills (can communicate effectively across diverse cultural norms, synthesize meaning from a diverse range of viewpoints, can speak confidently and clearly about your work; navigate challenging interpersonal dynamics in a way that aims for resolution and de-escalation)

Experience and competency working with communities of color and immigrant communities
Attention to detail, complemented by the ability to see the big picture
Desired skills / experience
Experience working in or with worker (or other) cooperatives, collectives, or democratic workplaces
Experience with consulting or freelance work
Experience working remotely and/or with a distributed team
Outgoing personality, positive attitude and strong social skills
Creative problem-solving skills
Capacity for travel and in-person work (when it can be done safely)
Fluency in Spanish
Details about the position
Location
Our workplace is remote, with many staff residing in Philadelphia, PA. We maintain a flexible work environment, with occasional out of town travel for work as health guidelines allow.
About Being on Staff:
U.S. Federation of Worker Cooperatives is a growing organization, currently consisting of 18 staff along with leadership from our nine-member Board of Directors. The USFWC has expanded both its programs and its staff significantly over the last four years. We are dedicated to serving our members and focusing on growing our impact, our value, and our member benefits. Member engagement is a key area of our focus, and also involves strengthening relationships with local and regional networks and exploring new state-level chapters.
Compensation & Benefits:
This is a 30-40 hours/week position at an FTE salary of $49,000-$52,000/year, pro-rated based on % of FTE. Staff receive annual raises, and we offer a modest increase on top of base pay for staff with dependents (including parents and employees caring for an elderly family member). Base salaries are increased slightly for employees residing in particularly costly cities. The USFWC fully covers healthcare, vision and dental coverage for full time equivalent employees. Among our generous fringe benefits, we offer flexible holiday pay, 3-5 weeks of annual vacation, and stipends for professional development and tech equipment.
Applying:
To apply please send a resume, cover letter, and 3 references from current or former workplaces (or significant organizing initiatives) to hiring@usworker.coop.  Make the subject line of your email "Your Name, Training & Consulting Manager Application". The position will be open until filled, but applications submitted by August 15 will receive priority.
The USFWC is an Equal Opportunity employer. We highly encourage applicants of color, applicants who grew up poor or working class, LGBTQIA applicants, and applicants from other historically marginalized communities to apply.