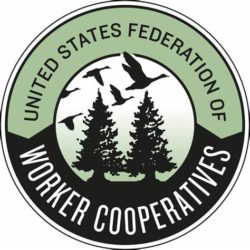 Website US Federation of Worker Co-ops
Work It. Own it.
Membership and Worker Benefits Coordinator Contract Position Scope of Work (August-December 2022)
The Membership Coordinator is a new position on the Membership Team that reports directly to the Membership Director. The coordinator will provide additional administrative support to the USFWC's Membership and Worker Benefits Programs. The Coordinator works closely with the Membership Program Manager and Worker Benefits Program Manager and is a key link between the two areas of work. The Worker Benefits Program works to improve health equity across our membership and the cooperative economy by expanding access to health benefits and information through our administration and referral to key workplace benefits including dental, vision, accident and disability insurance.
Worker Benefits Admin Support (10 hours/week)
Worker Benefits Open Enrollment
During open enrollment time (September-December), phonebank unenrolled members and process email follow-ups
Does onboarding for new enrolling groups in collaboration with worker benefits manager
Tracks recruits in Airtable
Tracks enrolled organizations' membership status, checking that enrolled orgs are in process of joining/renewing or fully active.
Membership Admin Support (10 hours/week)
Membership Renewal Support
Follow up on the pending members who have not renewed for 2022 via automated CiviCRM emails, individual/manually sent emails and phone calls.
Update contact information and relevant membership information while doing the outreach in our CiviCRM system and relevant tracking documents
Inform the Membership Manager of new information including member needs collected during the renewals process
Coordinate relevant bookkeeping with USFWC Operations Manager
National Worker Cooperative and Democratic Workplace Directory Support
Check the Co-op Verification Slack channel and contact all new leads via email to both verify and recruit to USFWC membership, add new cooperatives to the New Cooperatives in our Universe Form and send follow-up to Membership Manager
Qualifications:
Strong understanding of racial and economic justice.
Comfort with self-directed work environments is required.
Strong time management skills, organization and good judgment are required
Strong understanding of the importance of maintaining confidentiality and protecting sensitive information is required.
Strong written and oral communications skills are required.
Required software competence: spreadsheet software, database and contact management software, general office software, remote workspace tools
Comfort engaging in phone banking and generative conversations with members is required.
Experience with member-based and nonprofit organizations is preferred.
Familiarity with the landscape of worker cooperatives, cooperative development and ethical small business is a plus.
Bilingual English and Spanish is desirable.
Compensation: 20 hours/week over 4 months (80 hrs/ month) @ $30/hr rate
If interested, please email your resume or CV to  hiring@usworker.coop