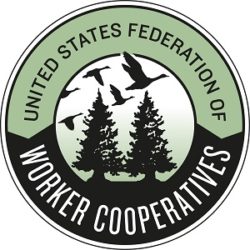 Website US Federation of Worker Cooperatives
The US Federation of Worker Cooperatives is the national grassroots membership organization for worker cooperatives and other democratic workplaces. Our mission is to build a thriving cooperative movement of stable, empowering jobs through worker-ownership. Representing more than 300 member workplaces and 8,000 workers across the country, we advance worker-owned, -managed, and -governed workplaces through cooperative education, advocacy and development.
USFWC is seeking a Communications Coordinator to support USFWC communications, design, social media, storytelling, and engagement with donors and members. This is a salaried staff position starting at 32 hours/week. 
Position Duties 
Communications & Design (70%)
Support USFWC communications through the execution of a strategic communications and design plan to amplify stories about USFWC members and workplace cooperatives to current and new audiences:
Work with the Policy Director and Membership team to implement an outreach plan to connect members and the public of the core value proposition of the USFWC.
Coordinate the writing, editing, and distribution of official USFWC communications and publications, including:

Regular email newsletters, to members and the general public, typically 2-4 per month
Maintaining general outreach materials about the USFWC
Materials about USFWC programs and member benefits for potential and current members, in coordination with the USFWC membership department
Project managing the creation of the USFWC Annual Report, in coordination with USFWC directors
Project managing the sponsorship and publication of the bi-annual newsletter
Maintaining the USFWC press kit and FAQ's for media inquiries
Managing content for the USFWC website blog
Support the creation of USFWC campaigns, statements and endorsements.
Support USFWC's sustainer and end–of–year individual donor campaigns

 Maintain and update USFWC's website content
Develop and implement storytelling strategies to circulate co-op stories and advances through social media and other USFWC channels.
Research and promote resources and news to relevant worker coops within the Ecosystem in coordination with Democracy at Work Institute.
Design, procure, and coordinate sales of USFWC merchandise.
Assist with and support direct outreach to members and donors as needed
Online meeting and webinar support (20%)
Council and Peer Network Coordination – Working with staff to support the coordination and engagement of USFWC member councils and peer networks
Coordinating and support of the USFWC Webinar schedule, working with staff members and presenters to schedule and promote online offerings.
Collaborate on content and promotion of USFWC webinar calendar
Admin (10%)
Participate in bi-weekly meetings, assist with preparation of materials for board meetings, and annual member meetings as appropriate
Track and provide regular progress reports on communications and social media efforts.
Reports to the USFWC Policy Director.
Qualifications:
Candidate must be bilingual in English and Spanish
Graphic Design Skills: At least 2 years experience with design & layout.
Member Services, Customer Support, or Community Relations
Experience: At least 2 years of experience providing support services to a targeted community or successful audience–building.
Social Media Skills: Experience publishing content to multiple social media channels including Twitter, Facebook, Instagram, LinkedIn
Program Management: Proven experience leading successful program work.
Exceptional written and verbal communication skills; capable of communicating effectively with a wide range of people and through many communication channels (small group, public speaking, mass emails, facilitating conference calls, print, etc)
Stakeholder Engagement: Highly effective at engaging diverse stakeholders, listening to many perspectives and able to provide necessary leadership
Creative Problem Solving: Demonstrated ability to foresee obstacles, generate and implement solutions, and manage long-term changes as needed
Basic Technology: Proficient with Microsoft or Open Office, Adobe Suite (InDesign, Photoshop) or other Graphic editing software, Google apps, social media apps, mass mail programs, relational databases (we use CiviCRM), basic website editing (WordPress), project management software (we use Asana and Airtable) and Slack
Movement Orientation: Commitment to building a principled cooperative component of movements for racial justice, workplace democracy, and a solidarity economy
Diplomacy and Networking: Ability to build strong relationships with movement partners
Cooperative Business or Association Experience: At least 2 years experience in cooperative organizations preferred
Some experience on facilitation or with popular education is desirable.
Travel Capacity: Willingness and ability to attend occasional out-of-town meetings, retreats, and convenings when national health guidelines allow for travel.
Location
Our primary office is in center city Philadelphia, PA, with remote staff currently based in NY, MD, and TN. We maintain a flexible work environment, including remote working and occasional out of town travel for work as health guidelines allow. At this time, we are only accepting applications from New York, California, Washington State, Massachusetts, Maryland, Tennessee, and Pennsylvania, with a preference for this role to be based near Philadelphia, PA.
About Being on Staff:
U.S. Federation of Worker Cooperatives is a growing organization, currently consisting of eleven full time employees, two part-time staffers, and some part time contractors, along with leadership from our nine-member Board of Directors. The USFWC has expanded both its programs and its staff significantly over the last four years. We are dedicated to serving our members and focusing on growing our impact, our value, and our member benefits. Member engagement is a key area of our focus, and also involves strengthening relationships with local and regional networks and exploring new state-level chapters.
Compensation & Benefits:
This is 80% of full time, salaried 32 hr/ week position with a starting FTE base salary of $43,000- 46,000. Staff receive annual raises, and we offer a modest increase on top of base pay for staff with dependents (including parents and employees caring for an elderly family member). Base salaries are increased slightly for employees residing in particularly costly cities. The USFWC provides healthcare, vision and dental coverage for full time equivalent employees. Among our generous fringe benefits, we offer flexible holiday pay, 3-5 weeks of annual vacation, and a stipend for professional development.
Applying:
To apply please send a resume, cover letter, and 3 references from current or former workplaces (or significant organizing initiatives) to savanna@usworker.coop. Kindly also include a writing sample in your application. Make the subject line of your email "Your Name, Communications Coordinator Application". The position will be open until filled, but applications submitted by March 25 will receive priority.
The USFWC is an Equal Opportunity employer. We highly encourage applicants of color, applicants who grew up poor or working class, LGBTQIA applicants, and applicants from other historically marginalized communities to apply.