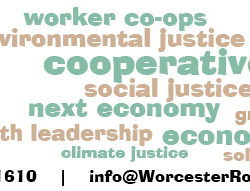 Website Worcester Roots
Regional leader co-op development; solidarity economy organizing
Worcester Roots is looking for a Director who can lead Worcester Roots through a transition period, revise the processes and systems currently in place (or create new processes as needed), and work with the Board of Directors on a strategic plan, fundraising, and program development over the transition period. During this period, the organization will limit operations to organizational development, meeting contractual obligations, and maintaining relationships within coalitions. Ideally this person will build a team and be part of the staff leadership accomplishing the work in the future.
The position: 50% of time on Director-led organizational development; 50% of time overseeing Board-led programming and fundraising.  Worcester Roots is a regional leader in co-op development and solidarity economy organizing. The Director will oversee Board-led mentorship and peer mentorship programs for co-ops incubated in past co-op academies and Board-led planning for the next Fall 2021 Co-op Academy, a holistic 14-week cooperative entrepreneurship training and mentoring program with an emphasis on creating sustainable member-owned businesses.
Who should apply: individuals with deep experience in organizational development, familiarity with the solidarity economy and cooperatively run businesses, and ability to work  with members of the Board of Directors and community partners  to fulfill program obligations and raise funds for the organization.
RESPONSIBILITIES INCLUDE:
Organizational: Review processes and systems currently in place and revise as needed; in partnership with the Board, develop a 5-year strategic plan.
Oversee Board-led program development and fundraising: Develop program and fundraising plans and metrics for progress in partnership with Board members who will bottom-line these efforts; check in regularly to ensure progress on metrics; identify inadequate follow-through and problem-solve alternative strategies.
Community Engagement:  Actively engage and energize volunteers, Board members, event committees, alumni, partner organizations, and funders to support the work of the organization and raise its regional profile.
SKILLS / EXPERIENCE:
Organizational management
Group facilitation skills
Building relationships of trust and respect with a variety of communities, including Black, Latinx, Indigenous, and Asian and LGBTQ
Experience or interest in working in a democratic workplace (a team workplace experience)
Self-driven
Ability to coordinate multiple tasks and see them to completion
Preferred: Coop business development experience (supporting startups, running a small business, technical  assistance)
ACCOUNTABLE TO: Board of Directors
COMPENSATION: $20-$30/hr for 20-30 hours / week, negotiable
The position includes significant flexibility around schedule and some work-from-home components.
Worcester Roots especially encourages women and transgendered, LGBQ, and BIPOC applicants.  Roots does not discriminate in regards to participation, membership or employment on the basis of race, gender, sexual orientation/identity, religious conviction, ethnic identity, disability, age, country of origin, or citizenship status. To apply, send a resume/cv and  cover letter to info@worcesterroots.org.