The celebration of Black History Month was always intended to be about the future. When Carter G. Woodson first launched the event in 1926,  it was with the expectation that "we are going back to that beautiful history [of Black accomplishment] and it is going to inspire us to greater achievements." In 2021, the time is ripe to lift up the history of cooperative economics amongst Black people in the United States as well as the great potential it has to build our future.
Throughout the history of the United States, Black people have used cooperative economics to support each other and our communities. From mutual aid societies in the early 18th century, to women-run collective farms on abandoned plantations during the Civil War, to the cooperatives associated with civil rights activism, Black people have used cooperative economics to withstand hardship and create alternative to a financial system we were often locked out of.  (These and many more examples can be found in Collective Courage: A History of African American Cooperative Economic Thought and Practice by Jessica Gordon Nembhard).
In 2021, we find ourselves in the midst of a dual economic and health crisis, which is impacting the wealth and stability of Black families and communities at a disproportionate rate.  We are at a time of expanded organizing against racism and other oppressions. The time is ripe for us to return to the wisdom of our past with fresh eyes, new tools, and novel opportunities.  
Cooperative economics can be a key part of building strong futures for Black communities. That's why Executive Director Esteban Kelly, drawing from the experiences of decades in our co-op ecosystem, was tapped to inform the Movement for Black Lives platform on economic justice.  This policy calls for "economic justice for all and a reconstruction of the economy to ensure Black communities have collective ownership, not merely access". It demands that government and other actors specifically support "cooperatives (food, residential, etc.), land trusts and culturally responsive health infrastructures that serve the collective needs of our communities".
The data backs up those demands. Todd Leverett and Phillip Reeves, from the USFWC's sister organization the Democracy at Work Institute (DAWI) explain the impact worker ownership and democratic workplaces can have on the wealth and wellbeing of Black workers. "On average employee-owners making less than $30,000 have 17% greater median household net worth and 22% higher median income from wages than their non-owner peers". The more democratic nature of a worker cooperative (one worker, one vote) also means more control over working conditions.  Leverette and Reeves's investment firm, Apis & Heritage Capital, focuses on facilitating employee-led buyouts with workforces of color, as a way to transfer wealth to those whose labor is creating it.
The USFWC's endorsement of the M4BL policy is one illustration of our commitment to keeping racial and economic justice central to our mission especially as it pertains to Black communities. We are expanding efforts to identify, connect, and uplift Black led and majority Black worker cooperatives, as well as supporting initiatives like that of Apis & Heritage, which improve the ecosystem in which these cooperatives exist.  2021 is a time for speaking Black success into the future as well as celebrating it in the past, and history shows us our success has always been best achieved cooperatively.
What cooperative efforts in Black communities are you lifting up? Share with us at info@usworker.coop.
In case you missed it!: Learn more about Leverette and Reeves work in this panel: "Charting a New Path for Economic Recovery and Racial Justice through Worker Ownership".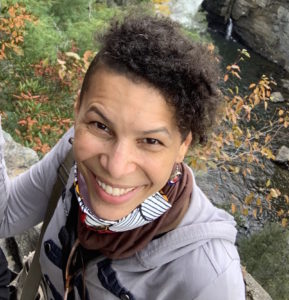 Dyresha Harris is the Director of Education and Training at the U.S. Federation of Worker Cooperatives.
References:
The images in this post were created by artist Alee Karim who is currently creating a comic based on the book Collective Courage: A History of African American Cooperative Economic Thought and Practice by Jessica Gordon Nembhard.