Leer este anuncio en español aquí
The USFWC Co-op Clinic invites you to attend our half-day Virtual Summit: a space for deepening education and growing capacity for worker-owners, cooperatives, and support organizations.
This is an opportunity to connect with other cooperatives across the country this spring, and meet the Co-op clinic team and the greater USFWC community. The summit will be hosted via Zoom and all sessions will be accessible in English and Spanish. Session recordings with closed captions will be provided to registered participants.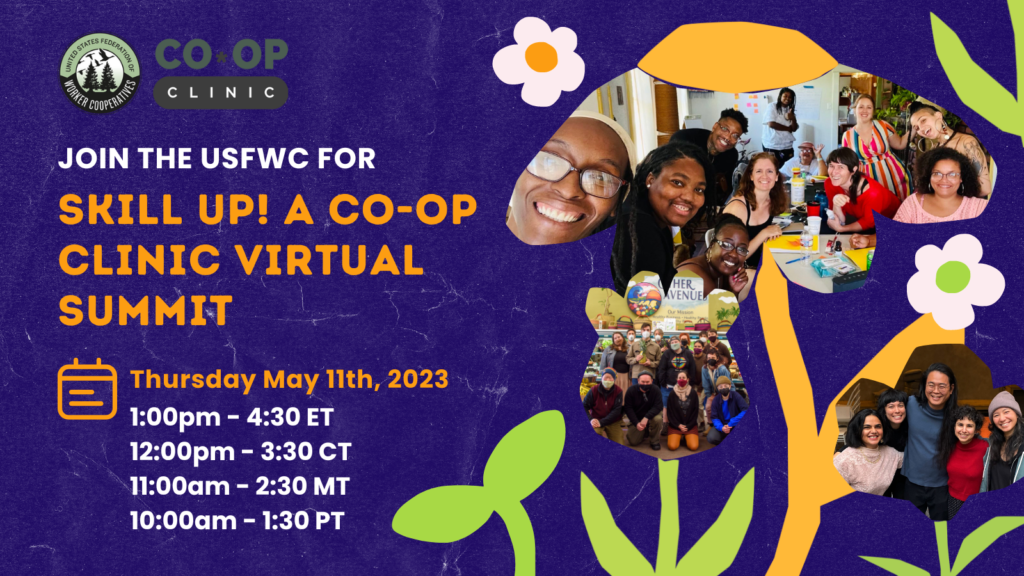 Come grow your knowledge and skills in one of three 2-hour, 2-part workshop tracks. Workshop tracks include:
Flow Like Water: Worker Co-op Finance 101


A dive into tools and best practices for making your cooperative financially sustainable! This workshop will be co-facilitated by Daniella Preisler (she/her) & Emma Yora (she/her).

Here for it: Building Capacity for Conflict
An exploratory learning, play and practice space for cooperators who want to know about the common sources of conflict; how conflict shows up on our bodies; how to diagnose conflict in groups; and some tools that we can use to address conflict collectively.

This workshop will be co-facilitated by Mike Strode (he/him) and Ana Martina (she/her).

So you want to offer worker benefits: Where do you begin?
Benefits are an important part of worker compensation for any company in the United States, but the world of worker benefits can be complicated and confusing. In this track, we'll be learning about the easy-access dental and vision insurance offered by the USFWC, and discuss the options and questions to consider when deciding to offer general medical insurance to workers. Participants will leave with a greater understanding of health benefits terminology and options. This workshop will be facilitated by Maddie Taterka (they/she).

Join Us
If you're new to cooperativism, recently joined your cooperative, or looking to deepen your skills in finance, conflict mediation, or providing worker benefits to your cooperative, this summit is for you!