We are very excited to announce that the Western Worker Co-op Conference (WWCC) and Eastern Conference for Workplace Democracy (ECWD) have each become a program of the US Federation of Worker Cooperatives (USFWC) and the Democracy at Work Institute (DAWI). This transition is the result of an 18-month-long process of learning how the ECWD, WWCC, USFWC, and DAWI can collaborate for a stronger impact in growing and developing the worker co-op field.
The WWCC was founded in 1997 and the ECWD was founded in 2002. Both conferences were led by volunteer collectives, holding the conferences in odd years so that worker owners could attend the Worker Cooperative National Conference during even years.
The WWCC's and ECWD's early conferences played a large role in laying the groundwork for the USFWC to form in 2004, and all three organizations have been valued partners throughout the years. Since the WWCC's and ECWD's founding, the worker co-op ecosystem has developed substantially throughout the country, and the regional conferences have followed suit. In recent years, the conferences became larger and more challenging for groups of busy volunteers to manage, and their leadership identified a need for more consistent staffing, governance, and coordination.
The USFWC has grown substantially since it was founded in 2004, is now a robust, grassroots, member-led organization, and has become a perfect home for the WWCC and ECWD. The USFWC aims to honor the history, identity, and accomplishments of these conferences while providing the resources that they need to thrive – moving forward, the WWCC and ECWD will be run as programs of the USFWC and fiscally sponsored by DAWI, led by the USFWC's democratically elected board and organized by its growing staff. The Eastern Coordinating Council will become an advisor on the ECWD, and the USFWC will be inviting feedback on its future vision for the WWCC in LA at the Worker Cooperative National Conference.
The USFWC will also be sharing updates with you about both conferences through its newsletter mailing list. We all hope to see you at the Worker Cooperative National Conferencein Los Angeles September 14-16 (early registration ends June 29)! In the meantime, if you have any questions about the WWCC or ECWD, please email info@usworker.coop.
In cooperation,
Esteban Kelly, US Federation of Worker Cooperatives
Melissa Hoover, Democracy at Work Institute
Neily Jennings, Eastern Coordinating Council
Kate Sassoon, Western Worker Cooperative Conference Board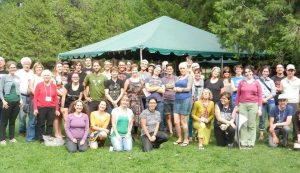 Nos emociona mucho anunciar que la Conferencia de Cooperativas de Trabajadores de la Región Oeste (WWCC, por sus siglas en inglés) y la Conferencia por la Democracia del Trabajo en la Región Este (ECWD, por sus siglas en inglés) se han convertido en programas de la Federación de Trabajadores de Cooperativas de los Estados Unidos (USFWC, por sus siglas en inglés) y de Democracy at Work Institute (DAWI). Esta transición es el resultado de un proceso de aprendizaje de 18 meses sobre cómo la ECWD, la WWCC, la USFWC y DAWI pueden colaborar para causar un mayor impacto en el crecimiento y desarrollo del campo de las cooperativas de trabajadores.
La WWCC se fundó en 1997 y la ECWD en el 2002. Ambas conferencias fueron dirigidas por colectivos de personas voluntarias, que las llevaban a cabo en años nones para que las y los trabajadores dueños pudieran asistir a la Conferencia Nacional de Cooperativas de Trabajadores durante los años pares.
Las primeras conferencias de la WWCC y la ECWD jugaron un papel importante en cimentar las bases para la formación de la USFWC en el 2004, y las tres organizaciones han sido valiosas copartes a lo largo de los años. Desde que se fundaron la WWCC y la ECWD, el ecosistema de las cooperativas de trabajadores se ha desarrollado sustancialmente a lo largo del país y las conferencias regionales han seguido sus pasos. En años recientes, las conferencias se hicieron más grandes y más desafiantes como para que las gestionaran grupos de personas voluntarias recargadas de trabajo y su liderazgo identificó una necesidad de abastecimiento de personal, gobernanza y coordinación más consistente.
La USFWC también le estará compartiendo actualizaciones sobre ambas conferencias a través de la lista de envío de su boletín de noticias. ¡Esperamos verle en la Conferencia Nacional de Cooperativas de Trabajadores en Los Ángeles el 14-16 de septiembre (la inscripción anticipada culmina el 29 de junio)! Por el momento, si tiene alguna pregunta sobre la WWCC o la ECWD, por favor escriba un correo electrónico a info@usworker.coop.
En cooperación,
Esteban Kelly, US Federation of Worker Cooperatives
Melissa Hoover, Democracy at Work Institute
Neily Jennings, Eastern Coordinating Council
Kate Sassoon, Western Worker Cooperative Conference Board