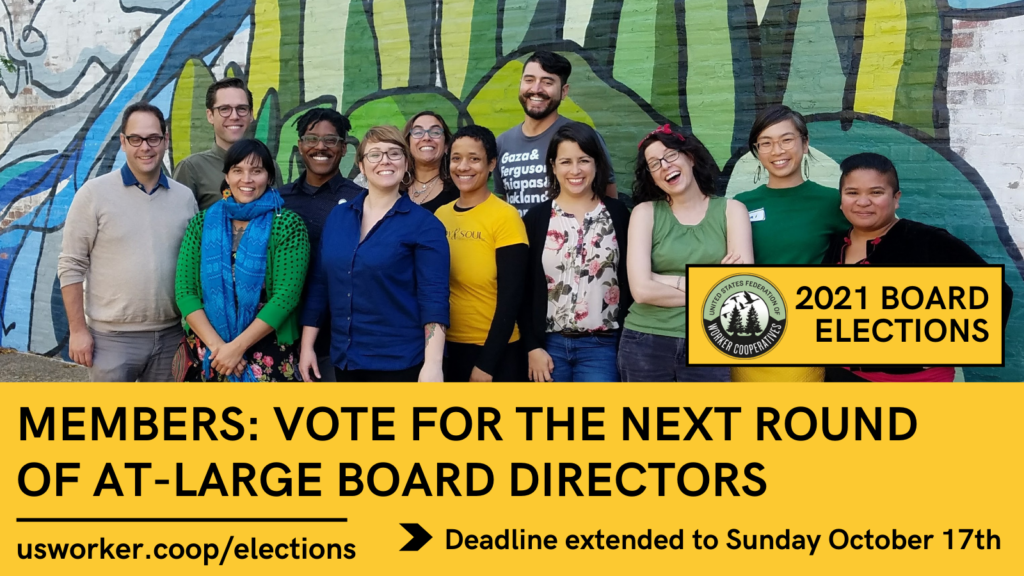 JOIN THE USFWC BOARD 
Each year, the USFWC hosts an annual election for the Board of Directors. In 2021, we will be electing At-Large Directors. Regional representatives were recently elected in 2020.
Nominations are now closed.   
Questions? For more info contact Ana Martina Rivas at ana [at] usworker.coop
Board Elections Committee: Pablo Benson pbobenson [at] gmail.com or Esther West, ejwest [ at ] wisconsin.edu
Overview & Candidate Eligibility
USFWC is led by a member-elected Board of between 5 and 9 directors.
There are 4 regional representatives (elected in years ending in even numbers) and up to 5 At-Large representatives (elected in years ending in odd numbers)
Voting member classes include: Worker Cooperative, Democratic Workplace, Cooperative Developer, and Federation Partners. More about all member classes available here: https://www.usworker.coop/join/
Any worker-owner of a voting member workplace may run for the Board, with support from their workplace (or employee in the case of Democratic Workplace, Coop Developer and Federation Partner members).
A candidate's workplace must be a USFWC member for at least one year from the date of the annual member meeting.
At-large candidates can run from any voting member workplace and are voted on by the entire membership.
Board Commitment
Board terms are two (2) years from date of election.
Attend our annual 2-day, in-person Board retreat (tentatively scheduled for the Fall/Winter)
Participate in monthly 2-hour Board meeting via conference call, plus preparation time.
Participate in at least one Board committee (2 - 6 hours work per month).
Attend and participate in annual membership meetings and national conferences.
Timeline
July 14th -

Candidate Nomination Opens

Aug 31st

- Deadline to submit your candidate nomination - You may nominate yourself or someone else from a Worker Cooperative, Democratic Workplace, Cooperative Developer, or Federation Partner member.

Sept 13th

 - Online Voting Opens

Sept 23rd

- Member meeting and in-person meeting (Candidate's 'Town Hall' with Members)

*Deadline extended!* Oct 17th

- Online Elections Close