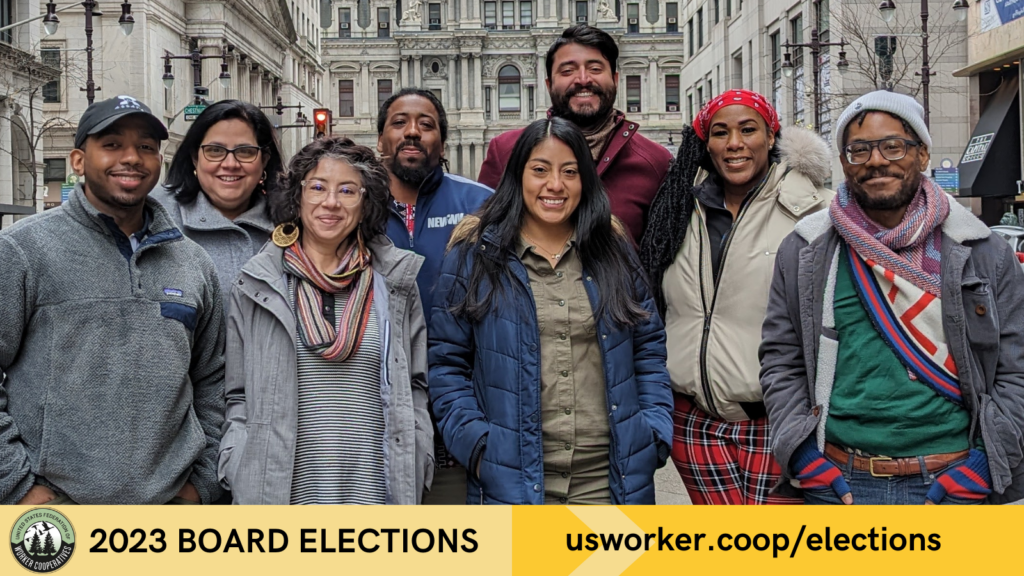 Vote in the 2023 USFWC Board Elections
Online voting in the 2023 Board of Directors Election is now open! This year, members are voting for candidates for five at-large director seats.
Get to know the candidates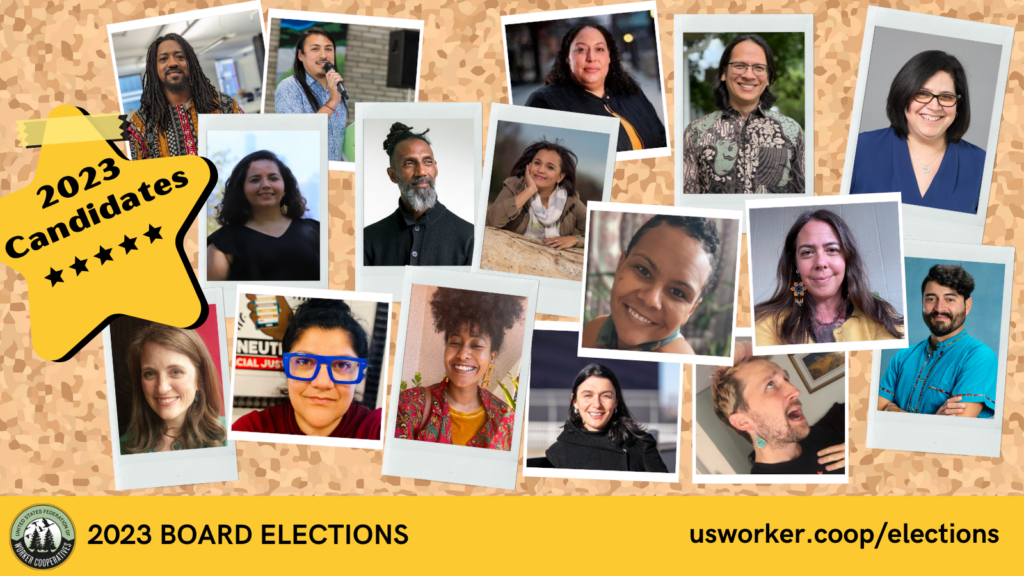 Meet your 2023 USFWC Board of Directors candidates at our candidates page here.
Thank you to all of our candidates for volunteering their leadership and experience in service of our extraordinary network.
Made your selection and ready to vote? Read on to find out how.
How to Vote
Online voting is open now through October 12th. USFWC voting members are invited to vote by workplace in the 2023 Board of Directors At-Large Election. Voting member classes are: worker cooperatives, democratic workplaces, cooperative developers, and federation partners.
Each workplace will receive a unique code to cast their vote. Unlike in previous years, this year's codes are weighted according to the workplace's USFWC membership class. Your primary contact will receive an email with your workplace's voting code, a link to your ballot and instructions to cast your vote. If you haven't received that email, or if you have any questions, please email membership [at] usworker [dot] coop.
Here is the link to the online ballot:
https://www.opavote.com/en/code/5523868746776576
About weighted voting this year
You may have noticed a change to voting this year that we hope makes the process easier. According to our bylaws, the USFWC uses weighted voting. Depending on your membership class, your vote will count for a different number of votes. In the past we've given each member between 1 and 3 voting codes based on their weight. Members would need to log into the site up to three times and paste each code individually.
This year, the codes themselves are weighted. Members receive a single voting code weighted according to the workplace's USFWC membership class. That means that casting your vote with your unique code will count as many times as your vote is weighted.
Important information about the election:
There are 16 candidates for the board. You should review the candidate statements ahead of time so you are ready to vote.
Check with your co-workers in your member organization in order to arrive at your ranked voting preference before casting your ballot.
We use ranked-choice voting. That means you can vote for the candidates in order of preference.
Use the provided code for your workplace. Click to select or unselect a choice. We recommend ranking all candidates, but you must select at least one 1 choice to cast your ballot. Double check your ballot. Then click the "Vote!" button to cast your vote.
If you have any questions, please email membership [at] usworker [dot] coop.
Timeline
May 24th -

Candidate nominations open at Spring Member Meeting

Aug 7th

- Nominations close

Sept 7th

- Voting begins for voting members

Oct 12th

- Voting ends for voting members

Mid-October - Election results announced
USFWC Board Nominations
UPDATE, August 7th: Nominations for USFWC Board of Directors At-Large Representatives are now closed. Thank you to all members who are shaping USFWC's mission to build a thriving ecosystem for worker-owned and controlled businesses by recruiting candidates. Learn about the candidates here and vote beginning on September 7.
Each year, USFWC members elect candidates to the Board of Directors. On odd years, we hold an election for our At-Large Directors, and on even years, we elect our Regional Representatives, who advocate for the co-ops in their area.
In 2023, we are recruiting candidates to run for five at-large director seats.
Why run for the board?
Be a key part of building the worker co-op movement in this country.
Network with other co-op and economic justice organizations.
Travel to local, regional, national worker cooperative conferences.
Represent the US at the international worker co-op federation, CICOPA
General Assembly and as part of international delegations
Board members are not compensated for their time, but USFWC does cover expenses incurred in the course of regular board service, such as travel.
Questions? For more info, contact membership [at] usworker [dot] coop
Overview & Candidate Eligibility
USFWC is led by a member-elected Board of between 5 and 9 directors.
There are 4 regional representatives (elected in years ending in even numbers) and up to 5 At-Large representatives (elected in years ending in odd numbers)
Voting member classes include: Worker Cooperative, Democratic Workplace, Cooperative Developer, and Federation Partners. More about all member classes available here.
Any worker-owner of a voting member workplace may run for the Board, with support from their workplace (or employee in the case of Democratic Workplace, Coop Developer and Federation Partner members).
Before they run, a candidate's workplace must have been a USFWC member for at least one year.
At-large candidates can run from any voting member workplace and are voted on by the entire membership.
The candidate can speak Spanish or English – our board is a bilingual space.
Only one person can run per member workplace.
If you have concerns about travel due to immigration status or other reasons, our staff will work with you to address needs.
Board Commitment
Board terms are two (2) years from date of election.
Attend our annual 2-day, in-person Board retreat (tentatively scheduled for the Fall/Winter)
Participate in monthly 2-hour Board meeting via conference call, plus preparation time.
Participate in at least one Board committee (2 - 6 hours work per month).
Attend and participate in annual membership meetings and national conferences.