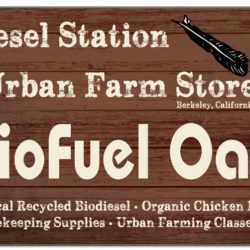 Website Biofuel Oasis Cooperative
Biodiesel Station and Urban Farm Store
We need a person to join us in changing the world! We're looking for someone to hit the ground running, take on responsibility, make a commitment, and get on worker-owner track quickly.  This person will lead some of our most important business processes; including managing our chick days, ordering supplies, writing newsletters and editing our website, organizing classes, growing our business, and more!  We are looking for a self-starter who is passionate about advancing environmental goals through the goods and services we provide.
Please pass on to friends who would be interested!  Here are more details:
Job Skills/Experience Required:
1.    Real world experience in Urban Farming—chickens, beekeeping, and vegetable growing.
2.    Customer service/retail OR teaching/training experience (as our customer service includes a lot of education about biodiesel/urban farming)
3.    Website/HTML knowledge or the ability to quickly learn how to edit and operate our website
4.    Proficient/quick to learn on computers; solid knowledge of Excel, Word, google drive sheets/docs, social media (Facebook/Instagram)
5.    Strong writing skills and an interest in organizing and promoting our workshops and events
The candidate would also be a quick learner with an eye toward details, enjoy multi-tasking, have an outgoing, friendly personality, and be able to easily build long-term relationships with both customers and vendors.
Other skills that are a plus:
-Mechanically inclined, proficient with tools (plumbing, carpentry)
-Worked for a small business (including your parents owning a small business) OR have experience with a housing or worker-owned co-op, sharing space, or consensus decision-making
-Experience in a related area (i.e. fermentation, cheese-making, goats)
-Flexible work schedule
-Live in the East Bay/close to our station
Starting Payrate:  $16/hr (plus quarterly bonuses)
Hours: 1 weekday each week to start; will go up to 3 weekdays (24 hrs/week) plus one Saturday & Sunday per month in the spring or possibly sooner. Additional hours are possible especially March – June (our busy season)
Vacations: 4 weeks unpaid vacation /year, 1 week at a time. No time-off for first 3 months as we will be focused on training.
Commitment:  Initial one year commitment as an employee, 5-10 year commitment if continue on to worker-owner track
Worker-Owner compensation ranges from $19-26 per hour (due to profit sharing), plus health and wellness benefits, other benefits, and paid vacation.
This position is the 1st Step in our Worker/Owner Process:
1st Step:  Employee for 2-12 months – learns tasks that are foundations of our business: half of time is spent retail/helping customers, half of time mix of accounting, ordering merchandise, and physical basics of our equipment.
2nd Step:  Employee on Worker-Owner Track for 1 year – starts to manage tasks & areas of the business gradually, learn higher level accounting/financials, and gains more responsibilities and knowledge of business. This year is spent evaluating whether the employee and the current worker-owners think it is a good fit.
3rd Step:  Worker-Owner – 2 years of working and learning all aspects of the business so you know how to do 90% of all the work we do here.  Worker-owners know how to do all the areas of the business so we can fill in for others easily and switch around tasks every year or so to keep it interesting.
How to Apply:
Please send resumes and cover letters to biofueloasis@gmail.com by midnight on October 20th. In your cover letter, please outline your biodiesel, chicken, beekeeping, customer service/teaching experience, and writing/website experience as well as the weekdays you are available to work.  No phone calls please.
We hope you will apply and look forward to seeing your resume!
Warmly,
Jennifer, Kelsey, & Tess, Worker-Owners