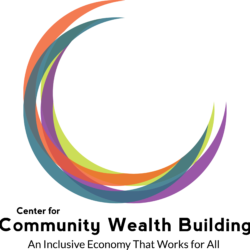 Website ccwbdenver Center for Community Wealth Building
An inclusive economy that works for all
Reports To: Co-op Development Director
Pay Rate: $2,160 Monthly
Status: Part-time Temporary Position
Location: Denver Metro Area
Work Environment: Hybrid of work from home and office
About the Center for Community Wealth Building
The Center for Community Wealth Building (CCWB) works to promote inclusive economic opportunities to normalize a new economic development model that includes and elevates the voices of impacted and vulnerable communities at the core of growth, and leverages anchor institutions' economic engines to create an economy that works for everyone. Our vision is a people-owned, inclusive, and sustainable metro Denver economy that catalyzes prosperous and resilient communities free from racism and injustice. CCWB's work is driven by our commitment to economic justice, inclusivity, inspiration, and transformation. We work to inspire a fundamental shift within individuals, communities, institutions, and systems to support a thriving local economy and a healthy and sustainable way of life.
CCWB is a nonprofit start-up organization. This position will join our team consisting of the Executive Director, the Cooperative Development Director, the Anchor Strategy Director, the Small Business Outreach Manager, the Communications & Fundraising Director, the AmeriCorps VISTA and two part-time interns.
EQUAL OPPORTUNITY EMPLOYER ~ COMMITTED TO A DIVERSE WORKPLACE
The Center for Community Wealth Building is an aggressive advocate of affirmative action and welcomes applications from everyone, particularly from people of color; women; LGBTQ people; immigrants or refugees; people with disabilities; and people from low- or moderate-income backgrounds.
Position Summary
The Co-op Development Associate will extend our organization's ability to develop Black- and Brown-led cooperatives throughout Metro Denver. This position's role is critical to helping the organization respond to ongoing interest in cooperative education and entrepreneurship. The ideal candidate should have a passion for cooperatives, popular education, one-on-one community outreach and economic strategies to create structural change, advance racial justice, and create a new economic paradigm that reverses economic inequities.
Job Responsibilities
The Cooperative Development Associate shall:   (approx. 60% of time)
Advance the development of anchor institution-initiated cooperatives by recruiting worker owners through strategic partnerships with community groups, faith communities and aligned organizations
Modify existing curricula, creating new materials as needed, and deliver it so that worker owner candidates of anchor institution-initiated cooperatives are prepared to become worker owners.
Plan and implement an ongoing educational series for the Train the Trainers cohort, preparing to welcome a new cohort of Spanish speaking co-op trainers in 2022.
Build cooperative awareness through popular education and delivering community training(s)
Conduct outreach (one-on-one meetings, emails, phone calls and zoom meetings) to entrepreneurs, gig workers and other worker-owner candidates in identified locations to expand cooperative economic thinking and practice and to build coalitions, as needed.
Prepare for one-on-one meetings with potential stakeholders to identify time and space to conduct popular education learning opportunities
Create and implement a follow-up plan for participants and community partners, after each educational event
The Cooperative Development Associate will work with the Co-op Development Team to:   (approx. 20% of time)
Optimize and continually improve CCWB's co-op development process and strategic approach so that it achieves CCWB's mission and embodies CCWB's values of economic justice, inclusivity, inspiration and transformation
Provide technical assistance to emerging cooperatives and design training programs that will help community members move forward as they develop their businesses
Call and make contact with new worker-owned businesses to confirm Worker-Owned Cooperative structure and contact information, as well as verifying number of employees, location, etc.
Develop educational training programs for existing cooperatives that allow them to navigate unfolding market conditions and compete effectively
Contribute to the planning and execution of a worker cooperative social event every other month
Co-facilitate Co-op 101, 201 and 301 training(s), especially those requested by emerging cooperatives and place-based organizations
Onboard new community groups and referrals to CCWB's cooperative development process
Prepare for Train the Trainer for a Spanish-speaking cohort
The Cooperative Development Associate will work with CCWB's full staff to:  (approx. 10% of time)
Maintain appropriate organizational data and record-keeping systems
Identify operational issues that need attention and facilitate solutions
Support with movement building campaigns, including presentations on Community Wealth Building principles
Other Duties as Assigned (approx. 10% of time)
Required Qualifications
Understanding of worker owned cooperatives, employee ownership and the co-op development process
Experience working with people from low-income and diverse backgrounds, one-on-one and in a group
Deep and demonstrated commitment to racial and economic justice
Strong understanding of systems of oppression
Understanding of Community Wealth Building methodologies
Experience with grassroots community organizing or labor organizing for social change
Self-starter with the ability to thrive in a team environment
Capacity to multitask in a fast-paced setting
Strong communication, presentation, public speaking, and writing skills
Experience planning and effectively facilitating meetings and workshops
Willingness to work irregular hours, including nights/weekends
Basic computer skills, including Microsoft Word, Excel, Gmail, and Google Suite
Car and valid driver's license (mileage reimbursed)
Desired Qualifications
Empathy and strong interpersonal skills
Understanding of movement building principles and practices
Strong organizational skills, experience participating in complex projects involving multiple actors
Experience working with social media
Experience designing programs (using a program logic model)
Relationships with Denver area stakeholders (specifically government, nonprofits, the business community, public policy, economic development, community organizing, and labor unions)
Speak and write in one of the top five non-English languages in Metro Denver: Spanish, Amharic, Vietnamese, Arabic or Somali
Work Style and Organizational Culture
Strong team player with ability to work autonomously
Collaborative problem-solver
Willing to give and receive feedback
Comfort with non-traditional approaches to economic development and willingness to be creative in solving problems in an entrepreneurial environment
Strong drive to achieve and exceed goals and objectives, creatively developing strategies and correcting course, as needed
Respect for community-based models of change and commitment to empowering community partners
Comfort working on a small team with big ideas and no support staff
Attention to detail and high quality service
Comfort in a democratically run, community responsive, start-up organization
Compensation
This position is a six month temporary, part-time position. Any extension beyond this time period is not guaranteed and contingent on funding and performance. Salary for this position is $2,160 monthly.  Benefits include paid holidays, vacation and sick time proportionate to part-time hours.
How to Apply
To apply, send a resume and answer the following questions in no more than one page:
Why do you think cooperatives are a viable strategy for addressing economic inequities and the racial wealth gap?
What are the first three steps you would take to build a cohesive worker co-op ecosystem in Metro Denver?
What lived experiences should CCWB know about to understand your lens for this work?
Finally, please provide the names and contact information of three professional references, at least one of whom is a former supervisor. Submit all application materials via email to connect@communitywealthbuilding.org with the subject "Cooperative Development Associate."
Review of applications will begin on October 22, 2021 and will continue until the position is filled. Interviews will be extended to qualified applicants on a rolling basis.