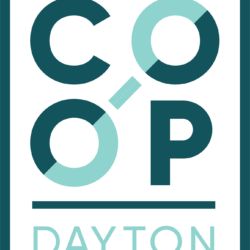 Website Co-op Dayton
Visit coopdayton.org/jobs for the full job description!
Co-op Dayton is a non-profit organization that seeks to create a more equitable and sustainable local economy and a more just city, where power is rooted with those most impacted by structures of economic oppression. We do this by organizing our community to identify these structures and market "gaps", and to then co-create cooperative businesses and policies that address them.
Our cooperative businesses meet our collective needs, remain accountable to our community, and offer dignified jobs through shared ownership. We currently provide business technical assistance and community outreach and organizing for more than ten cooperatives in Dayton, including the Gem City Market, a worker and community owned cooperative grocery store anchored in West Dayton.
The Outreach Director designs and facilitates campaigns that build community power and provide pathways for community owners to co-create new economic structures that address the needs of Black, poor, and working class communities, while supporting broad-based community engagement in the cooperative ecosystem.
The responsibilities of the Outreach Director are as follows:
With our cooperative leaders, create and implement strategies to support the development of community ownership culture and increase the number of engaged community owners in our cooperatives
Design and facilitate opportunities for Black, poor, and working class communities to identify existing structures of oppression and market gaps in our local economy and to co-create the cooperative economic structures and public policies that address them
Coordinate new cooperative and policy campaigns identified by our communities and develop the leadership of those most impacted within the campaigns
Develop and manage Co-op Dayton's external communications infrastructure
Respond to inquiries and conduct intake meetings for new co-op startups, conversions to cooperatives, technical assistance requests, and other opportunities to develop the cooperative ecosystem
Build and maintain stakeholder and partner relationships that advance Co-op Dayton's mission and the cooperative ecosystem
Develop internal organizational policies and systems to track engagements, monitor progress, and fulfill grant and partner reporting requirements
Visit coopdayton.org/jobs for the full job description!