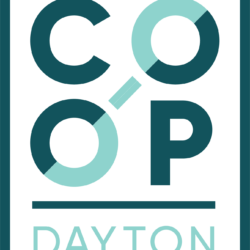 Website Co-op Dayton
Visit coopdayton.org/jobs for the full job description!
Co-op Dayton is a non-profit organization that seeks to create a more equitable and sustainable local economy by developing cooperative businesses that meet community needs, that are rooted in and accountable to community, and that offer dignified jobs through shared ownership.  Co-op Dayton currently provides business technical assistance for more than ten cooperatives in development in Dayton, including the Gem City Market grocery cooperative.
The Real Estate Project Director will support the development of the Unified Power (UP) real estate investment cooperative, a new venture led by and for Black residents of West Dayton.  As proud West Daytonians, UP seeks to transform our relationships with each other and our lived environment.  UP increases awareness and access to the tools for West Daytonians to collectively invest, build, and own their homes and neighborhoods.
Alongside UP's cooperative Board of Directors, the Project Director will be responsible for implementing UP's pilot real estate projects for both a mixed-use, multi-family development strategy and a residential neighborhood infill strategy.  This includes property acquisition, predevelopment and design, project finance, bids and contracts, as well as partnerships with stakeholders.
The responsibilities of the Project Director are as follows:
Manage all aspects of the development and implementation of two pilot projects: a mixed-use, multi-family real estate development on a commercial corridor and the new construction or renovation of a single-family home in a residential neighborhood
Establish and maintain detailed tasks and timelines utilizing project management software and prepare monthly progress reports for Unified Power and Co-op Dayton
Collaborate with Unified Power's Executive Director to ensure that the West Dayton community and UP cooperative member-owners are involved in strategic oversight and decisions throughout the design, development, and implementation process
Develop and foster partnerships with relevant stakeholders, including community and workforce organizations, government, funders, lenders, community lawyers, architects, and construction companies
Acquire property through negotiations with sellers or strategic partnerships, overseeing the legal, financial, and due diligence tasks
Review, prepare, and/or finalize the project description, schedule, pro forma, and construction budgets for each of the pilots
Manage and support the delivery of design and construction plans for each of the pilots
Ensure that the pilots comply with cooperative, community, government, and funder requirements, objectives, and deliverables
Structure the projects' finances to ensure that the pilots are financially feasible and sustainable
Raise equity, loans, and grants to fully finance the pilots, manage the due diligence process, and close the deals
Manage and evaluate the construction bidding process based on the UP cooperative Board's goals for minority participation and other criteria
Manage all other development contracts to ensure complete and timely delivery of materials or services
Document the design, development, and implementation process to support replication of the pilots locally and nationally
Attend Unified Power Board meetings
Visit coopdayton.org/jobs for the full job description!