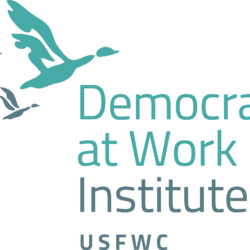 Website Democracy At Work Institute
Democracy at Work Institute (DAWI) seeks an experienced, self-directed and collaborative person to join our dynamic national organization. Our core work is supporting the expansion of democratic employee ownership of business as a strategy for racial, gender and economic equity.
About the Job
The Business Transfers Program Manager leads DAWI's collaborative national work to support business transitions to employee ownership as a strategy for retention of locally-owned small businesses and long-term equitable recovery.
This position ensures that the growing field of technical assistance practitioners is well-supported by building networks and aggregating best practices, and engages new practitioners to expand the field of professionals who are literate with business transfers. It helps drive scale and innovation in the practice of business transitions to employee ownership by identifying and spreading promising practices. Finally, it both stimulates and meets the growing demand for employee ownership solutions by building supportive conditions for local employee-ownership initiatives. The major areas of work are listed here and described in detail below:
Manage the day-to-day operations of the business transfers program
Build networks of shared knowledge and action in the field of practitioners
Expand the diverse pool of emerging professionals with a focus on racial equity
Support the replication of municipal projects to retain local businesses through employee ownership
Produce and curate tools, presentations, best practices and other knowledge products
Act as a strategic driver for innovative approaches focused on capital
DAWI has a high-functioning, close-knit staff driven by our values, and we want to work with a skilled and reliable colleague. This position has potential to grow as the organization grows.
Ideal Candidate Statement:
The ideal candidate has a strong lived experience of the needs and opportunities of small business owners and workers, particularly MWBEs (minority- and women-owned business enterprises) and BIPOC entrepreneurs, that will help them create supportive environments for small business transfers to employee ownership. They will be values-driven, passionate about business ownership as a force for racial and social equity, and have a proven ability to think critically, code switch, and build bridges. Strong candidates combine a small business background with facilitative leadership skills and a desire to work at the systems level to connect business leaders, service providers, and local elected officials. This position is a good fit for a natural networker who enjoys being a hub and is happy to serve as a highly visible representative in the community.
Required Qualifications
Education and Training:
Requires a bachelor's degree or equivalent experience in business, finance, marketing, adult education, communications, or a relevant field.
Experience:
a history of progressively responsible business management experience, including small business ownership, with evidence of mastery in at least four of the following six areas: accounting and finance, sales and marketing, operations, personnel management, information systems, and strategic planning
experience and skills in advising small business owners
evidence of substantial program and project management experience
proven ability to build relationships, partnerships and networks with a diverse array of stakeholders, and to motivate and lead within collaborative working groups
Knowledge, Skills, and Abilities
Knowledge of entrepreneurial and management principles and practices; small business financial mechanisms; and marketing/public relations principles and practices
General knowledge of capital structures and practices, including business lending, impact investing, and publicly-funded business financial assistance programs
Knowledge of supports and resources for MWBEs, and basic understanding of MWBE systems, policies, and practices
Excellent interpersonal communication skills, flawless diplomacy, and emotional intelligence
Meeting and group facilitation skills, active listening skills, ability to articulate ideas, and communicate clearly (written and oral)
Public speaking skills, experience teaching adults and effectively presenting complex topics to new audiences
Skills with basic office tools: Microsoft Office Suite, GSuite, online project management systems, remote file systems, online/remote meeting tools, and online research tools
Ability to work independently, prioritize and execute work, establish realistic deadlines and meet them consistently. Strong self-management, organizational skills, task-tracking, follow-through.
Self-directed and eager to embrace new opportunities and challenges with creativity.
Commitment to racial equity; fluency in cross-cultural communication.
Preferred Qualifications:
Experience working in employee-owned businesses or cooperatives, and/or with Open Book Management, is desirable but not required.
Experience advising, investing in or lending to or otherwise building familiarity with employee-owned businesses or cooperatives is desired but not required.
Knowledge of and relationships within local workforce development and/or economic development, as well as knowledge of applicable Federal, State, and local laws, rules, regulations, codes, and/or statutes for small businesses is desired but not required.
Job Description
The major duties and responsibilities of the position are as follows:
Program management – 10%
Works with the Senior Director of Programs to establish vision and priorities for the program.
Collaborates with adjacent DAWI program staff on value-added programming.
Works with data and communications teams to track and communicate impact.
Prepares and maintains a variety of qualitative and quantitative reporting related to grants, contracts, and special projects.
Outreach – 25%
Expands the diverse pool of emerging professionals who are literate in the conversions idea, with a racial equity lens.
Builds relationships with and delivers trainings to entrepreneurship and small business support organizations (SBDCs, business accelerators, service providers, etc.), with a focus on BIPOC-led and -serving organizations.
Speaks to investors, lenders, CDFIs and other finance institutions about how to invest in business transitions to employee ownership.
Develops and implements employer and partner engagement activities throughout the year that may include presentations, events and training.
Serves as an information-rich connector for practitioners and ecosystem partners, and a national focal point for resources and relationships.
Convening – 20%
Builds networks of shared knowledge and action in the field of practitioners
Leads the 40-organization national Workers to Owners Collaborative: Convenes and facilitates monthly and annual meetings and issue-focused strategy groups.
Supports collection, analysis and sharing of field-wide impact data.
Curates stories, tools, models and practices. Identifies and reinforces best practices.
Produces regular internal communications, and maintains BecomingEmployeeOwned.org.
Ecosystem-Building – 20%
Builds an ecosystem of support for business transitions as a municipal government strategy for small business retention and layoff aversion.
Establishes small business, corporate, non-profit, and government partnerships to facilitate education and workforce and economic development connections.
Reviews economic development reports, labor market trends, and regional surveys to stay current with the workforce and economic trends locally, state-wide, and across the nation.
Advises on supportive policy and implementation at the local, state and federal level.
Provides business consultations to small business owners looking to sell to employees. Dispatches/coordinates referrals to the best resources and partners.
Promotes DAWI's presence in the community through private and public engagement that includes memberships, events, convenings, public speaking, training, and more.
Local Replication – 10%
Works on the team supporting successful replication of a local "hotline" approach for reaching and retaining local small businesses.
Supports two cities to adopt and implement a small business transfer hotline, bringing together, training and working with relevant partners.
Organizes W2O local groups and learning goals cohorts in primary cities; builds light touch relationships with secondary cities for future engagement.
Knowledge Production and Curation – 10%
Acts as a strategic driver for innovative practices, with a focus on capital strategies
Curates effective tools, innovative practices, success stories
Catalogues and supports adoption of new models and approaches
Creates, supports, and maintains one-pagers and toolkits for business owners, TA, capital providers, policy makers and economic development staff.
Supports high-volume data-driven outreach and pipeline-building strategy
Organizational and Professional Development – 5%
In addition to job duties, all DAWI staff participate in organization and professional development, and participate in shaping the organization's overall strategy. As desired, staff may participate as a member in membership-level governance of the organization.
About DAWI
The Democracy at Work Institute is a 501(c)(3) nonprofit movement-based think-and-do tank that expands the promise of cooperative business ownership to communities most directly affected by economic, social, and racial inequality. We do research and advocacy; we develop tools and new models; we train worker-owners and developers; and we build cooperative development capacity to ensure that further growth in the worker cooperative movement reaches low-income people, people of color and recent immigrants. In all our work, as well as internal operations, we strive to embody our organizational values of Excellence, Equity, Entrepreneurialism, Collaboration, and Human-Centeredness. We are affiliated with the US Federation of Worker Cooperatives, the national grassroots membership organization. All programs integrate USFWC member input and foreground the experience of worker cooperatives.
Started in 2013, DAWI is a relatively young organization, and all staffers are expected to help build organizational capacity, including organizational processes and documents. We love our work, and we work hard, but we also strive for work-life balance. We are a small team with extremely low staff turnover.
Full-time staff are eligible for membership in the organization after 6 months of employment. Members are eligible to serve on the board of directors, elect two directors, and participate in the strategic guidance of the organization.
We are a remote organization with offices in Oakland and New York. This allows us to have staff all over the country, and to create flexible working hours and locations. It can also be challenging for developing systems, getting buy-in for their use, and maintaining consistency of practice —a key part of this job. All staff are expected to be able and willing to learn and help improve the technological tools for remote working. A certain amount of travel for all staffers is expected and supported. For this position, we prefer someone who can work out of our Oakland office, but we will consider strong candidates from all locations.
Notice of Nondiscrimination
Democracy at Work Institute (DAWI) is committed to a multi-racial and class-diverse staff that reflects the future of worker cooperatives. Women, people of color and others who may be underrepresented at senior levels of the nonprofit workforce are strongly encouraged to apply. DAWI is committed to equal opportunity for all persons without regard to sex, age, race, color, religion, creed, national origin, marital status, disability, or sexual orientation, and any other class of individuals protected from discrimination under state or federal law. It is the policy of DAWI to comply with all federal, state, and local laws and regulations regarding equal opportunity. In keeping with that policy, DAWI is committed to maintaining a work environment that is free of unlawful discrimination and harassment. Accordingly, DAWI will not tolerate unlawful discrimination against or harassment of any of our employees or others present at our facilities by anyone, including any supervisor, coworker, vendor, client, or customer of DAWI.
Schedule
Full-time position (40 hours/week)
Compensation and Benefits
$60,000-$75,000 depending on experience. DAWI offers full health benefits coverage for employees,
including dental and vision; participation in a 401(k) plan; a generous time-off policy; and a professional development budget.
How to Apply
Email a cover letter, resume, and two references to hiring@institute.coop. Cover letters should be
addressed to the Hiring Committee and include a 2-3 paragraph statement of interest describing how your skills and experiences qualify you for the position. Include the subject line "Application for Business Transfers Program Manager position." All materials should be submitted in PDF format.
Deadline to apply:
April 05, 2021