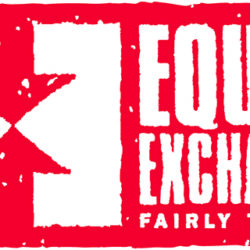 Website Equal Exchange
Worker Owned Coop selling Fair Trade foods
Equal Exchange, West Warehouse Worker
Equal Exchange is a fair trade worker cooperative and coffee roaster headquartered in West Bridgewater, MA. Founded in 1986, our mission is to create more fair trade relationships between farmers and consumers.  We bypass the conventional marketing system by cutting out middlemen and buying directly from farmer cooperatives. This position will work in the Portland, Oregon facility.
Job Description:
Regular, non-exempt (hourly) position on worker owner track
Hours: 40 hours per week
Pay: 36k annually
Reports to: West Warehouse Manager
Responsible for: General Warehouse Operations
Location: Portland, OR
Qualifications:
An interest in the mission of Equal Exchange.
Ability to communicate and problem solve effectively with customers and team members.
Ability to manage time and responsibilities, be flexible & manage several tasks at once
A desire to learn and contribute to the success of the organization.
Enjoy working as part of a team.
Good computer skills.
Previous experience in warehouse work is desirable but not mandatory.
An ability to do extensive lifting is required; including boxes ranging from 5lbs – 70lbs
Ability to pay attention to detail and work accurately.
Ability to communicate effectively with coworkers
Willingness to do other tasks as needed to support the team as requested by the supervisor
Forklift experience preferred, but not required
Responsibilities include, but may not be limited to:
Order-Picking:  Pick orders effectively and accurately using pick sheets and handheld devices.
Shipping/Receiving:  Prepare orders for UPS and freight shipments in time for daily deadlines. Fill out all paperwork necessary for each outbound and inbound shipment. Unload deliveries; quality control of packages; ensure product rotation.
Stocking & Clean up:  Restock daily, following systems set up to ensure product rotation. Keep the warehouse clean and organized. Remove/repack damaged products from picking locations. Regularly inspect the exterior of the building for graffiti (paint over as needed) and keep the exterior free of debris such as litter and leaves.
Other: Support team members as needed or directed with miscellaneous tasks.
Please submit resumes and answers to the following questions to pdxhiring@equalexchange.coop
1. In your opinion, describe a well-run warehouse. Be specific.
2. You've been hired as an EE West worker-owner track employee. You've discovered there are days when you're not as busy as others in normal work activity. There are no packages to pack, the phones are quiet and your supervisor is absent. What comes to mind?
3. This position involves repetitive physical labor: fulfilling orders, unloading deliveries, working in temperature extremes, occasionally doing deliveries, and communicating with customer service when needed.  Please share some relevant past work experience that shows your qualifications for thriving in these conditions.