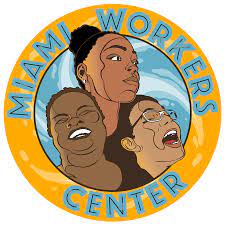 Website Miami Workers Center
Building Power and Self-Determination for Workers in Miami
The Miami Workers Center is seeking a full-time Worker Cooperative Developer to expand the capacity of Miami-Dade low wage workers to participate in and develop worker and shared ownership cooperatives. The worker cooperative developer will provide holistic support to Black and Immigrant cooperative workers throughout every stage of the co-op development process.
Who We Are
The Miami Workers Center (MWC) organizes towards dignity, power, and self-determination with workers, tenants, women, and families across Miami. We fight for the rights, resources, and respect our community deserves. Our members are working-class Black and Brown women who hail from Latin America, the Caribbean, and African American communities of Miami-Dade. Our members are predominantly tenants, and many work in the cleaning and caring economies as domestic, child & homecare workers both formally and informally. We believe in self-determination over our bodies, our homes, our labor, our land. We believe in a Miami where all of us can live, work, and grow in our full dignity.
Who You Are
You are passionate about workers rights: You are eager to strengthen the cooperative economics/solidarity economy movement locally and nationally, especially with immigrant communities
You are a dynamic, strategic, out-of-the-box thinker
You excel at coordinating with people and bringing them together to create and work towards a common vision
You are mission driven and excited about building power with workers and immigrants and transforming systems and institutions that exploit workers
You are an outstanding communicator with excellent listening skills and ability to build consensus decision making. You excel at public speaking.
You love working in a highly collaborative environment
Primary Responsibilities of the Worker Cooperative Developer

Cooperative Businesses Support: Support the efforts of members to launch and/or grow their cooperative businesses through individual and group leadership and entrepreneurial development coaching. Work with cooperative members to further explore cooperative principles, develop and implement business plans, execute bylaws, create marketing strategies, financial pro forma, legal incorporation, and identify sources of funding and support for business growth
Feasibility Studies: Coordinate feasibility studies to assess sector readiness for worker cooperatives in Miami-Dade County
Network Development: Develop strong working relationships with and facilitate collaboration between stakeholders in government, nonprofits, place-based organizations, business, public policy, economic development, community organizing, and labor unions to expand the venues and audiences ready for cooperative education. Connect members to financial coaching, credit coaching, business financing, etc.
Hiring Hall: Facilitate execution of a employer hiring hall hiring for workers to connect with living wage jobs
Business Development: Collaborate with organizers to identify and recruit worker owner candidates, conduct outreach (one-on-one meetings, emails, phone calls, social media, and zoom meetings) to entrepreneurs, business owners, gig workers and other worker-owner candidates in identified locations to expand cooperative economic thinking and practice.
Training: Build cooperative awareness through popular education and community trainings
Qualifications
Experience in Business Management (experience with start-ups a plus)
Bilingual in English/Haitian Creole/Spanish strongly preferred
Ability to work flexible hours, including evenings and weekends (e.g. community meetings at times that members are more available).
Salary commensurate with experience.  Generous benefits package including health insurance, and vacation for full-time employees.
APPLY HERE: Please upload your resume and cover letter. In your cover letter please tell us more about your interest in the Miami Workers Center and how your experience skills will support our work.