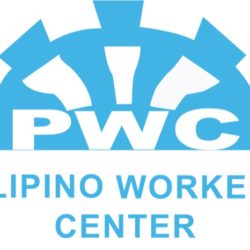 Website Pilipino Workers Center of Southern California
Pilipino Workers Center is a vehicle and resource center for the 1,000,000 Pilipino residents of Greater Los Angeles to come together to stand up for their rights in the workplace and improve their quality of life. PWC focuses on providing programs that help meet the immediate needs of workers and their families while also building their leadership to take collective action. PWC's work includes Strategic Enforcement campaigns in the homecare industry, supporting and developing domestic worker leadership and advocacy campaigns.
The COURAGE Homecare Cooperative LLC is a state-licensed, cooperatively owned agency that provides round-the-clock care to elderly clients and quality homecare jobs for immigrant women caregivers. COURAGE Homecare has a business model of private pay clients who are willing and able to pay a premium for quality care from a mission-driven agency. Its competitive advantage is quality and consistency of caregivers, due to its extraordinary worker retention rates. The cooperative, begun in 2016, currently has 6 worker-owners (or members), and has retained all members in the past two years.
This position will strengthen the infrastructure of the coop and support the growing number of worker owners and clients. The learning infrastructure built over the last year will be used to create a Homecare Cooperative Incubator (HCI).
We believe that it is more important than ever to strengthen community self-determination, leadership, and advocacy. We invite you to be part of creating a new economic system that puts people and the planet before profit.
The Position: You will join a group of bilingual, experienced and energetic cooperative & office developers to help us strengthen worker cooperatives and expand our scaling initiatives.
Core Responsibilities: 
Cooperative Development (50%)
● Support the incubation of COURAGE cooperative business using cooperative development methodology (outreach, recruitment, initial cooperative training, launch) and resources from the RRC-DAWI model
● Support groups of domestic workers to build strong governance and management systems for their cooperative businesses
● Engage technical partners such as lawyers and accountants in our cooperative business development efforts
● Offer individual supports to participating workers to stay engaged in the cooperative development process; make referrals to social services when appropriate
● Maintain relationships in our local worker cooperative ecosystem
Support worker members to launch marketing cooperative campaign
● Help the team reflect on/improve our cooperative development guides and tools
Technical Assistance (30%)
● Provide ongoing business management technical assistance to cooperative businesses based on their stages of development & needs (business and group)
● Provide coaching to worker- owners to develop their business management and social leadership skills
● Conduct research for worker cooperatives, as needed, and/or in coordination with technical partners (market research, local programs or resources, legal and tax issues, etc.); make referrals when appropriate
● Develop & facilitate workshops to support worker-owners effectively manage & govern their businesses
● Support worker-owners to engage with and move through conflict that might arise in the group
Laying a Foundation for Scaling Projects (10%)
● Tools & systems development that have the capacity to be used as shared infrastructure for new homecare cooperatives
Program Admin (10%)
● Participate in weekly team meetings
● Track data and bottom-line team's reporting efforts
● Support training outreach efforts and other projects as needed
Experience and Qualifications: 
● Strong written and oral English skills required, Tagalog speaker preferred
● Strong facilitation skills, including workshop & meeting facilitation, and curriculum development.
● Superior organizational, business, problem-solving, and communication skills.
● Excitement about scaling cooperatively-owned businesses with community members and figuring out the best way to communicate complex ideas & tasks.
● Passion for learning while engaging in diverse and creative work. The range of responsibilities varies from conducting feasibility studies to preparing curriculum and agendas for meetings, figuring out legal incorporation and governance issues, individual and group leadership development coaching, and building a movement toward a solidarity economy. The diversity of tasks can be demanding, but if you are up for the challenge we can promise it will never get boring.
● Demonstrated commitment to social justice and economic democracy. You have a deep understanding of systemic oppression and are committed to dismantling it. You are eager to learn more about and strengthen the cooperative economics/solidarity economy movement locally and nationally, especially with immigrant communities. ● Ability to thrive in a highly-collaborative work environment.
● Communications and marketing skills and experience a plus.
● Experience with workforce or business development is a plus.
● Experience managing or organizing partner organizations in coalitions, multi-stakeholder projects, or other complex collaborative initiatives is a plus.
● Experience working with cooperatives or other democratic organizations is a plus.
● B.A. in Business, Public Administration, Social Work, Community Development, or other related field; M.A. a plus.
● Minimum of 3 years of relevant professional experience.
You may be a strong candidate even if you don't have all of the skills and characteristics described above. You might have important skills not listed here. If you are excited about this position and what you can bring to our work, we want to read your application!
Compensation and Benefits 
This position is Full Time and we offer a competitive benefits package, including vacation, health care (medical, dental, vision) and sick leave. Salary range: $50,000 – $58,000 depending on experience.
Location
Our offices are located in Los Angeles, CA. We are currently operating virtually but when safe, we will return to work to our Los Angeles location.
How to Apply 
Please send us your resume, cover letter and 3 references from current or former workplaces to aqui@pwcsc.org. Subject line should include: "Your Name, Cooperative Developer." Applications will be accepted until the position is filled, however, applicants are strongly encouraged to apply before June 4st, 2021.
The Pilipino Workers Center of Southern California, is an equal opportunity employer. We strive to build a Cooperative Development Team that reflects and shares community with the cooperatives we work with. Women, people of color, LGBTQI identified people, immigrants, and people with disabilities are strongly urged to apply.