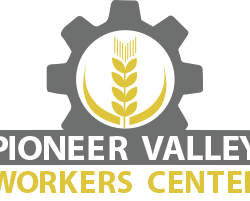 Website Pioneer Valley Workers Center
ORGANIZATION DESCRIPTION:
The Pioneer Valley Workers Center (PVWC) builds power with low-wage workers and immigrants throughout Western Massachusetts. Visit our website to learn more!
JOB DESCRIPTION:
This position will perform all organizational bookkeeping, oversee office operations, and assist with case management and mutual aid for PVWC members.  This is a 32 hour/week position.
RESPONSIBILITIES:
OPERATIONS (70%)
Bookkeeping:
• Use Quickbooks to track all income and expenses.
• Prepare monthly financial statements.
• Maintain organizational financial records.
• Make weekly trips to the bank.
• Process all checks and payments.
• Coordinate payroll logistics with accountant.
• Work with Co-Directors and Board on annual audit, tax reporting, budgets.
Database Management:
• Manage donor and grant records.
• Enter data; train and supervise office interns to do the same.
• Process incoming gifts, ensure that gifts are well recorded and donors thanked.
Communications and Fundraising Administration:
• Coordinate fundraising mailings, including direct mail appeals.
• Assist with donor communications, including thank-you letters and cards.
• Help with coordinating administrative logistics for fundraising events.
• Manage email lists and website.
• Support PVWC team with other administrative tasks as needed.
CASE MANAGEMENT/ MUTUAL AID (30%)
• Perform initial membership intakes.
• Work with PVWC Co-Directors and volunteers to coordinate court accompaniment and rides for worker members.
• Meet with members to make referrals for legal and other support. Track referrals in database.
• Assist with membership outreach for meetings and events.
• Assist in coordination of food distribution for Worker Committee meetings.
• Coordinate interpreter needs for the organization.
QUALIFICATIONS:
• Self-directed, with excellent attention to many small details.
• Ability to successfully juggle multiple responsibilities simultaneously.
• Ability to accurately record financial information and manage Quickbooks. Or, for PVWC Worker Committee members, willingness to learn these skills.
• English and Spanish proficiency.
• Familiarity with CRM database systems. (Maybe you're the kind of person who thinks that keeping a database perfectly organized sounds like fun.) Or, for PVWC Worker Committee members, willingness to learn.
• Great communication skills, including writing and speaking.
• Bachelor's degree or equivalent experience preferred but not required.
1-2 years of experience in office administration and bookkeeping is preferred.
Benefits: Great flexibility and work environment. The PVWC operates as a collective, and is an unusually non-hierarchical workplace. While this position is a supervised one, it offers an opportunity to be an integral part of a dynamic team short-term, as well as potential to join the collective after a year.
How to apply:  Please send a cover letter and resume, and list two references with name and contact information to pvworkerscenter@gmail.com by October 4th.
Compensation: $18/hour, at 32 hours a week.  Benefits include three weeks paid vacation and holidays.
Start date: early or mid October 2019
We are committed to organizing with marginalized communities, including people of color, women and LGBTQ folks. We strongly encourage applications from people with these identities or who are members of other marginalized communities.