Full Time
Applications have closed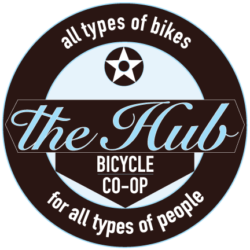 Website The Hub Bike Co-op
All Types of Bikes For All Types of People
Minnehaha Components and Small Parts Steward
The Components and Small Parts Steward position is responsible for the restock of components and
small parts in the Minnehaha Service Department. They report to the Ordering & Receiving (O/R) Dept
and are expected to attend O/R meetings, but also need to work closely with Minnehaha service staff.
Ideally they would have regularly scheduled shifts at Minnehaha. This position is allotted 16 hours
weekly during the season, and 8 hours weekly during the off-season. This position qualifies as level 3 of
the wage scale.
Individual Responsibilities:
• Organization, stocking, and merchandising of service parts (small parts, cranks, rims, wheels,
spokes, hubs, derailleurs, shifters, brakes, cables, stems, seatposts, bottom brackets, etc.)
• Maintain rolling inventory of service parts, stock parts weekly, and perform annual inventory
• Use the Master Order feature in Lightspeed to communicate to Parts Buyer what items should
be ordered to maintain stocking levels
• Annually determine, order, and stock new small parts & components necessary for new model
year stock bikes
• Maintain backstock of quick-turn parts
• Use processes in O/R to bring in new product and change regularly-stocked items
• Perform annual small parts/components area training for new and returning staff
• Deliver 10 Min. Tech trainings at service meetings when new information on small parts arises
• Notify staff of changes to inventory and new product we are stocking
Shared Responsibilities:
• Assist the O/R department in completion of Annual Inventory
• As needed: Receive orders (small parts and general stock) as they arrive
Desired qualifications:
• Experience in ordering for a business
• Organized & detail-oriented
• Capable of prioritizing tasks and working independently & efficiently
• Ability to have candid conversations with co-workers and maintain an open & respectful work
environment
• Minimum 3 year bike shop experience
• Comfortable using Microsoft Excel or other similar spreadsheet programs and general
knowledge of computers
• Wide knowledge of bike components, compatibilities, and parts
Time Expectations:
• Up to 16 hours weekly during the busy season
• Up to 8 hours weekly during the off season
• Must attend monthly O/R Department Meetings (1.5 hours/month)
• Must attend monthly Service Department Meetings (1.5 hours/month)
Compensation:
● This position qualifies as Level 3, overseen by Worker Ownership due to the significant
financial responsibility. Minimum $16/hr with consideration for experience.
● PTO plus the flexibility to request additional unpaid time off
● Employee discounts on bike and product purchases
● Paid parental leave available after 1250 hours worked
● Option to apply to become a Worker-Owner after 1000 hours worked, which includes paid
health insurance (equivalent to an additional $2-$4/hr, depending on plan) and annual patronage
dividends
_____
The Hub Bike Co-op does not discriminate any employee or applicant for employment based on sex, race, religion, creed,
color, national origin or ancestry, age, disability, marital status, sexual orientation, status with regard to public assistance,
or membership of any protected class. This policy applies to all aspects of employment at the Hub Bike Co-op, including
recruitment, advertising, hiring, training and development, promotions, transfers, terminations, demotions, layoffs,
compensation and benefits, social and recreational programs, and all other conditions and privileges of employment in
accordance with applicable federal, state, and local laws.