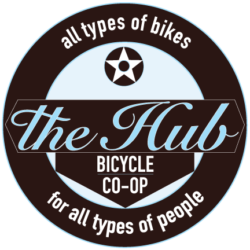 Website The Hub Bike Co-op
All Types of Bikes For All Types of People
Minnehaha Used Area Co-Coordinator
This position is responsible for collaborating with the Used Area Co-Coordinator in the overall
operation of the used area. It is a full time, year round position with the expectation that 16
hours are spent working on Used Area Co-Coordinator responsibilities and meeting attendance.
This position qualifies as level 4 of the wage scale.
Responsibilities
● Buy used bikes and parts that meet Hub Bike Co-op criteria for resale
● Check in bikes: assess the cost of labor and parts, create a repair tag, and put the repair
tag in repair queue
● Communicate to Ordering and Receiving what parts need to be ordered for used repairs
● Use the RAPID system to register used bikes and frames purchased; respectfully work
with our police liason for the RAPID system
● Send out checks to bike sellers that have cleared police reports
● Process consignment bikes and issues that come up with them
● Keep used area organized and maintained: bikes and parts priced and clearly labeled,
wheels organized by type, merchandising this area as needed
● Take on projects that tackle better practices in the used area: improve tagging method,
used parts inventory system, used bike buying guide, used department scheduling, etc.
● Willing to go to sites where used bikes and products can be found or purchased
● Attend and help facilitate service area meetings
● Attend general meetings
● Follow Hub Bike Coop and Service Department norms and policies
● Communicate with customers and co-workers in a respectful manner
● Work with service area coordinators to train service staff on used bike processes and
procedures
● Participate in on-boarding and training of seasonal staff
● Assist in planning and implementation of the annual Used Bike Extravaganza
Desired Qualifications
● Extensive knowledge of bikes and bike components (brands, models, different
technologies)
● Organized and detailed oriented
● Computer-literate, able to use spreadsheets, word processing, email and POS
● Friendly customer service
● Self-motivated; ability to prioritize tasks, work independently, and efficiently
● Ability to maintain an open and respectful work environment
● Experience with consensus decision making
● Experience in communication and interpersonal relations
Additional language skills a plus
Time Expectations
● 32-40 hours a week depending on labor needs/season (minimum of 16 hrs/wk for used
co-coordinator role – ex. 12 hr used shifts + 4 hr administration)
● Service Department Meetings/Trainings (6-8 hours a month)
6/19/19Updated and Approved Personnel Committee; 6/26/19 Approved SC
● Must attend General Meetings (2 hrs/month)
● Occasional overtime in peak season (March – September)
Compensation
● Starting wage between $17.25/hr, with consideration for previous experience experience
● PTO plus the flexibility to request additional unpaid time off
● Employee discounts on bike and product purchases
● Paid parental leave available after 1250 hours worked
● Option to apply to become a Worker-Owner after 1000 hours worked, which includes
paid health insurance (equivalent to an additional $2-$4/hr, depending on plan) and
annual patronage dividends
_____
The Hub Bike Co-op does not discriminate any employee or applicant for employment based on sex, race, religion,
creed, color, national origin or ancestry, age, disability, marital status, sexual orientation, status with regard to
public assistance, or membership of any protected class. This policy applies to all aspects of employment at the Hub
Bike Co-op, including recruitment, advertising, hiring, training and development, promotions, transfers,
terminations, demotions, layoffs, compensation and benefits, social and recreational programs, and all other
conditions and privileges of employment in accordance with applicable federal, state, and local laws.