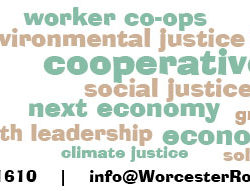 Website Worcester Roots
Grassroots Co-op Organizing
ABOUT WORCESTER ROOTS: Founded in 2001, Worcester Roots works to sprout up cooperatively owned and green initiatives for social and environmental justice.
JOB DESCRIPTION:
This twenty year old grassroots organization is looking for a new leader to catalyze continued worker cooperative and solidarity economy organizing in the Worcester, MA area. The director will ensure high quality programming including a 1/year Co-op Academy, mentorship for co-ops, local worker co-op coalition organizing, and some coalition work. Year one will also focus on resourcing the organization and local movement for growth in programs and organizational sustainability with the support of an active board fundraising committee. Significant flexibility will be given to the Director to revamp and create new organizational systems that benefit their working style and Worcester Roots as a whole.
RESPONSIBILITIES INCLUDE:  
Fulfill current grant and community commitments: including a 12 week co-op academy, a small co-op mentorship program, and coalition work. If fundraising is successful, new programming could be created as well.
Community Engagement: Actively engage and energize volunteers, Board members, event committees, alumni, partner organizations, and funders to support the work of the organization and raise its regional profile.
Fundraising: Build upon the strong network of foundation and individual supporters, and create new resourcing strategies, all with the support of board committee.
Organizational: Improve organizational processes and prepare for the following year where a 5-year strategic planning process will take place. The Director's vision will be key for that next phase of the organization's life.
SKILLS / EXPERIENCE: 
Organizational management
Event / course / academy / cohort programming organizing
Group facilitation skills
Building relationships of trust and respect with a variety of communities, including Black, Latinx, Indigenous, and Asian and LGBTQIA+
Self-driven and able to coordinate multiple tasks and see them to completion
Preferred: 
Coop business development experience (supporting startups, running a small business, technical  assistance)
Experience or interest in working in a democratic workplace (a team workplace experience)
ACCOUNTABLE TO: Board of Directors
COMPENSATION: Annual salary of $60,000 plus a modest health care stipend, paid time off, vacation and flexible schedule.