The People Have Spoken. USFWC: Meet Your New Board Members.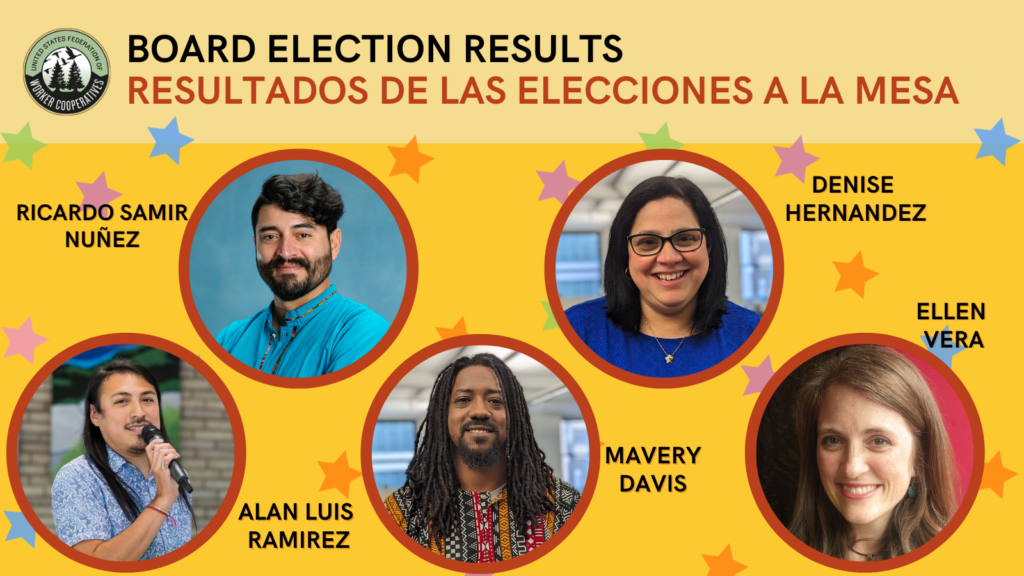 Leer esta publicación en español aquí
Welcome to the newly-elected USFWC At-Large Representatives!
You voted in the 2023 USFWC Board Elections and the USFWC Board has certified the results. Now it gives us great pleasure to announce the elected At-Large Representatives to the USFWC Board of Directors.
MAVERY DAVIS
Workplace: New Economy Works WV, Seed Commons
Member class: Cooperative Developer
DENISE HERNANDEZ
Workplace: Cooperative Home Care Associates (CHCA)
Member class: Worker Cooperative
RICARDO NUÑEZ
Workplace: Sustainable Economies Law Center
Member class: Democratic Workplace
ALAN LUIS RAMIREZ
Workplace: PODER Emma
Member class: Cooperative Developer
ELLEN VERA
Workplace: Co-op Cincy
Member class: Federation Partner
Get to Know Your Board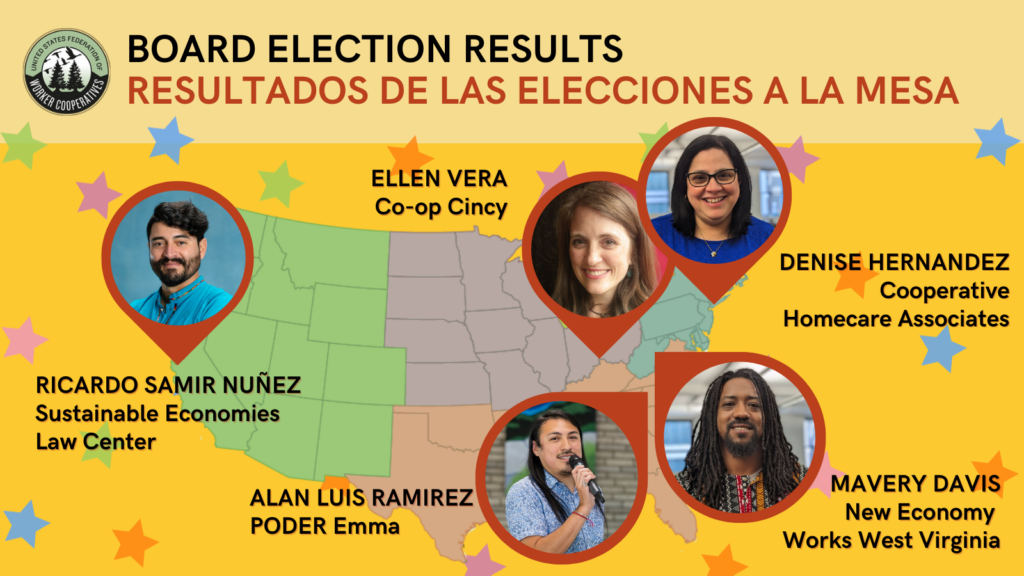 Mavery, Denise and Ricardo currently serve on the board and will return for another 2-year term. Alan Luis Ramirez and Ellen Vera were newly elected and will serve for the first time. Their terms will begin at the conclusion of our November board meeting.
If you haven't yet, get to know the new board members by reading their candidate statements here.
Rounding out the Board for its 2023-2024 term are Kimberly Britt of Chicago's ChiFresh Kitchen, Beatriz Ordaz of Voces de Nashville, Dominique Pearson of Philadelphia Area Cooperative Alliance, and Diana Perez of Radiate Consulting NY.
Leaving the board at the end of this term are Emmanuel Pardilla of NYC Network of Worker Cooperatives and Lucha Luisa Silva of E-Quality Homecare Co-op. Both at-large representatives decided not to seek re-election. We are grateful for their service on the board.
An Enthusiastic Election
This election had a record number of candidates and one of the highest voter turnout of any USFWC Board election. It is an incredible honor that 16 candidates took time out of running businesses and organizing their communities to take a step toward leading their national organization.
Whether you ran for a seat or wanted to but missed the deadline, we invite you to get involved in the strategic direction of your federation by joining one of our Member Councils.
Congratulations and welcome to the USFWC Board!