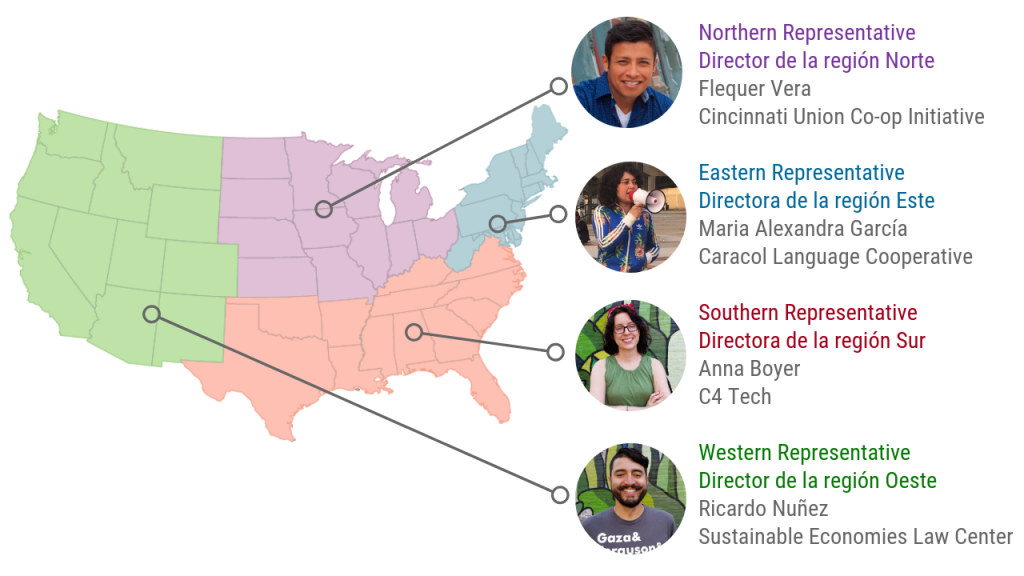 Continuar en Español
The 2018 USFWC Regional Rep Board of Director election results are in! We thank the membership, the board, and our nominees for participating in one of the most important aspects of being a part of the national federation of worker cooperatives: electing leadership that will drive our organization and our movement forward.
Here are your 2018 Regional Reps:
Northern Representative: Flequer Vera
Member of Cincinnati Union Cooperative Initiative and worker-owner at Sustainergy Cooperative in Cincinnati, OH.
Personal Statement:  I would like to maximize my impact in creating a sustainable economy by learning from best practices in co-ops around the country, share what I and the CUCI network of co-ops have learned during our 8 years of creating union worker co-ops.
My professional experience is
8 years of Business incubation, management and raising capital
BA in Business Administration and Finance
Lobbying for immigrant rights and energy efficiency
My personal experience is:
Unique perspective as former undocumented immigrant for 7 years and being Peruvian.
Been a part of Family owned businesses all my life.
Community organizer for immigrant rights
Environmentalist
---
Southern Representative: Anna Boyer
Returning as a board director, worker-owner at C4Tech & Design in New Orleans, LA.
Personal Statement: I've worked at C4 Tech & Design, a worker cooperative in Louisiana, since 2008. This job was my first introduction to worker ownership. I have served as the Southern Regional Representative for the USFWC since 2012. That experience has rewarded me with deeper connections to a movement that gets me excited to go to work every day. The USFWC, as the national membership organization for worker cooperatives, holds a deep responsibility to our community. Our organization has evolved from a small, mostly volunteer-led grassroots organization to a thriving, vision-driven organization with an engaged membership, passionate staff, growing resources, partnerships across the country, and allied movements around the world. That growth, while undeniably uncovering valuable opportunities, highlights our need to be accountable to our membership, and to our organization's vision to remain member-led and member-funded, and for the voice of our organization to be that of the workers we represent.
---
Eastern Representative: Maria Alexandra Garcia
Worker-owner at Caracol Language Cooperative in New York, NY.
Personal Statement: I am interested in being part of the Board of the USFWC to contribute as a worker of a small work cooperative that serves the migrant communities of New York and learn about the available resources. My experience is unique as a cooperative because I have seen first-hand the operation, implementation and daily work of a business for 6 years that organically brings together people who practice a commitment to the business solidarity economy that contribute to the democratic participation of the people in our communities. I believe that the role of the USFWC is to take into account the development of cooperative solidarity economy at various scales, creating political education and creativity platforms so that the cooperative solidarity economy develops alongside the communities that have control of all the resources that allow us to live with dignity, food, housing, work, energy, technology, etc.
---
Western Representative: Ricardo Nuñez
Member of the Sustainable Economies Law Center in Oakland, CA
Personal Statement: I'm the Director of Economic Democracy at the Sustainable Economies Law Center (SELC). SELC is a worker self-directed nonprofit cultivating a new legal landscape that supports community resilience and grassroots economic empowerment. My mission is to build democratic organizations that incorporate the values, principles, and practices that will proactively liberate us from a history of exploitation, alienation, and supremacy in its many forms. I have been a cooperative developer domestically and internationally for over 7 years. Some of my collaborative local and regional advocacy efforts have been passing the California Worker Cooperative Corporation Act and the resolutions supporting the growth of worker coops in Oakland and Berkeley. I am currently on the board of the California Center for Cooperative Development and USFWC Board President. I am interested in continuing to serve USFWC because it is the only member based organization building national solidarity for the movement towards economic democracy.
---
¡Los resutados de las Elecciones Regionales de la Mesa Directiva 2018 están aquí! Queremos agradecer a la membresía, a la Mesa, y a lxs candidatxs por participar en uno de los más importantes aspectos de pertenecer a la Federación Nacional de Cooperativas de Trabajadores: las eleccioones del liderazgo que dirije nuestros esfuerzos organizativos y nuestro movimiento hacia adelante.
Aquí están los nuevos Representantes Regionales:
Director de la región Norte: Flequer Vera
Miembro de Cincinnati Union Cooperative Initiative y trabajador dueño en Sustainergy Cooperative en Cincinnati, OH.
Declaración personal: Me gustaría maximizar mi impacto en la creación de una economía sostenible al aprender de las mejores prácticas en cooperativas en todo el país. Compartir lo que hemos aprendido en CUCI durante nuestros 8 años de creación de cooperativas de trabajadores sindicalizados. Mi propuesta para el movimiento de cooperativas de trabajadores de la USFWC: asociarse con sindicatos, organizaciones religiosas y empresariales para crear una red de cooperativas interdependientes como en Mondragón. Cabildeo político para legislaciones que apoyen a las cooperativa de trabajadores. Fortalecer las alianzas con la Corporación Mondragon y otras redes de cooperativas internacionales. Crear asociaciones más profundas con los sindicatos y Mondragon nos ayudará a tener acceso a recursos, apoyo y experiencia en la construcción de una red integrada de cooperativas. Desarrollar asociaciones con colegios comunitarios y escuelas de negocios para promover la propiedad de los trabajadores como una alternativa comercial para los estudiantes. Fortalecer las relaciones con los gobiernos locales para crear entornos amigables para cooperativas de trabajadores.
---
Directora de la región Sur: Anna Boyer
Reelegida en la Mesa Directiva, trabajadora dueña en C4Tech & Design en New Orleans, LA.
Declaración personal: He trabajado en C4 Tech & Design, una cooperativa de trabajadores en Louisiana, desde 2008. Este trabajo fue mi primera introducción a la propiedad de los trabajadores. Me he desempeñado como Representante Regional del Sur para la USFWC desde 2012. Esa experiencia me ha recompensado con conexiones más profundas con un movimiento que me emociona ir a trabajar todos los días.
La USFWC, como organización nacional de membresía para cooperativas de trabajadores, tiene una profunda responsabilidad con nuestra comunidad. Nuestra organización ha evolucionado de una organización de base pequeña, en su mayoría liderada por voluntarios, a una organización próspera y orientada por la visión con una membresía comprometida, personal apasionado, recursos crecientes, asociaciones en todo el país y movimientos aliados en todo el mundo.
Ese crecimiento, aunque sin lugar a dudas descubre oportunidades valiosas, resalta nuestra necesidad de ser responsables ante nuestros miembros y ante la visión de nuestra organización de seguir siendo liderados y financiados por los miembros, y de que la voz de nuestra organización sea la de los trabajadores que representamos.
---
Directora de la región Este: Maria Alexandra Garcia
Trabajadora dueña en Caracol Language Cooperative en New York, NY.
Declaración personal: Me interesa ser parte de la Junta de la USFWC para contribuir como trabajadora de una cooperativa de trabajo pequeña que sirve a las comunidades migrantes de Nueva York y aprender sobre los recursos disponibles. Mi experiencia es única como cooperativista porque he visto de primera mano el funcionamiento, puesta en marcha y diario quehacer de un negocio desde hace 6 años que orgánicamente reúne a personas que practican un compromiso con la economía solidaria de negocios que contribuyen a la participación democrática de las personas en nuestras comunidades. Creo que el rol de la USFWC es tomar en cuenta el desarrollo de la economía solidaria cooperativista a varias escalas, creando plataformas de educación política y de creatividad para que la economía solidaria cooperativista se desarrolle a la par con las comunidades que tienen el control de todos los recursos que nos permiten vivir dignamente, alimentación, vivienda, trabajo, energía, tecnología etc.
---
Director de la región Oeste: Ricardo Nuñez
Miembro de la Sustainable Economies Law Center in Oakland, CA
Declaración personal: Soy el Director de Democracia Económica del Sustainable Economies Law Center (SELC). SELC es una organización sin fines de lucro autodirigida por los trabajadores que cultiva un nuevo paisaje legal que respalda la capacidad de recuperación de la comunidad y el empoderamiento económico de las bases. Mi misión es construir organizaciones democráticas que incorporen los valores, principios y prácticas que nos liberarán proactivamente de una historia de explotación, alienación y supremacía en sus múltiples formas. He sido desarrollador cooperativo a nivel nacional e internacional por más de 7 años. Algunos de mis esfuerzos de colaboración locales y regionales han estado aprobando la Ley de la Corporación Cooperativa de Trabajadores de California y las resoluciones que apoyan el crecimiento de las cooperativas de trabajadores en Oakland y Berkeley. Actualmente estoy en la junta del Centro para el Desarrollo Cooperativo de California y el Presidente de la Junta de USFWC. Estoy interesado en continuar sirviendo a USFWC porque es la única organización basada en miembros que desarrolla la solidaridad nacional para el movimiento hacia la democracia económica.