"Being a coop has changed the way I work and the way I view work. Doing the work is much more fun and fulfilling, you feel like you have an input and a voice. You have those extra voices, extra brains to think about how to make things better; you don't have to carry it all yourself." –Lantz Arroyo, worker-owner at Radix Media
Today we're spotlighting exciting news from Radix Media, New York City's only worker-owned, union print shop and publisher. Radix's work grows out of a love for printing and a commitment to radical politics, including merging with OccuCopy which came out of the Occupy Wall Street movement.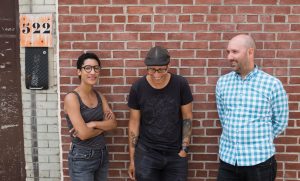 Offering offset, letterpress, and digital printing, Radix describes itself, "As printers and designers, we feel that publishing is about the beautiful moment when thoughts, hopes, and dreams come together. It's about the freedom for people to tell their own stories." This ethos effects all of Radix's work. Recently, the desire to be engaged as printers and designers has led to an expansion into publishing. Radix's first publication, AFTERMATH is already available for pre-order. "In our new publishing venture, we're especially excited to use our skills as printers to make the books that we have always wanted to see. Because we have complete control of the process, we can make beautifully designed books while making sure that they stay economically accessible."
The project that became AFTERMATH started with one friend sharing a short story with another. "Aftermath" was the word Lantz Arroyo's friend Joaquin gave him after Arroyo asked for Joaquin's recently written short story to be described in one word or concept. The story was about a character trying to survive a breakup. "It makes a lot of sense when you read the story…it made me wonder what else could be viewed under that theme," Arroyo explained, "This is a character that has not just lost a partner or romantic interest…they've lost a lot. If you read the story it's very heavy but also very relatable. I think everyone has felt this at some point in their life."
After reading Joaquin's story, Arroyo had suggested publishing a chapbook; Radix has published political chapbooks in the past. The project quickly evolved into an anthology; Radix put out a call for stories, poems, and visual art on the topic of "grief" and received one thousand responses which then were condensed to 33 entries. The current collections of works, "run the spectrum from heartfelt, raw, and powerful to lighter and humorous."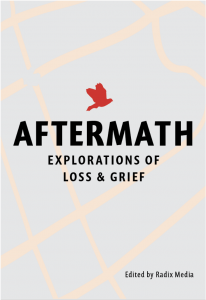 Other exciting publishing work is ahead for Radix. "We are currently working on a social justice-themed coloring book that will be for people of all ages." shared Arroyo, "We are also in talks with an author to publish a collection of their essays. More on that project will be released when details become available."
Radix has also recently merged with Wasp Poster & Print which has expanded the services they can offer in house, now including custom die-cutting, foil stamping, embossing, and paper duplexing.
Order AFTERMATH here
Check out their blog here