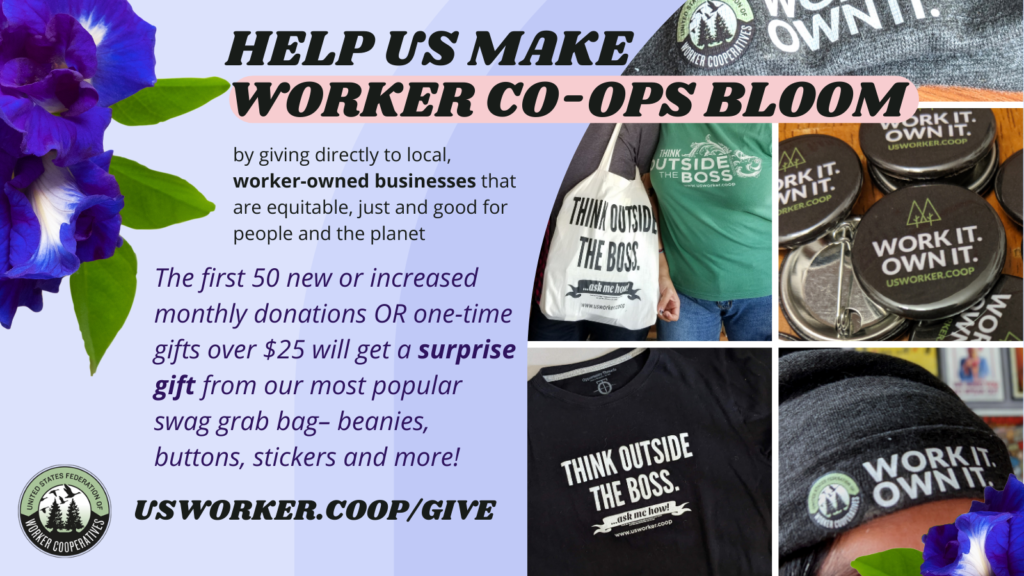 Lea esta entrada en español aquí 
When workers come together to fulfill needs in their community and share ownership of a local business, the ripple effect transforms the very way we do business, to care for our people and the planet over profit.  Over the next month, leading up to International Workers' Day on May 1, we are going to celebrate the power of our collective strength.  Help us make worker co-ops bloom by becoming a monthly sustainer of the USFWC or giving a one-time gift during our Spring fundraising campaign — donors like you make our work for a just economy possible. 
When you donate to the USFWC, you're directly resourcing the worker co-op movement to help worker-owners access:
pooled health benefits through our Worker Benefits Program
opportunities to share their stories and diversify the voices of the movement through our Speakers Bureau
national data on the sector, with insight on emerging trends and snapshots of our growing movement through our State of the Worker Co-op Sector Report
and more!
No contribution is too small, and monthly contributions go a long way in sustaining and advancing the movement we've built together.
During our Spring fundraising campaign, the first 50 donors who make a one-time gift over $25 or increase their existing monthly donation will get a surprise gift from our most popular swag grab bag – beanies, buttons, stickers and more. Check out our campaign giveaway items and contribute to the movement today.