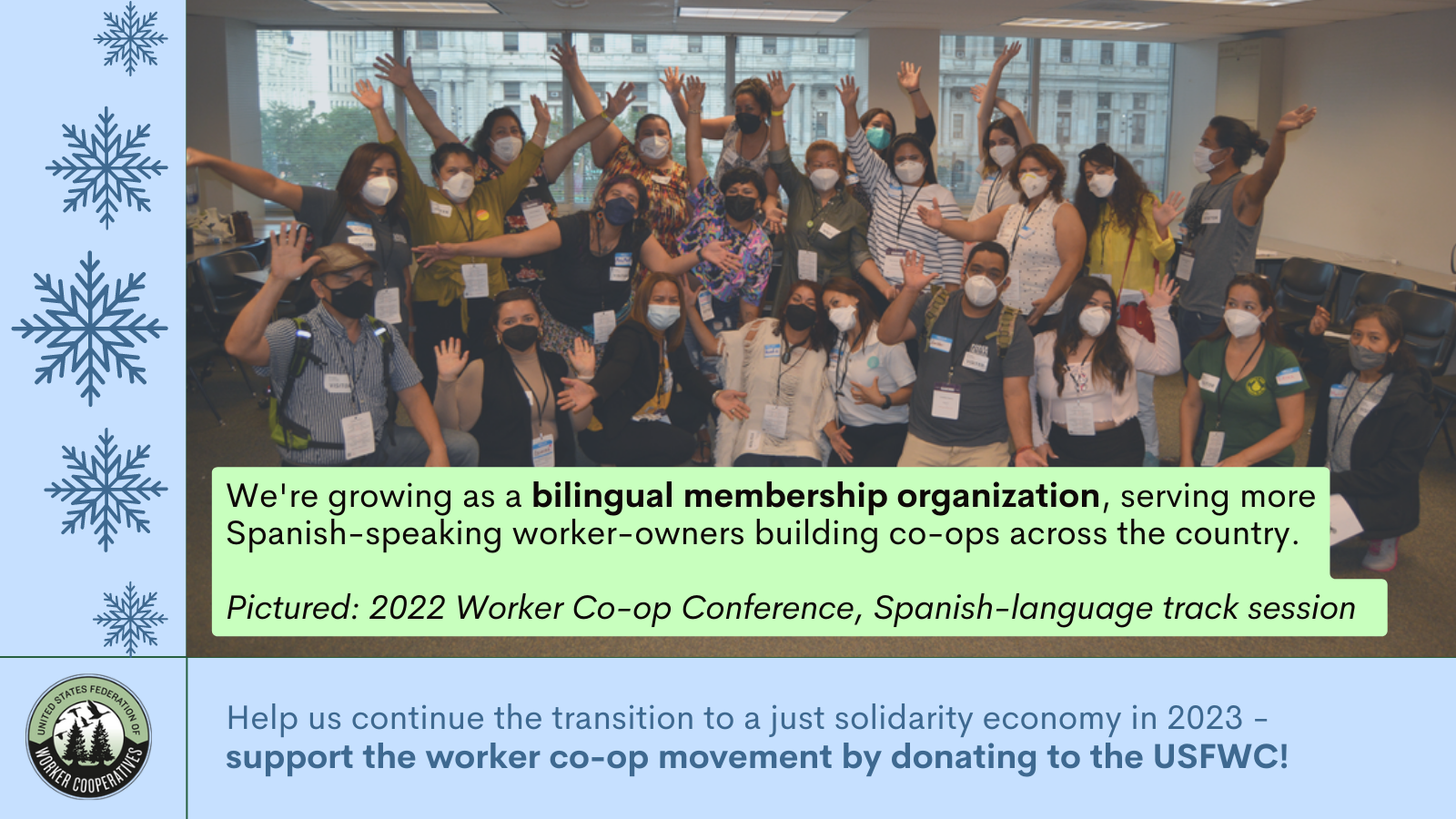 Donate today to support the longevity of this important work
Haga clic aquí para leer este artículo en español
As 2022 closes, we're reflecting on the ways our national organization has made the worker co-op movement in the U.S. stronger for a more just and sustainable future this year.
A year of Language Justice
In 2022, we expanded Spanish-speakers' access to governance, programs and membership:
We launched a fully functioning Spanish language website
An unprecedented number of Spanish language tracks and over 50 monolingual Spanish speakers participated in our national Worker Co-op Conference
Regular programming is now conducted bilingually, including webinars and member meetings
We are so grateful for the immigrant-led co-ops and Spanish language members who have been central to shaping the USFWC's Language Justice practices that allow us all to use our voices in the languages that empower us most.
Friends (Members) With Benefits
Being a worker-owner is an amazing benefit on its own, but it's a challenge for many small businesses and co-ops to compete with the benefit packages that large organizations and companies offer.
Five years ago, we identified this as a need so we launched our Worker Benefits Program.
Today, over 50 member organizations and over 600 workers are enrolled, receiving vision, dental, medical, and more!
Big policy wins for worker owners
This past year, we worked hard fighting for the interests of co-ops and promoting workplace democracy in state legislatures and Congress.
In 2022, we:
Fought for the inclusion of three provisions in the CHIPS and Science Act that ensured worker ownership is infused in the nation's strategy to bolster technology, manufacturing, and clean energy businesses
Helped pass the California Employee Ownership Act, which creates an Employee Ownership Hub in the governor's Office
Completed our first year of the Worker Ownership State Advocacy Fellowship where 14 worker owners engaged in state government relations. Check out our newest cohort here.
Supporting Black-led Coops
This past year we launched our Black Solidarity Dues Program to grant any majority Black-owned or led member organization a full or partial discount on membership dues.
This year, we awarded over $5K in waived dues for Black-owned and led member cooperatives.
Help us celebrate better quality and more affordable worker benefits, policy breakthroughs for worker cooperatives, language justice and Black, Indigenous and People of Color worker-owner leadership.
Give a gift to the USFWC today, to support the longevity of this important work!
P.S. When you become a monthly donor, you can spread your gift over 12 months and get our 'Think Outside the Boss' bandana to show your support all year. Become a monthly donor here.