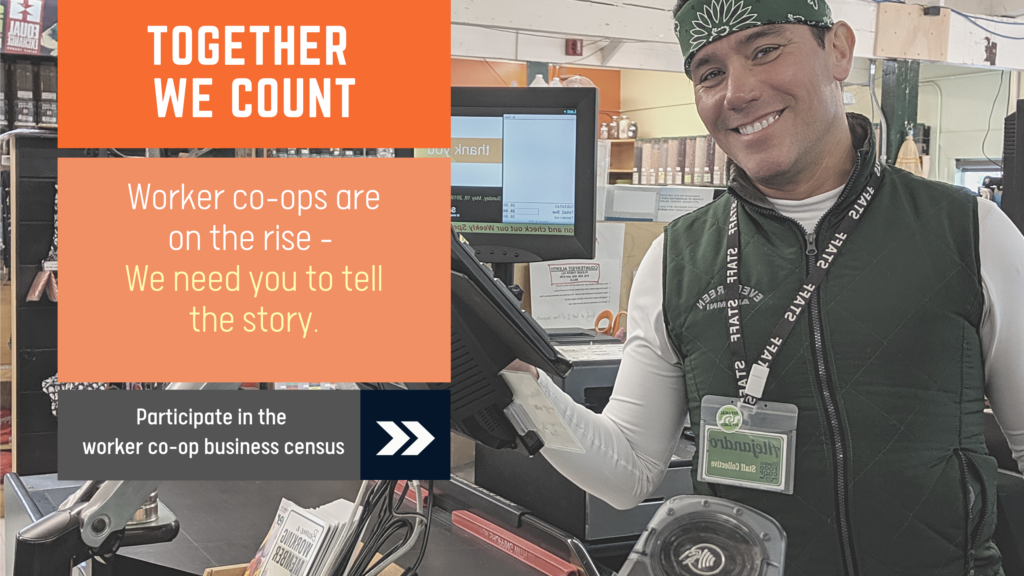 The Worker Cooperative Enterprise Census is the national, comprehensive opportunity to capture trends across worker cooperatives and democratic workplaces in the United States.
It provides direct benefit to democratic workplaces: helping increase access to capital for businesses, supporting cooperative-friendly policy development, showcasing shared ownership as a mainstream supplier of resilient, high-quality jobs, and more. In 2021, understanding the worker cooperative field is vital. We know that worker co-ops provide a model for communities to prioritize economic equity as they pursue post-COVID economic recoveries. 
Worker cooperatives are on the rise. The rate of inquiries, business startups and conversions to the model have risen against a backdrop of increasing inequality in the mainstream economy and a growing desire for workers to have control over their jobs and wealth-building opportunities. That desire is fueling the rapid increase in businesses that reflect the values of cooperatives, particularly member inclusion, economic participation, and democratic member control. 
Thanks to participation in previous editions of the Worker Cooperative Enterprise Census, we know that worker cooperatives lead small business in these areas. Worker cooperatives in the U.S. are shown to have:
an average 2:1 top-to-bottom pay ratio, compared to the huge pay gap of the 320:1 ratio at the typical U.S. corporation;

an average starting wage of $19.25 per hour, more than $5 greater than the minimum wage in most states; 

a majority of people of color and women-majority movement ownership;

prioritize retaining workers in economic downturns, including the COVID-19 pandemic.
Key data like these points has been integral to the growth in awareness and interest in the worker co-op model, from state and local government to social justice movements to potential worker-owners. To build on this momentum, we need to build out our understanding of the sector.
When worker cooperatives participate in the Enterprise Census, they are helping build more opportunities for their businesses and aspiring business owners across the country,  particularly BIPOC, immigrant, and low-wage workers historically locked out of good jobs and ownership opportunities. 
Together, the voices of democratic workplaces provide an alternative to a return to normal; they provide a path toward a better future, securing resilient jobs that serve workers and their communities. Together, we count. 
The 2021 Worker Co-op Census will be open through  July 16, 2021.
Need help filling out the Census? Watch this video for quick help, or email census@usworker.coop