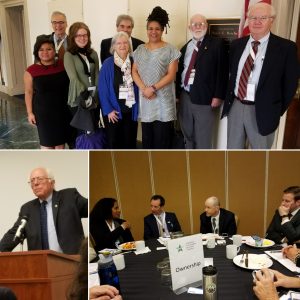 This week the American Sustainable Business Council held its annual #SustyBiz Conference, bringing together sustainable and socially-minded businesses from across the country together to talk policy. The USFWC has maintained a membership with the ASBC, a well-known well-respected organization that works for policy change, so that we can effectively represent our members and the worker co-op movement in political spaces.
We were able to meet with tax-focused staff members from both the House and the Senate, discussing tax issues as well as educating the offices on the benefits of the worker cooperative structure.
Overall, the meetings were very fruitful and illustrated that there is a great energy around understanding worker cooperatives. We were delighted to highlight members from these states including the Greater Dayton Union Co-op Initiative, Isthmus Engineering, Union Cab of Madison, Just Coffee, the Restaurant Opportunity Center of Michigan and more.
Interested in learning more about our ASBC Membership and how the USFWC is representing our members at all levels of government? Want to activate around Policy and Advocacy? Members may attend our monthly Policy and Advocacy Council meetings by registering here, and all others can reach out to membership@usworker.coop to learn more about membership.