last updated 07/1/2020 9:45am ET / 8:45am CT / 6:45am PT

To our members and the wider cooperative community. We are thinking about you and strategizing about how best to support your businesses and people during the evolving situation. We know that at this point, many of us are receiving information from a multitude of sources, which can feel overwhelming. The USFWC is actively working to curate resources for your businesses to access in the easiest way possible.
We know this is a critical time, and that having organized resources at your fingertips will make a difference in your planning. We encourage all of our members, partners, and allies to prepare their workers and track their losses so that it is as easy as possible to access relief assistance. We will be here along the way to inform, organize, strategize and fight back. We will update information on this page regularly, so  be sure to check back for updates.
Do you have resources or samples you would like to share? Do you have a plan for your cooperative you think other coops could benefit from? Please e-mail them to covid19@usworker.coop.
With solidarity and care,

The U.S. Federation of Worker Cooperatives team
Have a question that you don't see here? Email us at covid19@usworker.coop
Worker Co-ops during COVID-19
How is your co-op pivoting during this crisis?
What is your team doing to adapt and connect?
Did you receive relief funding through the SBA or otherwise?
Share your experiences with us, to aid the USFWC's advocacy efforts and programming.
Here's a list of needs and offers from our USFWC members across the country.
Have an opportunity to add? Add it here.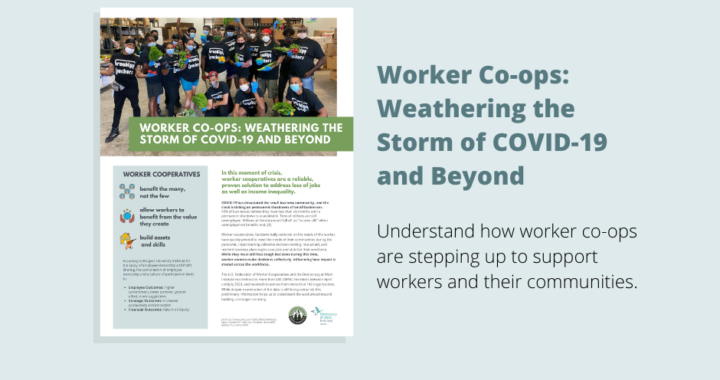 Click here to read the report Worker Co-ops: Weathering the Storm of COVID-19 and Beyond