The USFWC Worker Benefits Program has officially opened for enrollment! December 9th is the deadline for your workplace to enroll. You do not need to be a worker co-op enroll, you just need to be a member. To explore membership with the USFWC, visit our membership page. You can find all information on the Worker Benefits Program here. 
Enrollment is open for the following categories of benefits: 
Dental Insurance

Vision Insurance

Health Insurance, dependent on the state

Accident and Disability Insurance 
The HRA/HSA/FSA benefits, as well as the Perks by Vivana are open for enrollment on a rolling basis. 
By enrolling in the Worker Benefits Program, your organization or co-op joins a national network able to negotiate a large group rate and receive administrative support from USWFC Worker Benefits Coordinator.  
Save the date for office hours to receive support: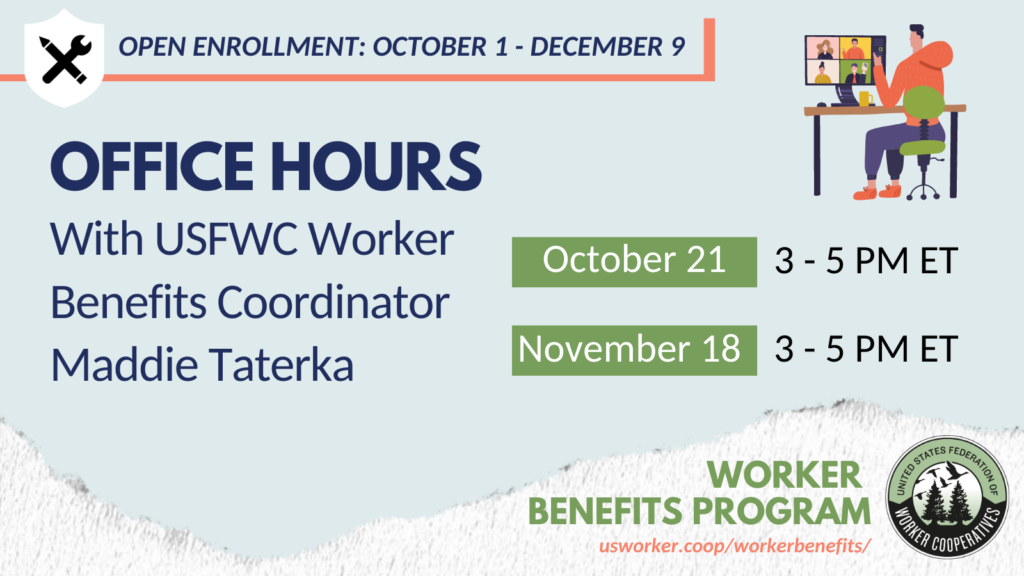 We strive to make our programs LGBQ and trans inclusive. The Voluntary accident and Disability Insurance offers group rates, and, for this year only, with no exclusion for pre-existing conditions. 
We know that the only true path to health equity in this country is comprehensive and free healthcare for every person. We also know that our members have healthcare needs NOW, and by pooling together, we can make the cost of quality workplace benefits less expensive and easier to administer. That's why the USFWC Worker Benefits Program exists.