On August 2, 2022, President Biden signed into law the Chips and Science Act (HR 4346), which spotlights the importance of worker ownership and solidifies its role in developing technology and manufacturing businesses in the United States. As the U.S. works to strengthen domestic supply chains, revitalize technology and manufacturing industries, and create quality jobs for people across the country, this bill includes exciting provisions that provide resources and support for businesses seeking to pursue shared ownership and democratic governance.
This bipartisan effort is an important signal that worker cooperatives and ESOPs are an increasingly recognized and valued tool for building wealth and preparing small businesses for continued success.  Through advocacy led by Rep. Jamaal Bowman (NY-16) and the U.S. Federation of Worker Cooperatives, alongside partners including NCBA CLUSA and Ownership America, worker ownership is touted as a solution for wealth building and economic development. 
The Chips and Science Act includes three main provisions featuring worker ownership:
worker ownership development centers and associations are named as allowable partners in regional technology and innovation strategies through the

Regional Technology and Innovation Hub Program

; 

education and training on worker ownership practices can be provided to manufacturing companies through the

Hollings Manufacturing Extension Partnership

; and 

worker ownership development centers and associations are named as allowable partners in strategies to facilitate clean energy products, processes, and services through the

Regional Clean Energy Innovation Program

.
These programs are a significant step in spotlighting worker cooperatives as a tool to create strong, resilient businesses, providing a path for developing tech and manufacturing businesses to learn about and pursue employee ownership models such as worker co-ops and ESOPs. The Chips and Science Act acknowledges that worker ownership models provide economic stability, high-wage jobs, and opportunity— particularly for low income communities, Black and Brown communities, and others traditionally locked out of upward economic mobility.
"As we scale up federal investment to boost innovation and grow the industries of the future, we must be relentless in centering the needs and voices of workers," said Congressman Jamaal Bowman, Ed.D. (NY-16). "In helping to craft the language of the CHIPS and Science Act, my number one priority was to incorporate equity throughout — to create excellent jobs that can build and keep wealth in local communities. The worker cooperative model is one of our best tools for achieving that goal. I was proud to collaborate with USFWC to establish a key role for worker coops in the bill's regional technology hubs program, and I look forward to continuing the partnership as we bring these investments home."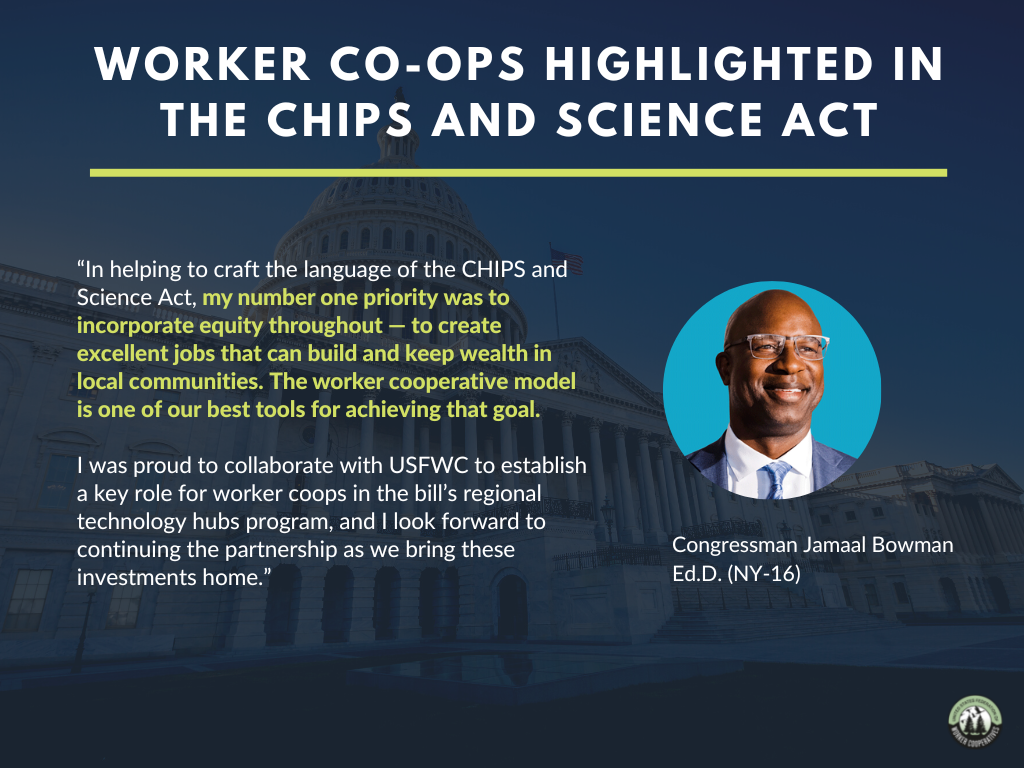 "It is exciting to see this broad, bipartisan support for worker ownership." says Esteban Kelly, Executive Director of the U.S. Federation of Worker Cooperatives.  "It's clear that worker cooperatives are increasingly recognized as a pathway for entrepreneurs to benefit directly from the value that they create. We applaud Congress for spotlighting worker ownership models as a tool for economic stability. Long-standing worker cooperatives like Isthmus Engineering, Chroma Technology and Technicians for Sustainability are models for success in the technology and clean energy industries as well as democratic governance and wealth-building. We want to thank Rep. Jamaal Bowman for championing worker cooperatives, and ensuring that worker participation and benefit are a cornerstone of the tech and innovation strategies we develop."
---
About these programs
The Regional Technology and Innovation Hub Program aims to 
encourage regional collaborations to promote broad-based regional initiatives to enable U.S. leadership in technology and innovation;

support regional economic development, resilience, and job creation in a diversity of geographies;

ensure that underserved and vulnerable communities benefit from technology and innovation strategies; and

modernize and expand national manufacturing.
The program, which provides strategy development and implementation grants to achieve these aims, relies on a consortia of partners including education institutions, state, local or tribal governments, industry firms, economic development organizations, and others. Cooperative or employee ownership development organizations and associations are included as eligible partners in this work.
The Hollings Manufacturing Extension Partnership is a national network to provide custom services to small and medium-sized manufacturers to improve production processes, upgrade technological capabilities, and facilitate product innovation. The Expansion Awards establish grants to:
provide worker education, training, development and entrepreneurship training,

including worker ownership training;

Improve domestic supply chain resiliency;

mitigate cyber-attacks;

improve technology services to small and medium sized manufacturers.
The Regional Clean Energy Innovation Program is a research, development, and application program designed to accelerate the pace of innovation of diverse clean energy technologies through the formation or support of
regional clean energy innovation partnerships. The program provides grants to:
facilitate the commercial application of clean energy products, processes, and services; 

improve stakeholder involvement in regional clean energy strategies;

hosting events and conferences;

establish and update roadmaps to measure progress toward clean energy solutions.
This program includes grants for partnership and collaboration to promote employee, community, and public ownership in the clean energy sector, and to advance models of local economic development that build and retain wealth in the region. To that end, cooperative or employee ownership development organizations and associations are included as eligible partners in this work.
Interested in learning more about worker co-op advocacy and legislation? Sign up for Advocacy Alerts. USFWC members may also join our Policy and Advocacy calls on the first and third Thursdays of the month. For more info email policy@usworker.coop.